Guest Blog Written by: Development Counsellors International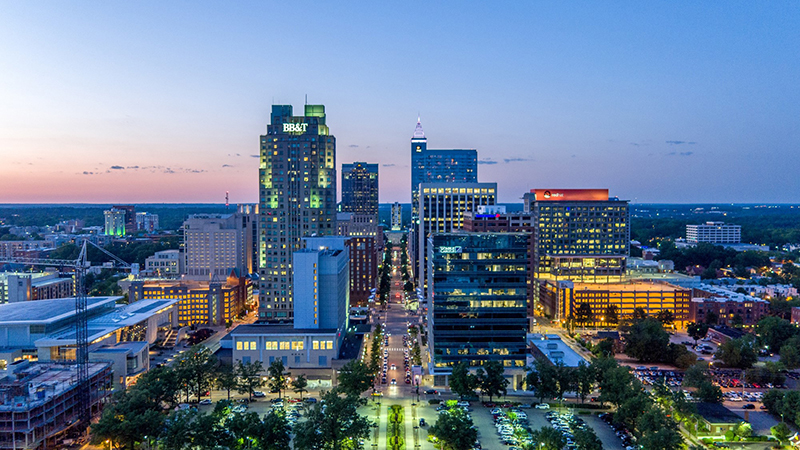 When the coronavirus began to rapidly spread in March of 2020, many pressed pause on talent attraction efforts under the assumption that most people would rather stay put during such uncertain times than switch careers, move across the country, or both. However, a national talent survey done by place marketing firm, Development Counsellors International (DCI), suggests just the opposite. Talent is not only willing to relocate for a better job opportunity-- talent is more willing than they have been in the last several years.
Here are five research-backed reasons why Wake County will be an appealing location for talent now, and looking forward:
Wake County is Primed for Remote Workers
Research shows even after the pandemic-induced stay-at-home mandates are completely lifted, 38% of talent would prefer a mix of working from home and in the office, whereas 37% of talent would rather work from home full-time-- meaning a whopping 75% of people would like some variation of remote work options (*DCI's annual talent research Talent Wars: What people look for in jobs and locations in the age of COVID-19). Wake County's competitive cost of living, ripe housing market, among other key quality of life assets and amenities, make Wake County the optimal place for remote workers to set-up shop. Raleigh was even named the #3 City for Millennials to Work Remotely in 2020 (WhistleOut) and the #8 Best City to Work from Home in the U.S. (SmartAssest).
Perfectly Positioned
It's no surprise that Covid-19 has influenced what type of area talent would like to live in, whether that be rural, suburban, a mid-sized city or a large metro. Although media headlines have alluded to this being the "end" of big cities, talent's responses to DCI's survey varied significantly when asked what type of area they would like to move to post Covid-19, with 35% marking suburban as their top relocation preference, followed by 27% rural and 25% large urban. This tells us that the more a place can market regionally, the better. Wake County fits this approach perfectly given the wide variety of lifestyle options ranging from friendly family neighborhoods to high-rise apartments in downtown Raleigh. Not to mention, the combined strength of the 12 municipalities has helped make Wake County one of the best places to live and work in the nation.
Job Growth
While relocation factors such as cost of living, climate, and housing certainly play a role in final decisions, the job opportunity (or opportunities) are the main drivers in relocation decisions. Even if there is a solid job offer on the table, talent wants to know that there are other employment opportunities not only for their partners, but also for themselves in case the first job doesn't work out. Thankfully, Wake County currently is working on 35 projects representing 14,043 potential jobs, and $2.8 billion in capital investment. The project pipeline remains strong and healthy as companies continue to learn more about the strength of the Triangle region and Wake County. What's more, is that hot industries such as IT and life sciences are booming in Wake County – Raleigh was named the #1 Upcoming IT City in the U.S. other than Silicon Valley by CustomerThink, and Raleigh/the Research Triangle was ranked as the #5 Top Life Sciences Cluster in the U.S. (WalletHub).
Wake County has a Competitive Cost of Living
When talent is considering relocating for a new job opportunity, cost of living is the most important factor, coming in at a 7.8/10 rating, 10 being the most important (DCI's Talent Wars). Raleigh, for example, has a cost of living index of 95.4, which is comfortably below the national average of 100. When comparing average home prices, Raleigh is significantly more affordable with an average of $288,781 compared to $482,651 in New York City, and $1,189,230 in San Francisco. Making Raleigh the perfect location for those who are considering home ownership or are just looking to get the most out of their paychecks.
Welcome to Wake County
When DCI surveyed talent, respondents were asked to rate relocation factors by importance on a scale from one to 10. Talent rated a welcoming and friendly population as a 7.4/10 (only 0.4 behind cost of living), and a diverse population as 6.8/10. Wake County does indeed have a welcoming and friendly population, providing a true sense of community and opportunity for all. Raleigh was even named the #4 Very Large Metro in the U.S. for Overall Racial Inclusion (Brookings Institute) and Cary, N.C. was named the #1 City Where Women are Most Successful in the U.S. (SmartAsset).
Wake County offers so much to talent looking to relocate. The numbers and research described above speak for themselves – Wake County and the Triangle region are positioned for exponential growth.
*Note: DCI's 2020 Talent Wars Report surveyed 1,600+ people nationwide who were of working age (21-65) and had at least a high school degree or equivalent. The survey was issued in June 2020 when the U.S. unemployment rate was 11%.