Welcome to the newsroom where you will find Raleigh and Wake County's latest news, accolades and all the ways you can stay up-to-date with our community. We are a little biased when it comes to our vibrant, thriving area, but here's what others are saying about us:
Raleigh is one of the 50 Best Places to Travel in 2021
Travel & Leisure released its list of the 50 best places to travel in 2021. This year's list features 50 dynamic, of-the-moment destinations — all right here in the United States including Raleigh. Read the article here.
Slow the Spread of COVID-19
To keep the economy open we need to slow the spread of the virus. That's why the North Carolina Department of Health and Human Services (NCDHHS) is raising awareness of SlowCOVIDNC, North Carolina's Exposure Notification app that anonymously notifies users of potential COVID-19 exposure without collecting or sharing personal information.
Get Behind the Mask and Download SlowCOVIDNC. SlowCOVIDNC is the official COVID-19 Exposure Notification app for NC. It is: completely anonymous, operated through Bluetooth, and an easy way to protect your co-workers, your customers, and your community. Learn more here.
Raleigh is No.1 Real Estate Market for 2021
Emerging Trends in Real Estate® 2021 highlights the evolving trends shaping the real estate industry. The report, which includes proprietary data and insights from more than 1,600 leading real estate industry experts, explores how COVID-19 accelerated many existing trends like retail footprint reductions, while it spawned new ones such as an increased focus on social justice and health and wellness, and stopped others in their tracks like the appeal of big cities. Raleigh ranked No.1 in the U.S. learn more here.
Wake Forest Developing 200 Acres for Mixed-use Tech Park
Despite the challenges currently presented by COVID-19 to land developments of all sizes and to the future of modern work habits, Wake Forest's plans for a nearly 200-acre, tech-centric site remain active. The Wake Forest tech park, located off of Capital Boulevard/U.S. 1, represents one of the key initiatives to advance economic development in the area. Pre-COVID market research conducted on the property indicated potential phase one development of up to 180,000 square feet of office space, 372,000 square feet of retail space, and 720 housing units of various varieties through 2023 alone. Learn more here.
Raleigh-Durham No.5 in the nation for Life Sciences
CBRE | Raleigh, a commercial real estate services company, released a research report in October 2020 that named the Raleigh-Durham area as number five in the nation for the life sciences. The Triangle has long established itself as a leader in life sciences with its Research Triangle Park campus, the largest research park in the United States. RTP is home to 450-plus life science companies, 10 million square feet of laboratory inventory, and 50,000 employees in a variety of research and development organizations. Learn more about this ranking and Raleigh's Life Science Industry here.
Raleigh is among the Top College Towns in the U.S.
North Carolina is home to one of the nation's top college towns, a new study finds. Raleigh ranks No. 6 in a study of social activities and other offerings that make cities attractive to students pursuing higher education, according to results published Tuesday from WalletHub. Read more about this ranking in the News & Observer.
NC State Faculty Members Elected to AAAS
Ten NC State faculty members have been elected fellows of the American Association for the Advancement of Science, the world's largest scientific society and publisher of the journal Science.
This is the largest class of AAAS fellows elected from NC State since the university was founded in 1887. AAAS has been awarding fellowships since 1874. Learn more here.
GRCVB Named Best CVB/DMO in the Southeast
Northstar Meetings Group and its principal brands, Meetings & Conventions and Successful Meetings, announced the recipients of the Fourth Annual Stella Awards; Greater Raleigh Conventions Visitors Bureau (GRCVB) was awarded the Gold Award in the Best CVB/DMO (Regional) Southeast category. The voting-based awards honor travel organizations from around the world that consistently deliver quality service and innovation to meeting and event professionals.
Happiest Employees 2020
These are the Top 100 highest-rated companies with the Happiest Employees, according to anonymous employee feedback on Comparably.com. Raleigh-based Pendo is recognized in the Top five for mid-sized companies in the U.S.
2020's Safest Cities in America
No one can avoid all danger, however, and we take on a certain level of risk based on where we choose to live. Some cities are simply better at protecting their residents from harm. To determine where Americans can feel most secure — in more than one sense — WalletHub compared more than 180 cities across 42 key indicators of safety. Our data set ranges from COVID-19 cases in the past seven days per 100,000 residents and assaults per capita to the unemployment rate and road quality. Raleigh ranked in the top 10, see the ranking here.
Forbes 30 under 30 recognizes Raleigh Native
Nicholas Donahue, Trent Hedge, Austin Kahn, and Matthew Rastovac cofounded Atmos, a start to finish homebuilding platform to simplify home ownership and design. Nicholas Donahue is a North Carolina State University engineering school dropout who moved out to San Francisco to follow his passion and create this startup. Now he's exporting high paid software developers and those in the finance field to his home state. The platform tool shortens the build process and has attracted $6 million in venture funding from Khosla Ventures and Y combinator among others at a $25 million valuation. Forbes recently recognized them for its Forbes 30 under 30: Consumer Technology.
Americas Best Cities
The City of Oaks checks all the boxes for a bright, ambitious city of the new south: Raleigh is part of North Carolina's Research Triangle, one of the country's largest and most successful research parks—think high-tech and biotech research and advanced textile development. See why Raleigh was ranked the No. 25 Best City in the U.S. here.
Raleigh named No. 3 Tech Town in the U.S.
High-tech jobs keep growing in Raleigh, salaries average nearly $94,000 and the cost of living locally is 4% less than the national average: Add those facts together and the end result in North Carolina's capital ranks as the No. 3 "Tech Town" in the US.So says tech trade group CompTIA in its annual survey.
Despite the COVID-19 pandemic, Raleigh remains a hot spot for tech-relaced jobs with more than 44,000 postings between August 2019 and July 2020.
Apply to the Mortgage, Utility, and Rent Relief Program
If your organization has experienced extraordinary business disruption and not been able to open due to the COVID-19 coronavirus pandemic, the new Mortgage, Utility, and Rent Relief (MURR) Program may be able to offer assistance with some of your fixed costs. To qualify to receive these relief funds, your organization must meet certain eligibility criteria. They are accepting applications for this assistance on a first-come, first-served basis. Learn more about this program on the NC Department of Commerce Website.
First Flight's Hangar6 Prototyping Center
First Flight Venture Center (First Flight) is thrilled to have won the $2.6 million FY20 Venture Challenge grant from the U.S. Economic Development Administration (EDA), benefiting Hangar6, a one-of-a-kind prototyping facility in RTP and enabling next level support for NC entrepreneurs.

First Flight established Hangar6 as a valuable innovation hub for entrepreneurs and startup businesses needing unique prototyping services. Since opening its doors in 2018, Hangar6 has offered a subscription-based membership program for Triangle entrepreneurs to design, build, and model product prototypes.

Learn more about First Flight Venture Center here.
Raleigh and Durham Listed in New Vogue Article
Once upon a time, weekend trips or journeys to far-flung locales were on everyone's wishlists. But with international borders closed and many metropolitan destinations under stringent lockdowns, Airbnb found that its users were searching for domestic escapes with close proximity to nature. In a new article, Vogue magazine breaks down the top 5 trending locations on Airbnb. Raleigh and Durham are listed as one of the top 5 locations. See the rest of the article here.
Fastest 5G Network in the World Just Launched in Raleigh
Verizon customers in NC get access to the unprecedented performance of 5G Ultra Wideband with game-changing speeds and access to 5G Nationwide. This marks a huge leap forward in this new era of technology-led disruption and innovation.
"This is exciting news for Raleigh. We value our partnership with Verizon and the innovation that 5G Ultra Wideband service will bring to our city," said Raleigh Mayor Mary-Ann Baldwin. "But I'm particularly pleased that, as Verizon's deployment progresses, this service will be available in some of our most vulnerable communities."

Verizon customers in Raleigh should expect to see 5G Ultra Wideband service around the following areas: Triangle Town Center, outside Duke Raleigh Hospital, and Crabtree Valley Mall. To see the complete 5G Ultra Wideband coverage area in the city go to: verizon.com/coverage-map. Read more about the announcement here.
Bandwidth Acquires Voxbone
RALEIGH, NC and LONDON, UK -- Oct 12, 2020 -- Bandwidth (NASDAQ: BAND), a leading enterprise cloud communications company announced it has signed a definitive agreement to acquire Voxbone, an international enterprise cloud communications leader, for an enterprise value of €446 million EUR, representing a multiple of approximately six times anticipated Voxbone 2020 revenue. Voxbone has been majority-owned by Vitruvian Partners, a leading growth- and technology-focused investment firm headquartered in London, UK, since 2015. Voxbone is a leading European-based communications platform and IP voice network. Since 2005, their mission has been to simplify global communications for businesses by providing compliant, quality coverage that can be integrated with any contact center, conferencing platform or voice application.
"We are bringing together leading domestic and international enterprise cloud communications platforms to supercharge global cloud communications for our customers. Bandwidth's deep US presence and Voxbone's world-wide platform across 60+ countries will serve enterprises in countries representing 93% of global GDP. Today's announcement accelerates our international strategy by several years. Our current and future customers will benefit from using a unified software platform, network and team to serve people around the world," said David Morken, Co-founder, Chairman and CEO of Bandwidth. "Voxbone's platform is trusted by approximately 900 enterprises, including brands like Uber, Zoom, 8x8 and Skype. We're thrilled to welcome this pioneering team to Bandwidth and congratulate them on their tremendous growth."
Combination to Supercharge Cloud Communications
Through this combination, Bandwidth will play an even greater role in leading the transformation of enterprise cloud communications, enabling companies around the world to develop, launch, and hyper-scale applications and customer experiences using rich voice and text.
Enterprises everywhere in 2020 are prioritizing voice, video, and text communications in their digital transformations. At the center of this challenge is a critical need for a single worldwide cloud communications platform and network. With the addition of Voxbone's intuitive user experience, software platform, and voice network spanning 60+ countries, Bandwidth will provide global enterprises with a unified answer to the question of how to develop and deliver communications applications and experiences around the world. This creates a tremendous opportunity for Bandwidth, as IDC projects worldwide spending on communications as a service to be $17.7 billion by 20241.
Upon close, Bandwidth will power 11 out of 12 of Gartner's Magic Quadrant Leaders for UCaaS, CCaaS, and Meeting Solutions enterprises.
Learn more on Bandwidth's website.
Kane Realty Corporation Reveals Plans for Mixed-Use Revitalization Project in North Hills' Main District
Residential Tower, Two Office Buildings and New Retail Space Coming to North Hills in 2023, Construction to Begin Early 2021
RALEIGH, N.C., OCT. 7, 2020 – As the Triangle area continues to experience rapid growth and development, Kane Realty Corporation is excited to unveil its latest investment – the revitalization of North Hills' Main District. Once completed, the redevelopment will include a 12-story high-rise residential building, 346,000 square feet of office space and 100,000 square feet of ground floor retail.
Master planned by Ci Design of Baltimore, Md., the new development will feature ample outdoor gathering spaces, including an active public plaza with a concierge center and outdoor event space. The project will also expand North Hills' existing parking deck, including multiple new vertical circulation points, while maintaining North Hills' signature street grid, which will allow cars, pedestrians, bikes and scooters to easily access the entirety of North Hills quickly and safely. North Hills has always been a place where people live, work and play – and this new project will elevate that experience.
"One of the key highlights of this project is that we have the unique opportunity to develop on an urban infill site, replacing underutilized parking areas with vertical density – meaning a more efficient and thoughtful use of space," said Kallie Walker, senior development manager for Kane Realty Corporation. "This is precisely how successful smart cities are growing today, and we are excited about what this means for the future of North Hills and all of Raleigh."
This project also includes the addition of Raleigh's first Restoration Hardware gallery – RH Raleigh. The Gallery at North Hills will feature a glass-encased rooftop restaurant and barista and wine bar that open onto a beautifully landscaped park. Commanding three levels and nearly 50,000 square feet of indoor and outdoor space, this one-of-a-kind experience will blur the lines between residential and retail, indoors and outdoors, home and hospitality – with full floors dedicated to RH Interiors, Modern and Outdoor.
The 287-unit residential project, designed by Cline Design Associates of Raleigh, will feature a mix of studios and one-, two- and three-bedroom apartments for rent. Designed with health and safety in mind, amenities will include a first-of-its-kind coworking lounge, as well as multiple outdoor spaces including an eighth-floor amenity deck with firepits and sunset views; a second-floor pool deck overlooking a new, active public plaza; and an indoor/outdoor fitness center. In addition to an ideal location within the hustle and bustle of North Hills, residents will enjoy an exclusive, comprehensive Resident Relations Program offering on-demand wellness services, pet care and other concierge-style services.
The redevelopment project also consists of two office projects including One North Hills, a 10-story, 266,000-square-foot office tower overlooking the I-440 Beltline, designed by Duda|Paine of Durham, and NHX, a five-story, 80,800-square-foot office building, designed by Ci Design. Both office projects will be surrounded by retail space at the street level and feature a vibrant and immersive urban experience. One North Hills will be Raleigh's first post-COVID designed office tower, featuring touchless entry and controlled access points, enhanced air filtration throughout the building, a 6,000-square-foot terrace created for working and gathering outdoors, touchless elevators designed to reduced cab capacity, ground-floor meeting spaces that limit guest access to office floors and optimum cleaning standards. One North Hills will also feature destination-worthy office space, a modern lobby extending up to an unforgettable second-level outdoor terrace complemented by comfortable lounge areas, as well as conference and locker room amenity areas. NHX will feature creative office space, a hip vibe, flexible layout options, a walk bridge connection and a rooftop terrace overlooking the new public plaza.
"We are excited for the North Hills Main District project and what it will bring to the North Hills community as a whole, but we also recognize the complex logistics that accompany construction of this scale," said Sean Hill, senior construction manager for Kane Realty Corporation. "There are extensive planning efforts underway between Kane Realty, the City of Raleigh and our tenants to make sure we mitigate any of these impacts and disturbances to the best of our ability. We look forward to sharing our comprehensive plan with our tenants and the surrounding community once it has been finalized."
Construction is set to begin in early 2021. First deliveries are scheduled for early 2023, with openings beginning summer 2023. Additional partners on the North Hills Main District project include J.P. Morgan, Brasfield & Gorrie, McAdams and Stewart. Click here for additional photos and a fly-thru video of the project.
For more information, contact Hannah Smith, Marketing Manager, Kane Realty Corporation.
Doing Business in North America
The Doing Business North America (DBNA) project annually provides objective measures of the scale and scope of business regulations in 130 cities across 92 states, provinces, and federal districts of the U.S., Canada, and Mexico. It uses 111 data indicators spread over six categories to score and rank cities in regard to how easy it is to set up, operate, and shut down a business.

See why Raleigh ranked No.1 here.
Airbnb partners with Raleigh to launch City Portal
Raleigh is among 15 pilot cities where Airbnb is launching its new City Portal. Billed as a "first-of-its-kind solution," the platform is built exclusively for governments and tourism organizations and includes tools and locally-specific data to better understand the short-term rental market.

"The way we live and travel continues to change, with people dispersing to more places," said Brian Chesky, CEO, and co-founder of Airbnb. The Airbnb City Portal will make it easier for cities of all sizes to work with us and benefit from our community."

Added said Raleigh Mayor Mary-Ann Baldwin: "Raleigh takes pride in leading with data-informed decision making. We are very excited to have access to this database, which will provide insights that can inform Raleigh's short-term rental policies. We look forward to using this information to expand the opportunities available to our residents. This pilot is one more example of Raleigh's leadership and commitment to serving as a beta-testing city."

Learn more here.
UNC & Duke ranked for Entrepreneurship
The latest 2020 rankings for the university programs that produce the most entrepreneurs that go on to garner venture funding are now available. Duke nabbed the No. 20 spot with 484 founders and $11 billion capital raised. Among its offerings: the Program for Entrepreneurs (P4E), a program at Duke University's Fuqua School of Business that helps students start new ventures, supported by experiential entrepreneurship education.

UNC Chapel Hill, meanwhile, accounted for 320 founders and $4.6 billion capital raised. It says it fosters innovation through the Entrepreneurship Center, under the UNC Kenan-Flagler Business School.

See the full ranking here.
'Made in NC' Initiative Unites Public and Private Sector to Deliver Vital COVID-19 PPE to Health Care Workers Statewide
New collaboration will produce nearly 2 million N95 respirators per year to address the urgent need for affordable access to essential PPE in communities that need them most
DURHAM, N.C. – Organizations from both the public and private sector have teamed up to launch the Made in NC initiative, a collaboration between Blue Cross and Blue Shield of North Carolina (Blue Cross NC), North Carolina State University's Nonwovens Institute, Freudenberg Performance Materials, UNC Health, the NC Healthcare Association Strategic Partners and NC Medical Society to manufacture and distribute N95 respirators that will serve the needs of North Carolina health care workers during the COVID-19 pandemic and increase equity in access to masks in communities that need them most.
Since the onset of the COVID-19 pandemic, demand for N95 respirators and other PPE has outpaced current U.S. manufacturing capabilities, resulting in supply chain challenges in delivering an efficient and reliable source at a reasonable cost. The shortage of critical supplies has left health care providers and essential workers at a higher risk of infection.
The Made in NC collaboration will produce an initial 100,000 to 200,000 N95 respirators per month with plans to quickly ramp up, right here in North Carolina, providing a more consistent and affordable source of personal protective equipment (PPE) for local health care providers. Collaborating organizations include:
The initiative aims to ensure the state's frontline health care workers receive the critical PPE they need to keep themselves and their communities safe.
"Blue Cross NC is committed to the health and well-being of all North Carolinians, and we are proud to be part of this initiative to ensure that vital PPE remains available to frontline health care workers in the continued fight against COVID-19," said Dr. Tunde Sotunde, President and CEO at Blue Cross NC. "This unique collaboration brings together health care, education and private industry at an unprecedented time to help solve an unpredictable challenge. We are all working together toward a common goal of protecting those who continue to protect the people and communities across our state."
"NC State is committed to getting our research into the hands of North Carolinians to make a real difference," said NC State Chancellor Randy Woodson. "We're proud to work with our public and private partners to deliver innovative solutions through the Made in NC initiative."
"The NCMS is fully supportive of local solutions like this," said North Carolina Medical Society Executive Vice President and CEO Chip Baggett. "We look forward to helping ensure these affordable N95 respirators get to impacted communities throughout the state."
Collaboration among Blue Cross NC, NC State's Nonwovens Institute, Freudenberg Performance Materials, UNC Health, NC Healthcare Association Strategic Partners and NC Medical Society ensures the expertise needed to achieve careful production and distribution at the highest quality and safety standards to increase equity in access to masks, especially in communities that need them most.
"Our North Carolina health care providers and frontline workers need more reliable sources of PPE at reasonable and predictable prices – exactly the goal of this collaboration," said Dr. Wesley Burks, CEO of UNC Health. "The top priority at all times is the safety of our frontline workers, especially during this pandemic. N95 masks are among the most important tools because they filter out droplets and smaller airborne particles that can carry viruses."
The installed machines are expected to produce up to 2 million N95 respirators per year.
"This is a great opportunity for us to make a big difference in our community. We have a talented team and dedicated resources to fully support us in this task," said Raoul Farer, General Manager, RBU North America, Freudenberg Performance Materials. "To be able to add to our workforce in these challenging times and build a new operation from the ground up has given us a new purpose and we are looking forward to building lasting relationships through this initiative."
As masks become available, the NC Healthcare Association Strategic Partners and NC Medical Society will conduct outreach to providers who may lack staffing capacity and contacts to place accelerated orders.
"From our largest hospitals to our smallest medical providers, the need for quality N95 masks is great across our state as this pandemic continues," said Jody Fleming, Senior Vice President, North Carolina Healthcare Association Strategic Partners. "This effort allows our health care heroes across North Carolina to purchase masks made in North Carolina, which means they'll get the vital equipment they need much faster and can effectively serve our patients."
When worn properly, single-use N95 respirators are a critical form of PPE that protects both patients and health care providers due to its efficient filtration of airborne particles that can carry viruses and other contaminants.
"The Nonwovens Institute engages leaders from industry, government and higher education to build next-generation nonwoven applications," said Dr. Behnam Pourdeyhimi, Executive Director of the Nonwovens Institute at NC State. "Through these collaborations, we are pleased to provide our novel materials to create solutions for communities across North Carolina in the continued fight against COVID-19."
Contact BCBSNC Media Line: 919-765-3005 or BCBSNC Online Newsroom: http://mediacenter.bcbsnc.com for more information.
Triangle is an Attractive Area for Companies, Despite COVID-19
The effects of the pandemic are still being felt in all aspects of life, including at work, school, and home. However, despite COVID-19, the Triangle area remains an attractive region for companies to expand, relocate, and/or set up headquarters due to its robust business and entrepreneurial community, low cost of living, and high quality of life. CBRE guest writes an article for WRALTechwire, you can read the rest here.
Gwyneth Paltrow to be Face for Merz Aesthetics
Gwyneth Paltrow is giving a high-profile Hollywood boost to Raleigh-based Merz Aesthetics as it launches a global promotional campaign for anti-wrinkle treatment. She's the latest star to back the product Xeomin, which is pronounced Zeo-min. The other was Christie Brinkley who promoted Zeomin and another product in 2017 on behalf of Merz NA. Paltrow also is a user of Xeomin, which is FDA-approved.
Learn more here.

Walmart and Flytrex choose Fayetteville for Drone Pilot Program
Walmart Inc., the world's largest retailer, will begin testing drone delivery in Fayetteville, North Carolina, the company announced in a blog post on Wednesday. The new pilot program with Flytrex, an end-to-end drone delivery company, is launching Wednesday and will focus on delivering select groceries and essential items using automated drones, Senior Vice President for Consumer Product Tom Ward said in the blog post. The drones are controlled over the cloud using a dashboard, Ward added. This project will help Walmart explore on-demand delivery, Ward said in the release. The company has previously tested autonomous grocery delivery through driverless vehicles. Read the rest of the article here.
NC Among Top Migration Destinations Amid COVID-19
North Carolina is among the top hotspots that people are fleeing to in the wake of the coronavirus pandemic, numerous reports show. North Carolina ranked No. 7 on the list of states that saw the biggest influx of new moves between March and August this year in data compiled by moving company United Van Lines. Also, North Carolina saw a 60 percent inbound move rate during the pandemic, but minus 40 percent of those already living in the state moved away. Read the rest of the article explaining the ranking here.
Bandwidth Helps Students Move From College to Careers
While the COVID-19 pandemic has forced many businesses to reduce their workforce, Raleigh-based Bandwidth announced it will be expanding its headquarters and creating 1,100 new jobs and $100 million in capital investment over the next eight years.

CEO David Morken founded the software communications company two decades ago from his parent's spare bedroom. In 2012, Bandwidth made the move to Centennial Campus and began growing from 225 employees — called "Bandmates" — to more than 750 today. The company went public in 2017 and at the time was valued at around $300 million. This year, it hit the $3 billion mark.

"Bandwidth has been a partner with NC State over the last eight years," said NC State Chancellor Randy Woodson. "We're thrilled that our Centennial Campus could be a launchpad and that the company will continue to grow, expanding its world-class headquarters here in Raleigh."

Bandwidth is helping to keep the world connected, which is especially important during the current environment with work from home and limited social interaction. Companies like Google, Microsoft, and Zoom use Bandwidth's APIs to easily embed voice, messaging, and 911 access into software and applications.

The company is building a 500,000-square-foot facility on a 40-acre plot of land near the North Carolina State Fairgrounds. In line with the company's commitment to work-life balance, the campus will feature an integrated Montessori school for children ranging from six months old to five years old.

Read more here.
NCSU and Bandwidth Fight to end Robocalls
New research from North Carolina State University finds that the number of robocalls isn't going up and that answering a robocall doesn't make you more likely to get additional robocalls. "These findings stem from a broader study that is the first step toward a more robust set of tools for reducing robocalls, if not eliminating them," says Brad Reaves, co-author of a paper on the work and an assistant professor of computer science at NC State. "We made some fundamental advances in tracking robocalls back to their source, and upended a lot of the conventional wisdom regarding robocalls."

"We want to abolish robocalling entirely, and a project of this scope puts us one step closer to achieving that," said David Morken, founder, and CEO of Bandwidth, in a statement.

Learn more about the study in WRAL Techwire.
Michael Haley Covers Talent in WRAL Techwire Article
In the recently released CBRE tech talent report, it was no surprise that the Raleigh-Durham market ranked in the top 10. The ranking kept us in the good company of other tech giants like San Francisco, New York, Washington, D.C., and Seattle. While we may be the smallest metro in the top 10, we are no stranger to being top ranked when it comes to tech talent. It is important to mention that even though we are in the middle of a global pandemic and unemployment is at a level we've never seen before; our market should fare well over the long-term based on strong fundamentals. Read the full article here.
South Korean Company Chooses to Locate PPE Operation in Garner, Wake County
GARNER, N.C.—Hansae Co,. Ltd., a leader in the global apparel industry based in South Korea, will locate its first U.S. manufacturing operation in Greenfield North Business Park in Garner. Hansae's Garner facility will focus on producing personal protective equipment (PPE) for the U.S. market.
"Opening our facility in North Carolina was an easy choice," Vice President of Strategic Sales Hermann Chiu said. "The environment is conducive to establishing a business, and the pleasantness of the people in North Carolina has made the process simple. The facility will focus on surgical masks, and we have plans to expand to other products in the future depending on the market conditions. We look forward to commencing our operation in the last quarter of 2020. The business will be run under Hansae's subsidiary AMP [Apparel Manufacturing Partners]."
"We are excited to have a company like Hansae join the Garner business community. During these uncertain times, the access to PPE has never been more important. Having a company like Hansae here producing PPE will only help ensure that people around this country will have access to much-needed PPE products. We look forward to continuing to see Hansae grow in our community," Garner Mayor Ken Marshburn said.
"North Carolina is thrilled to add Hansae—one of Korea's foremost textile companies—to our growing list of international corporate citizens," said Korey Howard with the Economic Development Partnership of North Carolina. "We look forward to continuing to support the growth of their Garner operation, both through the EDPNC office in Seoul as well as stateside."
"We are proud to welcome Hansae, an international company, to Garner. They're helping fight the pandemic by opening a manufacturing facility that will produce PPE," said Michael Haley, executive director of Wake County Economic Development. "These are challenging times, but we must continue to grow and welcome new companies to Wake County. Hansae will join a network of over 700 foreign-owned firms in the Research Triangle region. This will further strengthen our international business community."
Hansae will invest up to $2 million and initially employ eight to 10 people at its Garner location.
This project was made possible by the work of EDPNC, N.C. State University's College of Textiles, Wake County Economic Development, Garner Economic Development and Gregg Mason-Mason Properties.
For more information on Garner economic development, contact Joe Stallings at 919-773-4431 or jstallings@garnernc.gov or visit the Garner website here.
Today Show Features Raleigh Neighborhood
Realtor.com chief economist Danielle Hale tells Hoda and Jenna about the website's list of the most popular zip codes in America in the mid-pandemic market. Watch the Today Show clip to see why Raleigh is featured as one of the most popular zip codes in America.
Inc.'s 5000: America's Most Inspiring Entrepreneurs
Inc. released its 2020 ranking of the 5,000 Fastest-Growing Private Companies in America. See which Raleigh-based companies made the list here.
Raleigh Drone Company Awarded Drone Patents
PrecisionHawk, Inc., a pioneer in geospatial data acquisition and analysis for enterprises, announced it has been awarded two patents for technologies it has developed for unmanned aircraft system traffic management (UTM). The patents, titled 'Automated Unmanned Air Traffic Control System,' are designed to enable collision avoidance between drones and manned aircraft. Learn more here.
North Carolina has the most Equitable School Districts in the U.S.
States that provide equitable funding to all school districts can help prevent poor students from having lower graduation rates, lower rates of pursuing higher education, and smaller future incomes than their wealthy peers. See why WalletHub awarded North Carolina No. 1 here.
Fortune's 75 Best Large Workplaces for Millennials
Fortune worked with its long-standing research partner Great Place to Work to help find the best employers for those born between 1981 and 1997—a generation known for appreciating firms with strong values and for changing jobs frequently. To determine millennials' workplace preferences, Great Place to Work analyzed feedback representing more than 4.9 million U.S. employees.

The 75 companies on this list represent the best large workplaces for millennials. Among the 75 companies, Red Hat and Kimley-Horn are recognized on this list. You can learn more about them here.
The Triangle's Life Science Industry battles COVID-19
Perhaps no region in the United States was more prepared to fight coronavirus than our state's Research Triangle Region. As you may be aware, the Triangle is known widely as one of the top life science clusters in the United States. with more than 500 life science companies in our 12-county region.

The Triangle's universities have played a major role in the growth of our life science ecosystem and are national leaders in health science research. As a matter of fact, both Duke and UNC receive in excess of $1 billion annually in federal research dollars and their discoveries have global implications. Since the coronavirus outbreak, only two organizations have received more COVID-19 funding than UNC: the Centers for Disease Control and Protection (CDC) and the National Institutes of Health (NIH). Read the WRAL TechWire article here to learn more about the Triangle region's Life Science Industry.
Business Facilities: 16th Annual Rankings Report
North Carolina's economic development efforts are recognized in Business Facilities magazine's 2020 Metro Rankings Report, with the City of Raleigh number one on its list of GDP leaders in mid-size metro markets.

Raleigh also ranked number six among the nation's tech hub growth leaders and seventh for millennial magnets, while the Raleigh-Durham region ranked number seven for start-up ecosystems. Read more about the ranking in WRAL Techwire.
Michael Haley Selected for ACCE Economic Recovery Fellowship
ACCE's Fellowship for Economic Recovery is designed to help chambers refine their economic recovery goals. Executive Director of Wake County Economic Development, Michael Haley, has been selected to join this accomplished group of Chamber leaders. Read more.
Fuquay-Varina Hires New Economic Development Director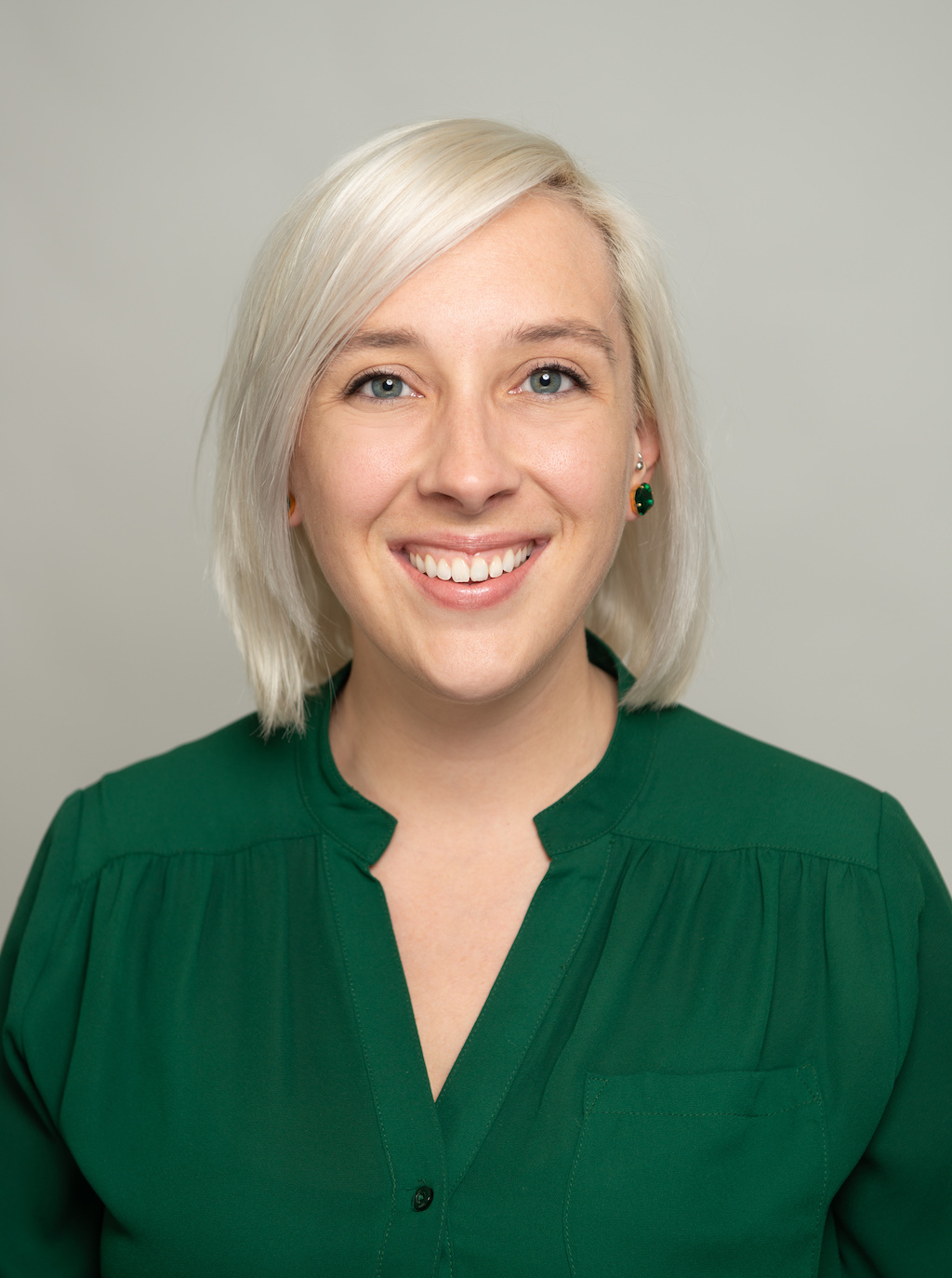 The Town of Fuquay-Varina is pleased to announce the hiring of Alyssa Byrd as the Town's new Economic Development Director. In her new role as Economic Development Director, Byrd will oversee the Town's Economic Development Department which provides professional services to attract new investment and industry, encourages the expansion of existing industry, and aligns workforce education and talent to support the Fuquay-Varina business community. The Town's former Economic Development Director, Jim Seymour was promoted to Assistant Town Manager earlier this year.

"The Town Board has worked closely with our business community and stakeholders to implement projects that create real opportunities for our community," said Mayor John W. Byrne. "Alyssa is the right person to help us continue that mission. Alyssa is a strategic thinker who is skillful in building strong relationships with both the public and private sectors. She's an experienced economic development leader and we welcome her to Fuquay-Varina."

Byrd comes to the Town of Fuquay-Varina from the Chatham Economic Development Corporation where she currently serves as President. "Alyssa has a breadth of economic development knowledge," said Town Manager Adam Mitchell. She has an extensive understanding of advanced manufacturing recruitment, incentive agreement negotiations, and industrial site management. The role of the Economic Development Director is critical to the growth and sustainability of our community. I believe Alyssa will be an asset to our team as the Town continues to experience transformational growth and positive momentum." Ms. Byrd assumes her new role on August 31, 2020.

Byrd is a graduate of the University of North Carolina at Chapel Hill and is currently in graduate studies at the Economic Development Institute at the University of Oklahoma. She is Emerging Executives Co-Chair for the NC Economic Development Assn., and on the Board of Directors for the Research Triangle Regional Partnership. Byrd stated, "I am excited to join the Fuquay-Varina team and to serve the community. I look forward to supporting the growth and success of the Fuquay-Varina economy."
2020's Most & Least Educated Cities in America
To determine where the most educated Americans are putting their degrees to work, WalletHub compared the 150 largest metropolitan statistical areas, or MSAs, across 11 key metrics. Raleigh, Durham, and Chapel Hill are ranked among the top 15 most educated cities in the U.S. See the full ranking here.
2020 Scoring Tech Talent
What tech markets are poised to benefit from and accelerate post-pandemic growth? Check out the latest tech talent report from CBRE. The report details the key factors that influence the rankings such as educational attainment and urban living and shows the highest concentrations of tech talent.

The Raleigh-Durham market ranks tenth on the list following Atlanta. You can review the full report on the CBRE website.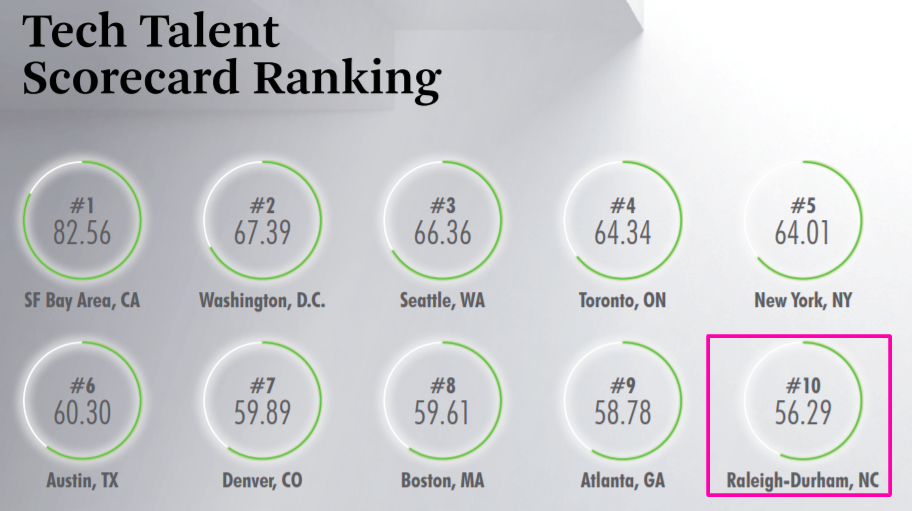 North Carolina's 25 biggest corporate job creators
While many industries show up on Business North Carolina's annual list of the largest job-creating projects, pharmaceuticals takes a dominant role with massive investments planned by global giants Pfizer, Merck, Eli Lilly, and Audentes Therapeutics. The rankings are based on major job announcements in the year ending June 1 and include the number of committed positions and pledged investment

In good times or bad, the Tar Heel State's combination of a talented workforce, relatively low taxes and living costs, and a traditionally pro-business regulatory approach has made it a favorite of corporations. For the third straight year, Forbes ranked North Carolina first in its Best States for Business, while the CNBC network ranked it third in its similar listing. Read more in Business North Carolina.
Suburbs & Mid-Size Cities Are In, Big Cities Are Out
Site Consultant Survey Finds Shifting Corporate Location Preferences
July 16, 2020 – Suburban areas and mid-size cities, followed by rural areas, will be the biggest winners of new corporate expansions and relocations, with large urban areas falling to the bottom of the list, according to a survey on the impact of COVID-19. The findings were released today by the Site Selectors Guild, the only association of the world's foremost professional site selection consultants.
Conducted the week of June 29, 2020 in partnership with Development Counsellors International (DCI), the online survey of Guild members aimed to uncover changes and new trends in corporate location strategy brought on by the COVID-19 crisis. The COVID-19 impact survey of Guild members was the second of its kind, with the first conducted in April 2020.
"As advisors on corporate location strategy across all industries, Guild members are the first to see emerging trends and changes in corporate location decisions before they are ever made public," said Jay Garner, Site Selectors Guild board chair and president of Garner Economics LLC. "This perspective is particularly telling."
"Everything from physical distancing to changing transit preferences has affected the way that corporations view location decisions," said Rick Weddle, president and CEO of the Site Selectors Guild. "We hope this insight from our members will help both corporate decision makers and economic developers understand the changing landscape as well as new opportunities."
The top findings of this research follow:
Suburbs and Mid-Size Cities Will Be the Next Winners for Corporate Location Projects
The pandemic has brought suburban areas and mid-size cities into the forefront of consideration for future site selection projects and even put rural areas well ahead of large urban areas. When Guild members were asked about locations that are "likely" or "very likely" to be considered by corporations looking to expand, relocate or open new facilities in the next 12 months, 64% chose suburban areas, 57% chose mid-size cities, 31% chose rural areas, and just 10% chose large urban areas.
Consultants indicated that New York would be hit especially hard among the nation's largest cities. Of the consultants who agreed that large urban centers are "not at all" or "unlikely" to be considered for future projects, 100% said that New York City would be among the least likely locations to be considered for future projects in the next 12 months. Los Angeles and Chicago followed with 63% and 42%, respectively.
Consultants were also asked to name specific mid-size cities that would be strong potential candidates for new locations or expansion projects in the next year and named the following cities (presented in alphabetical order):
Boise, ID
Colorado Springs, CO
Columbia, SC
Columbus, OH
Greenville, SC
Huntsville, AL
Indianapolis, IN
Kansas City, MO
Raleigh-Durham, NC
Reno, NV
Tucson, AZ
Consultants Report 61% of Site Selection Projects are Moving Forward
Consultants reported an uptick in projects moving forward in June compared to April, with 61% of Guild members reporting that companies are moving forward with site selection projects, a 16% increase since April. Of Guild members surveyed, 34% said that companies are pausing site selection projects, and 5% reported companies are consolidating facilities or canceling site selection projects.
There was also a general consensus that office projects will remain on hold until there is a clearer understanding on what the "office of the future" will look like and footprint requirements. Guild members also indicated that manufacturing will continue to be driven by the need to de-risk the global supply chain. There will be an accelerated rate of reshoring as well as more, smaller regional facilities to mitigate risk.
Majority of Project Activity Predicted To Resume in 2021
When asked to predict when client companies will restart expanding or adding new facilities, 13% of consultants reported that projects had already started moving forward in Q2 2020; however with a rapid rise in COVID-19 cases across the U.S. in June when the survey was conducted, none of the Guild members predicted paused projects would restart in Q3 2020. Twenty-two percent indicated companies will restart projects in Q4 2020, 39% indicated Q1 2021 and 26% indicated after Q1 2021.
Food and Beverage Processing Emerges as Hot Industry, Biotech and Manufacturing Activity Continue to Hold Strong
In both the April and June surveys, Guild members were asked to select the industry sectors that are seeing the most project activity as locations across the globe begin to reopen. In June, the food and beverage processing industry saw the largest increase in project activity when compared to the April survey. The top five most active industries -- with comparisons to Guild member selections in April -- are listed below:
Biotech and Life Sciences - 67% (down from 68%)
Advanced Manufacturing - 51% (up from 29%)
Food and Beverage Processing - 47% (up from 16%)
Transportation and Logistics - 44% (down from 48%)
Software and IT - 31% (up from 19%)
Economic Developers Should Begin Shifting Focus Back to Business Attraction
As was reported in the April survey, Guild members believe an economic development organization's (EDO) priority focus in the COVID-19 environment should be on business retention and workforce development/talent attraction. However, there has been a shift in thinking that EDOs can begin to elevate their focus on business attraction as well. When asked what the priorities should be for EDOs - on a scale from 1 (not a priority) to 5 (high priority) - Guild members assigned a rating of 3.6 to business attraction, a considerable increase from the rating of 2.9 in the April survey.
About the Site Selectors Guild
The Site Selectors Guild is the only association of the world's foremost professional site selection consultants. Guild members provide location strategy to corporations across the globe and for every industry, sector, and function. Founded in 2010, the Site Selectors Guild is dedicated to advancing the profession of international corporate site selection by promoting integrity, objectivity and professional development. Members are peer-nominated, vetted, and must demonstrate significant professional location advisory experience. In the past three years alone, Guild members facilitated the announced creation of approximately 165,000 jobs and $90 billion in announced capital investment. Guild membership is the highest standard in the site selection industry. For more information, visit siteselectorsguild.com or follow @siteselectguild on Twitter.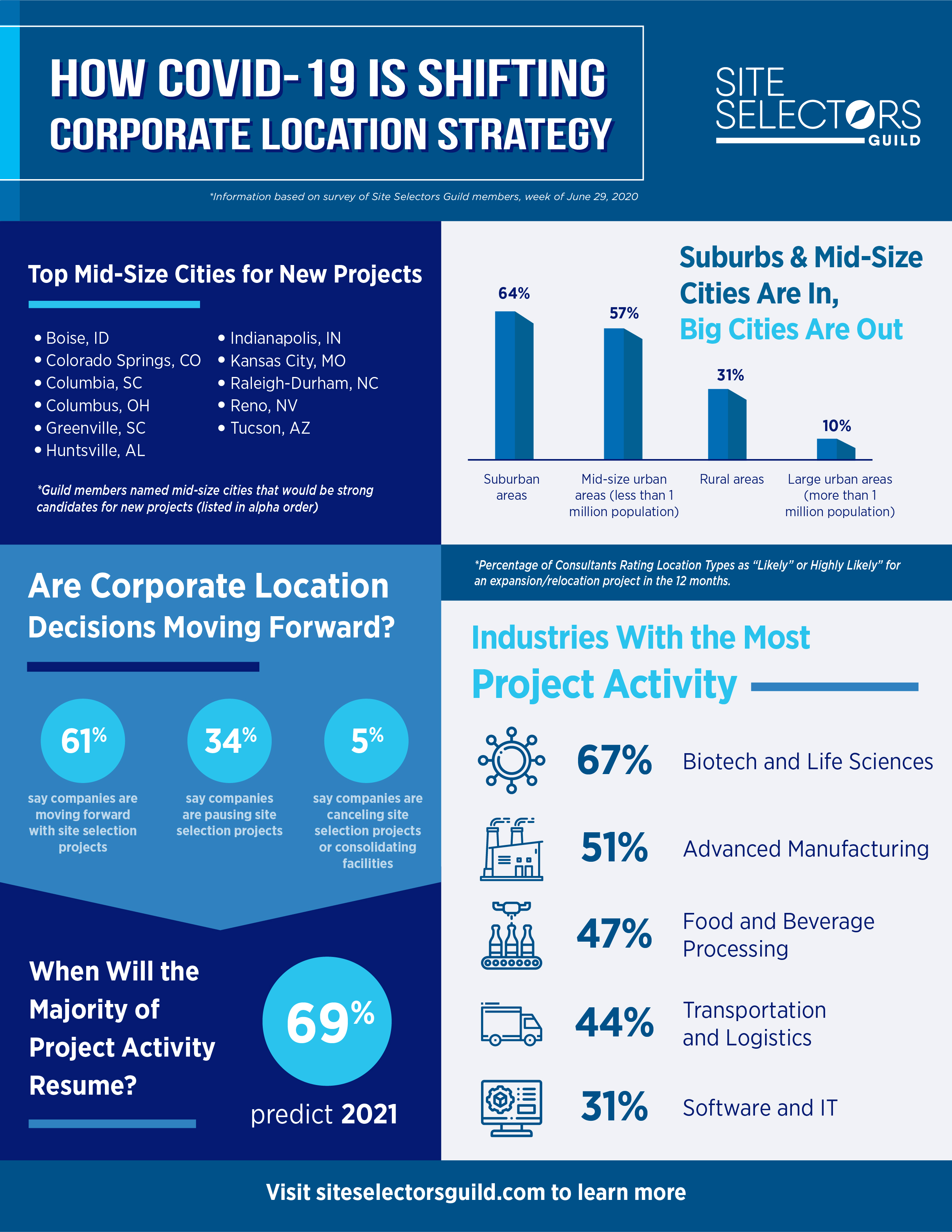 Best U.S. Cities for Remote Workers
The world is facing a challenging time. As countries across the globe fight to contain the spread of Coronavirus, it has forced many businesses to transform their workplace into a remote one. Many employees are now working from home. While it may be a whole new world for some businesses, for others it's common practice. Today, 4.7 million Americans work remotely, according to FlexJobs. While Phoenix, Arizona holds the top spot, there are plenty of other cities that are ideal for remote workers. Take a look at the rankings here to see why Raleigh is listed as No. 4 in the U.S.
Bandwidth's CEO remains committed to new $103M HQ
Despite a massive shift to a work-from-home culture triggered by the COVID-19 pandemic, Bandwidth is still moving ahead with big plans for new corporate headquarters in Raleigh. Appearing in a virtual seminar conducted as part of the Economic Development Summit series on Wednesday, its founder and CEO David Morken said he remains committed to investing more than $103 million for the new campus.

"We're crazy," he told Raleigh Chamber president and CEO Adrienne Cole, who led the session. "We believe that we are all going to emerge from our homes into the bright light of an exciting future. My experienced view is that we are going to be more and more desperate than ever to collaborate — in person." Read the rest of the article here.
WRAL Techwire covers the Regional Skills Analysis Survey Results
"The regional economy will recover, but job growth is going to be slower than expected, and it's going to be uneven," said RTI International Mike Hogan, RTI International research economist, during the Economic Summit series held virtually this week. "The abrupt shutdown is really devastating to jobs in restaurant, hospitality, and retail."

Hogan was recapping results from the Regional Skills Analysis Survey launched in March. Initiated by the Raleigh Chamber, Wake County Economic Development, Capital Area Workforce Development, and the City of Raleigh, in conjunction with RTI International, it was originally designed as a follow-up to the 2017 Triangle Talent Initiative.

However, Life sciences, IT, manufacturing, and healthcare still expect to grow their workforce at high rates — between roughly 61-87 percent. Continued demand is expected for positions such as software programmers, nurses, and front-line production workers.

Read the rest of the article here.
K4Connect continues to serve Senior Citizens during COVID-19
K4Connect, a startup focused on bringing new technologies like voice assistance, home automation, digital messaging and more to older adults and those living with disabilities, has closed on $21 million in Series B funding. The B round had originally wrapped in October 2018 but was extended with the recent addition of $7.7 million led by Forte Ventures.

The K4Connect platform, which today serves over 800 continuing care, independent living, and assisted living communities across the U.S., can help to address many of the challenges these communities are now facing. Learn more about the platform here.
Reopen Wake
Capital Area Workforce Development has launched Reopen Wake to support the reopening efforts of minority and women-owned businesses and businesses located in Wake County's vulnerable communities. Eligible businesses will be able to provide employees with health and safety training to minimize the spread of COVID-19 as employees return to work and operations resume.
"Small businesses often have insufficient financing and limited internal capacities which have been exacerbated by COVID-19. Business owners of color, women founders, and other underrepresented minorities often have an even greater need. We're glad to be able to provide this program to help businesses and their employees better prepare to operate safely in the current environment," said Pat Sturdivant, Executive Director at CAWD.
This interactive online training addresses topics such as how to protect staff from workplace outbreaks, facilities setup, and best practices for safely bringing employees back to work. Employees will also learn best practices for personal health and safety. Learn more here.
Murphy's Naturals Expansion

Murphy's Naturals, a home-grown mosquito repellant company, is preparing to double its footprint in Raleigh, despite the pandemic.
Murphy's Naturals CEO Philip Freeman credits the company's recent success to multiple factors, from a new hand sanitizer line launched in conjunction with the pandemic's spread earlier this year, to a federal infusion in the form of Paycheck Protection Program funds.
But he said it really comes down to people. And, with layoffs happening at other companies throughout the Triangle, he said he's been able to find top tier caliber talent as his company expands – meaning that people factor could continue to drive the company.
Read the rest of the TBJ article here.
The Top Global Ecosystems of Today and Tomorrow

Startup Genome has nearly doubled the number of ecosystems studied since 2019 — assessing over 270 ecosystems across over 100 countries to rank the top 30 globally and runners-up. Their ranking this year goes beyond the top ecosystems to include "Emerging Ecosystems" — the next 100 ecosystems after the top ones.
As startup culture and entrepreneurship spreads across the world, different ecosystems are gaining relevance and impacting economies in a meaningful way. The factor weights used to rank these ecosystems are slightly different from those used with top ecosystems to reflect their emerging status and emphasize the factors that influence more in ecosystems that are just beginning to grow. Read the rest of the ranking and article here.
Meet N.C.'s Booming Small Towns

Two things are driving the growth of North Carolina's fastest-growing small towns: spillover from nearby big cities like Raleigh and Charlotte and retirees looking to settle down in small communities. That's the assessment of demographers and town officials, and it shows in U.S. Census data released in May. Raleigh and the Research Triangle Park area especially is driving the growth of nearby small towns.
Read the Fayetteville Observer to learn more about municipalities in Wake County that are growing by the day.
WRAL Techwire: Ready, set, evolve, go and grow for all, says Wake County Economic Development director
RALEIGH – The COVID-19 pandemic continues to have impacts across our community. This included a quick pivot on our part to host our first virtual Economic Development summit series. While we would have preferred to be with you (in-person), the virtual format drove us to take a deeper dive on key issues and challenges our community is facing. Read more.
Wake County Hiring to Support Continued COVID-19 Response
People seeking jobs during the current economic downturn may find new employment opportunities with Wake County. The county plans to hire about 235 temporary staff members over the next month to support its ongoing response to the COVID-19 pandemic.
Most of the positions will support the public health function of the COVID-19 response, including contact tracing, epidemiology, and nursing, while other roles will support operations and logistics management for our efforts to fight the virus.
"We are now on day 112 of running our Emergency Operations Center – the longest response in Wake County's history – and it's not going to end any time soon," said Wake County Manager David Ellis. "As we look at how we can start reopening our facilities and begin providing services to our residents again, we must temporarily expand our workforce, so we can continue leading the fight against COVID-19 in a sustainable way."
Read the rest of the press release here.
Cities With the Most Successful Female Entrepreneurs

Nationwide 7.7% of female workers own their own business, according to data from the U.S. Census Bureau. For many of these women, entrepreneurship offers more flexibility than traditional jobs, which is appealing. To find the locations with the most successful female entrepreneurs, researchers at Volusion used data from the U.S. Census and Bureau of Economic Analysis to calculate a comparable metric of purchasing power across locations. See why Raleigh is No. 5 here.
The Best Cities to Start a Career
Starting your career can be tough. No matter how old you are or how much schooling you have, it's always difficult. It especially doesn't help when you have your parents on your back about it because they want you out of the house. If you've been searching for a job in your area with no luck, maybe it's time to try job hunting in a different city. Zippia found the cities where rent is cheapest, starting incomes are high, and jobs are abundant. See why Zippia ranked Raleigh No. 6 here.
Town of Cary to Welcome Amazon Delivery Station

The Cary Chamber of Commerce is pleased to announce that Amazon will become a new corporate citizen for the Town of Cary in the coming months.Based on the company's expansion plans, they will be opening and operating a new Delivery Station in Cary, adding to their existing presence in the region. Amazon's Delivery Station in Cary expects to hire and employ hundreds of associates as they ramp up their operations in 2020.
You can read the full press release here.
European crop protection firm picks RTP for US headquarters

Ag tech companies around the world are scrambling to develop new and better ways to use safe and socially acceptable biological methods to protect food crops from diseases and pests.
Now, a transformative Belgian crop-protection company, Biotalys NV, is bringing some of its $66 million of investment support to North Carolina, establishing U.S. headquarters in Research Triangle Park.
The U.S. subsidiary, to be known as Biotalys, Inc., will be led by Diego Angelo, who also holds the newly created role of a chief business officer. Working from the Landing Pad office space at the North Carolina Biotechnology Center, Angelo will be preparing for the U.S. commercial launch of the company's lead bio fungicide, BioFun-1.
Read more about this announcement in WRAL Techwire
Best Places to Work in Tech 2020
The tech industry is one of the most lucrative in the U.S. Though the COVID-19 crisis has cost the industry jobs just like virtually every industry, going into tech remains the goal of many young people, especially those with degrees in hard sciences. SmartAsset analyzed the data to uncover the metro areas in America that are the best places to work in tech - Raleigh ranked No.3.
The EDPNC is Ready to Help Restore International Trade
North Carolina businesses exported a record $34.35 billion in merchandise in 2019 but started this year facing the economic impact of an unprecedented global pandemic.

Since then, trade specialists at the Economic Development Partnership of North Carolina have stressed one message to the hundreds of businesses they serve across the state: The EDPNC can help them begin, restore or grow international sales as an important piece of their recovery.

"What worries me is that over the next year, many businesses in North Carolina may feel the need to shut the door on international opportunities because 'that's where COVID-19 came from,' " says John Loyack, EDPNC vice president of global business services. "But now is the time to stay engaged internationally. The businesses that will come out of this situation in the strongest position will have used this time as an opportunity to strengthen their international sales relationships. This is also an opportunity to rethink and strengthen your supply chain. We have the resources to help."

The EDPNC trade team supports more than 600 businesses a year on the state's behalf. Learn more about EDPNC's efforts here.
myFutureNC Blog Series: A Board Member Q&A with Kevin Howell, Vice Chancellor for External Affairs, Partnerships, and Economic Development, NC State
The ability of North Carolina's institutions of higher education to prepare an industry-ready workforce has become increasingly important in attracting business to our state. The Hunt Institute spoke with Kevin Howell, Vice Chancellor for External Affairs, Partnerships and Economic Development at NC State University and a member of the myFutureNC Board of Directors to learn more about how universities drive economic development and ways in which ongoing partnerships with the business community support postsecondary attainment in North Carolina.
Best Cities For New Grads 2020
With the impact of COVID-19 this year, it's more important than ever for the graduating class of 2020 to find the right cities to live that offer job opportunities, manageable cost of living, with salaries that make sense with the respective city rents, and the potential for a good social life once Shelter-in-Place or Stay-at-Home orders lift. Zumper's ranking takes all that into account with a 7 category index to thoroughly cover the top 100 cities across the nation.
Wake County Launches Surveys to Gauge Pandemic's Impact on Local Companies
Wake County Economic Development wants to know how businesses are coping during this pandemic.

In partnership with Raleigh Chamber and Innovate Raleigh, it has launched two surveys to gauge how local companies are adapting to these unprecedented times, and sudden economic downturn. The first is a business impact survey, which asks directly what are the impacts on hiring, finance, and short-term company decision making.

The second, a regional skills analysis, is part of a larger effort to understand the employee skills that businesses need now and in the future. It had been planned before the outbreak and is being administered by other regions in North Carolina.

Learn more about both surveys in WRALTechwire.
Raleigh Entrepreneur and New Parent Shares her Story
Jess Porta, director of HQ Raleigh guest authors a new article sharing her personal experience as a new mother during COVID-19 and running HQ Raleigh.

"I'm so grateful to live and work in this community and I look forward to raising my son and growing my career in a community that is authentic and dedicated to its own success." You can read the rest of her article here.
TOURTech helps Restaurants Reopen Safely with Touchless Menu
TOURtech, a leader in providing innovative IT solutions, today unveiled its Touchless Menu technology, which broadcasts digital menus onto guests' personal smart devices. This system eliminates the need for disposable and reusable menus, supporting social distancing guidelines, and helping reduce multi-touch items that can spread Covid-19 and other germs.

"We all want to reopen bars and restaurants but in the safest possible way," said Allen Cook, founder, and CEO of TOURtech. "Our technology provides a safe ordering for customers and staff so restaurant owners can focus on what they do best—giving people a great dining experience."

Touchless Menu technology is user-friendly for both businesses and customers. Learn more here.
International Business Times UK Covers Flytrex Story
The story about Flytrex's work in Holly Springs created a ripple effect in the media, having Fox News pick up the story, and now international coverage for North Carolina and Holly Springs. We are pleased to share that the article, Virus isolation pushes North Carolina town to use drones for meal deliveries and more was published in The International Business Times UK. The article highlights Flytrex's work in Holly Springs, in partnership with NCDOT and the FAA's UAS Integration Pilot Program. The article primarily cites comments/quotes from the original Fox News story, and links back to that original piece, as well.
The New Normal: The Triangle's Entrepreneurial community
In the first of an exclusive multi-part series, WRAL TechWire's Jason Parker examines the rapid changes being forced on the Research Triangle's entrepreneurial ecosystem by the onslaught of the COVID-19 pandemic. Entrepreneurs at startups and emerging companies in North Carolina's capital as well as Cary are dealing with what's being called an "unprecedented disruption." And as the state begins to reopen for business, what impact the COVID-19 pandemic will have going forward remains unclear.

Michael Haley, executive director of WCED and Senior Vice President of the Raleigh Chamber, and Bridget Harrington, executive director of Innovate Raleigh are featured in this article. Read the article here.
Application Period Opens for 'Wake Forward' Small Business Relief Program
Small businesses and independent contractors in Wake County that have lost revenue due to COVID-19 can now apply for loans to help plan for the future. The application period for Wake Forward officially opened at noon today. People who are interested can visit the Wake Forward website for information on how to apply.

"Local businesses and their employees have been hit hard by the effects of
COVID-19 and the goal of this program is to help them find a way forward," Wake County Board of Commissioners Chairman Greg Ford said. "During this time of uncertainty, Wake Forward provides immediate support for our small businesses and proprietors – as well as hope and stability for our entire community."
Coronavirus disruptions see drone meal delivery launching in North Carolina
One town in North Carolina is thinking outside the box to help residents stay safe at home but still receive groceries or meal deliveries, on-demand, during the coronavirus crisis.

A pilot program is being launched in Holly Springs to use drones to deliver daily essentials from a local shopping center to homes in the area. The delivery method can save customers' time so they're not waiting in lines or driving to and from the Holly Springs Towne Center, but the no-contact service also allows customers to stay in their homes, avoiding crowded locations or unnecessary contact with delivery drivers.

The town of Holly Springs partnered with drone delivery company Flytrex and the North Carolina Department of Transportation to earn a spot in the Federal Aviation Administration's highly selective UAS Integration Pilot Program. Fox News covers the story of Flytrex in a new article.
The 10 US Cities Best Positioned To Recover From Coronavirus
The coronavirus pandemic has impacted cities across the country with varying force. New York City has been hardest hit, and it's no secret that the Big Apple is going to be one of the places that will have the most challenging time bouncing back from the coronavirus pandemic, no matter when things subside. But which cities will have the best coronavirus recovery? And which other cities will struggle?

Moody's Analytics has issued a report that examines the potential to recover from coronavirus among the top 100 metro areas in the US—and while some of the results are to be expected, some are more surprising. Read the Forbes article to see why Raleigh and Durham were listed among the Top 10.
La French Tech Raleigh is Announced
The teams of La French Tech Raleigh-Research Triangle and The French American Chamber of Commerce of the Carolinas (FACCC) have collaborated tightly since 2019 — with many backstage supporters — to make this happen.

A unique initiative, La French Tech brings together startups, investors, policymakers, and community builders in France and throughout the world. NC entrepreneurs can now effortlessly access a broad network of 13 French Tech capitals, 53 French Tech communities in France, and 56 French Tech communities across the world.

This accreditation is an opportunity to showcase Raleigh-Research Triangle and help tech entrepreneurs and talent solidify their decision to move to the Triangle. Learn more about this initiative here.
CNBC Spotlights NC State University's PPE Production
North Carolina State, known for its textile program, has likely created one of the most impressive college PPE production programs in the country. Chancellor Randy Woodson tells CNBC Make It that the school is helping manufacture material for N95 masks, surgical masks, and plastic face shields.

"Our scientists have completely converted their research over to manufacturing these materials and are doing it in partnership with companies like Brooks Brothers and Hanes to produce enough material for almost a million masks a day," he says, adding that NC State biomedical engineering students have partnered with students at rival schools Duke University and UNC-Chapel Hill to produce plastic shields in several sizes.

Woodson says that this ability to quickly and collaboratively meet community needs reflects why colleges and universities like NC State are so valuable. Read the rest of the article here.
The Best and Worst Cities to be Quarantined
No one wants to be quarantined and everyone is just trying to make the best of it. However, some cities are better places to be stuck at home than others. We often think about what cities have to offer in terms of nightlife, dining out, and exciting things to do. However, for the millions of Americans stuck at home in formerly exciting cities, the nearby theme park or vibrant theatre scene isn't doing much.

What do they care about? Spacious apartments, speedy internet, plentiful take-out options, and nearby green space. See why Raleigh made the list here.
Wake County wants to give $5 million to small businesses
Wake County Commissioners met Monday to discuss a plan to funnel $5 million from the federal government to small businesses. Wake County Commissioner Matt Calabria said the county has the potential to receive $194 million dollars from the federal government, and he's proposing some of that money go to small business owners. You can learn more in WRAL's article here.
Wake Tech Named No. 1 Online Community College
More and more, community colleges are trying to cater to the busy lifestyles of adult learners and, therefore, there are more and more community college online options. It goes without saying that Wake Technical Community College is one of the best community colleges in North Carolina. It can be argued that it is actually one of the best community colleges as far as online learning goes, period. They offer more online degree programs than any community college in the country with a wide range of certificates options as well.

See why College Consensus named Wake Technical Community College so highly here.
Drones to fly COVID-19 relief in parts of North Carolina
Drones will deliver medical supplies and food in North Carolina communities in May under a public-private partnership announced by the state's aviation officials as a response to the COVID-19 crisis. The drone flights will launch in mid -May under the coordination of the aviation division in the state's department of transportation. You can learn more about drone usage in North Carolina, and the NDOT's involvement in FierceElectronics.
Raleigh City Council Approved $1M to Support Small Business
Raleigh City Council approved $1 million to support a grant fund designed to help keep small businesses afloat during the coronavirus pandemic. Small businesses have been hardest hit by the economic turmoil caused by the growing number of COVID-19 cases. The federal government created PPP loans, but many small businesses were unable to get those loans due to a variety of problems. Read more.
Maggie Kane & A Place at the Table Featured on Podcast
A Place at the Table in Raleigh, North Carolina is one of only 61 pay-what-you-can restaurants in the U.S. – which means customers can choose to pay the suggested price, pay what they can afford, volunteer their time or pay-it-forward. Maggie Kane opened A Place at the Table in January 2018 with the mission for the restaurant being to provide everyone in the community with hot, healthy meals regardless of means. In 2018 alone, diners paid forward over 25,000 meals and volunteered more than 24,000 hours.

Learn more about Maggie and how A Place at the Table is serving the community during COVID-19 in Disruptors for Good's podcast.
Wake County Extends Stay-At-Home Order To Protect Residents From COVID-19
To continue efforts to slow the spread of COVID-19 in our community, Wake County Board of Commissioners Chairman Greg Ford signed a new proclamation, extending the stay-at-home order through April 30.

"While we're making good progress to flatten the COVID-19 curve in our community, we haven't hit our peak caseload yet, so it's too early to lift our stay-at-home restrictions," said Chairman Greg Ford. "However, we understand how challenging this is – particularly for businesses – which is why this extension includes provisions to help the local economy while enabling us to save lives."

Under the updated order, all retail businesses in the county, its 12 municipalities (Apex; Cary; Fuquay-Varina; Garner; Holly Springs; Knightdale; Morrisville; Raleigh; Rolesville; Wake Forest; Wendell; and Zebulon), and portions of Angier, Clayton, and Durham located within Wake County, are allowed to operate if they provide delivery or curbside pickup options for customers.

The full announcement can be found here.
Podcast Raleigh: Mayor Mary-Ann Baldwin
Around the time we should have been assessing Mary-Ann Baldwin's first 100 days on the job as Raleigh's mayor, everything changed as the novel coronavirus and COVID-19 became the biggest issue locally and globally. Mayor Baldwin was kind enough to join Podcast Raleigh again (our first repeat guest!), this time to talk specifically about how the coronavirus is affecting life in Raleigh, where we stand currently, and planning for re-opening and recovery. Listen to the podcast.
Murphys Naturals Finds New Purpose in Pandemic
In addition to encouraging the curve-flattening behavior of social distancing even if it means staying inside, many of our favorite outdoor brands are also pivoting production and reorienting their resources to help the COVID-19 cause. With Amazon selling out of Purell and other hand sanitizers, some outdoor industry brands have repurposed themselves to supply the demand. Natural insect repellent manufacturer, Murphy's Naturals has promised its first shipment of 6,000 bottles of hand sanitizer to the United States Navy, since its founder, Philip Freeman, is a U.S. Navy veteran.

Read Elevation Outside magazine to learn more.
Bandwidth's Morken: Why he chose Raleigh for new HQ, other expansion plans
Even in the age of coronavirus, big deals are getting done. Look no further than the Triangle's homegrown software communications company, Bandwidth. Slightly more than 20 years ago, its CEO and founder David Morken, fresh from serving in the Marine Corps as an advocate judge, started the company in a spare bedroom in Raleigh.

Today, the attorney-turned-entrepreneur is getting ready to build new headquarters for that company — on a 40-acre plot of land to be purchased from the State of North Carolina for $30 million. The uptick: creating 1,165 new jobs with an average salary of $96,832 and generating more than $100 million in capital investments to the region.

Read the WRAL Techwire.
Bandwidth Announces Expansion & Over 1,000 Jobs
Fast-growing software communications company Bandwidth is getting new corporate headquarters in Raleigh. The uptick: adding 1,165 new jobs with an average salary of $96,832 and generating more than $100 million in capital investments. The Raleigh firm — founded by attorney-turned-entrepreneur David Morken in a Raleigh spare bedroom more than 20 years ago — today got approved to purchase a 40-acre plot of land from the State of North Carolina located at the southwest corner of Reedy Creek Rd and Edwards Mill Road for the new 500,000-square-feet facility. Read more.
Ashley Cagle Named to Raleigh Magazine's Top 30 List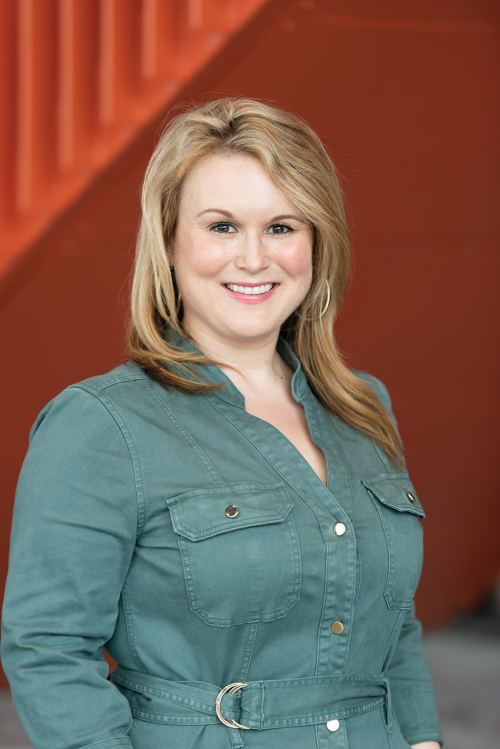 Ashley Cagle, Assistant Executive Director for Wake County Economic Development and Vice President of the Raleigh Chamber was named to Raleigh Magazine's Thirty In Their 30s. To read Ashley's nomination and to see the other nominees, visit the Raleigh Magazine website.
How small businesses are making big changes in the face of crisis
COVID-19 is changing working life. One area of impact is with small businesses and entrepreneurs. Digital Journal highlights how businesses and start-ups across the U.S. are adapting and innovating amongst the new regulations and ever-changing circumstances.

When the executive order for restaurants to stop dine-in service came, the City of Raleigh and partners moved quickly to establish curbside pickup zones Wednesday throughout downtown and other popular areas so that residents can support local restaurants, and the businesses can continue to operate. The curbside pickup zones are fluid, and businesses and other organizations are welcomed to suggest new or changed zone locations.

Read more here.
Students Help Businesses Solve Real Problems in Win-Win Partnerships
North Carolina nonprofit District C is working to connect schools and local businesses for hands-on learning as districts nationwide strengthen similar efforts. Among the most frequently cited complaints from employers, today is that the rising workforce is lacking soft skills, like problem-solving and teamwork.

Recognizing this need, former teachers Anne Jones and Dan Gonzalez launched the nonprofit District C in North Carolina. The organization trains teachers to coach students on how to work together to solve real business problems, help schools launch a course called "C Squad" and identifies business partners interested in participating.

Read more here.
Inter-Faith Food Shuttle Receives $23,000 from Duke Energy Foundation
Inter-Faith Food Shuttle has received $23,000 from the Duke Energy Foundation to address food relief in central North Carolina during the COVID-19 pandemic. The grant will fund hunger relief for K-12 students and their families by providing food boxes and other food distribution to families in need and impacted by the COVID-19 pandemic. You can read the full article on the Inter-Faith Food Shuttle blog.
How to Virtually Explore Attractions, Museums and More in Raleigh, N.C.
Learn. Discover. Distract.

It's no secret that times are tough right now, especially in the hospitality industry. Much of the Raleigh area's tourism infrastructure—museums, historic sites, sports facilities, concert venues, etc.—are not open at the moment. But there are still ways for people of all ages to discover new information and ideas through virtual visits to museums and beyond.

We've rounded up a bunch of ways to learn something new and distract your children (or yourself!) here.
Skill Survey Launches
What kinds of skills will employers need for tomorrow's jobs? Wake County is working to find out. Over the next two months, local officials, along with RTI International, will be surveying businesses across 10 industry sectors in RTP as part of its re-launch of the Regional Skills Analysis. It will include companies hiring from one to five people all the way up to 1,000-plus. The aim: to gain a better understanding of the current state of the local workforce, skill gaps, and trends in growth, hiring and industry development.
Read more
Five Places to Visit in Raleigh, N.C., With Cheetie Kumar
"It's a place that is so surprisingly and unboisterously diverse," said Cheetie Kumar, a local chef and rock guitarist who grew up in northern India and the Bronx before moving to Raleigh in the 1990s. As the chef-owner of Garland, an Indo-Pan-Asian restaurant with an adjoining music venue, Kings, and cocktail bar, Neptunes Parlour, Ms. Kumar is emblematic of the city's evolution. Read the rest of the New York Times article to see what else Cheetie has to say about Raleigh.
Envestnet to Expand Footprint in Raleigh
Envestnet, Inc. announced it will relocate its North Carolina-based offices later this year to three floors of a futuristic, high-rise building currently under construction in the heart of downtown Raleigh. The move will give the Envestnet teams based there enough space to more than double their headcount over the next year. Read more.
Women in Business Index: The Most Progressive US Cities for Businesswomen
TollFreeForwarding.com delved deep into the latest business data and statistics from across the United States to see how much progress was made in the 2010s, and where it could all go over the next decade. Data was collected for the top 50 US cities by population, and a positive or negative trend was calculated based on the progress made over those years.


Raleigh comes second by virtue of excellent all-round performance. With no positions outside the top 20, women who head to Raleigh will find a city of opportunity, equality, and growth. The city's best positions were the top ten finishes in population growth (increasing by over 22%) and economic growth (up by over 56%). These may not directly concern women, but solid performances with the female-led factors show how the city is a top choice for women in business.
Glassdoor Ranks Raleigh for Jobs
North Carolina's capital city is No. 1 on the "Best Cities for Jobs in the US," according to a new report from employment and jobs website Glassdoor. Read more.
WRAL TechWire: Raleigh's 'East Coast Made Easy' campaign unveiled for upcoming SXSW
"Raleigh — East Coast Made Easy." That's the catch phrase for the city's collaborative campaign to be showcased at this year's South by Southwest Interactive Trade Show (SXSW) in Austin from March 15-18. It includes a 20-foot booth installation by local artist Gino Reyes unveiled today at Raleigh Union Station, aiming to depict Raleigh as "a community with big city hustle without the hassle." Read more.
ABC 11: Raleigh economic leaders to showcase city at trade show in Austin
To many of us, South by Southwest is simply a music festival in Austin, Texas. But to the city of Raleigh, it means opportunity. "SXSW is a great opportunity for us to take our story on the road. And talk to other people from around the world about why Raleigh is a great place to live, work and play," said Ashley Cagle of Wake County Economic Development. In a few weeks, a group of people from Raleigh and Wake County will represent the region at the SXSW Trade Show to showcase the best of the region. Read more.
CBS 17 Covers SXSW Trip
On Tuesday, February 25, economic development leaders unveiled the new campaign that will be presented at South by Southwest (SXSW.) Many know SXSW as a film and music festival but there is also a trade show component. Watch the video here.
5 Cities Where Homes Could Make A Good Investment in 2020
Buying a home will likely be the most expensive and complex purchase a family or individual ever makes. Deciding where we live depends on so many factors, from job prospects and proximity to family and friends to the appeal of the surrounding neighborhood. Looking for the best return on the sizable investment of purchasing a home adds another layer to the process.

To get a sense of which markets across the country would be best for buying a home strictly as an investment, Curbed conducted a meta-analysis, looking at metro-level real estate studies by the Urban Land Institute, Realtor.com, and the National Association of Realtors. Raleigh is listed as one of five metros with affordable areas attractive to homeowners.
IBM and NC State Are Leading the Development of a New Quantum Ecosystem
IBM and North Carolina State University are leading the massive amount of research that will be needed to create the full quantum computer ecosystem. The standard computer industry is a nearly $4 trillion a year global ecosystem. There are many companies and researchers working on all aspects of operating systems, chips, electronics, software, testing, security, and quality assurance. These systems and software will need to be expanded to accommodate the new world of quantum systems.

Quantum systems are being integrated with traditional computer systems via cloud access and will eventually be integrated into data centers and then as co-processors.
Nextbigfuture interviewed Dan Stancil, Executive Director of the IBM Q Hub. He talked about the research partnership of IBM Q Hub and NC State.
The Best American Cities for Live Music
Get ready to book your next trip! From coast to coast and across all genres, these are Reader's Digest best places to find jam sessions, jazz bars, listening rooms, and larger venues.
With more than 80 live music venues, Raleigh is sure to scratch any musical itch you have, from bluegrass and indie rock to rap and Americana. If dinner and a show is your style, the Irregardless Café has been hosting live jazz and bluegrass—not to mention fresh-from-the-farm meals—nightly since 1975. The Pour House Music Hall & Record Shop is a record shop by day that turns into a live music venue at night and doesn't appear to discriminate against genres; most nights of the week, you'll find a live show featuring rock, Latin wave, bluegrass, folk, punk, country, Appalachian rock, honky-tonk, garage, soul, funk, and even metal.
RollingStone Covers Raleigh's Music Scene
The Triangle, as it's called, has become a hotbed of independent music recently, with artists from across the country flocking to the area, driven by its cheap rents and ample service jobs. The influx has transformed a relatively insular scene into a thriving one. There's dance music in Chapel Hill, hip-hop and Americana in Raleigh, and indie-rock in Durham. "Fifteen years ago, there were, like, six people here," says singer-songwriter Tift Merritt. "Now, there's a whole community." Read the rest of the RollingStone article.
The 10 Best Cities in the U.S. to Move to Right Now
Choosing where to live is one of the most personal, stressful, and meaningful choices you can make. That's why Curbed cast a wide net to put together a list of where you should live in the U.S in 2020. The cities were chosen were based on a list of criteria—walkability, park access, diversity, housing costs, job opportunities, and more—that together add up to that essential but elusive trait: livability. Read the article to see why Raleigh made the list.
Best Cities for Women in Tech – 2020 Edition
The employment of computer and information technology workers is projected to grow by 12% from 2018 to 2028, adding almost 550,000 new jobs, according to estimates from the Bureau of Labor Statistics, and women make up about 26% of the tech workforce nationally.

SmartAsset uncovered the best cities for women working in tech by considering four factors: gender pay gap, earnings after housing costs, women's representation in the tech workforce and four-year tech employment growth. Visit SmartAsset to see the full study.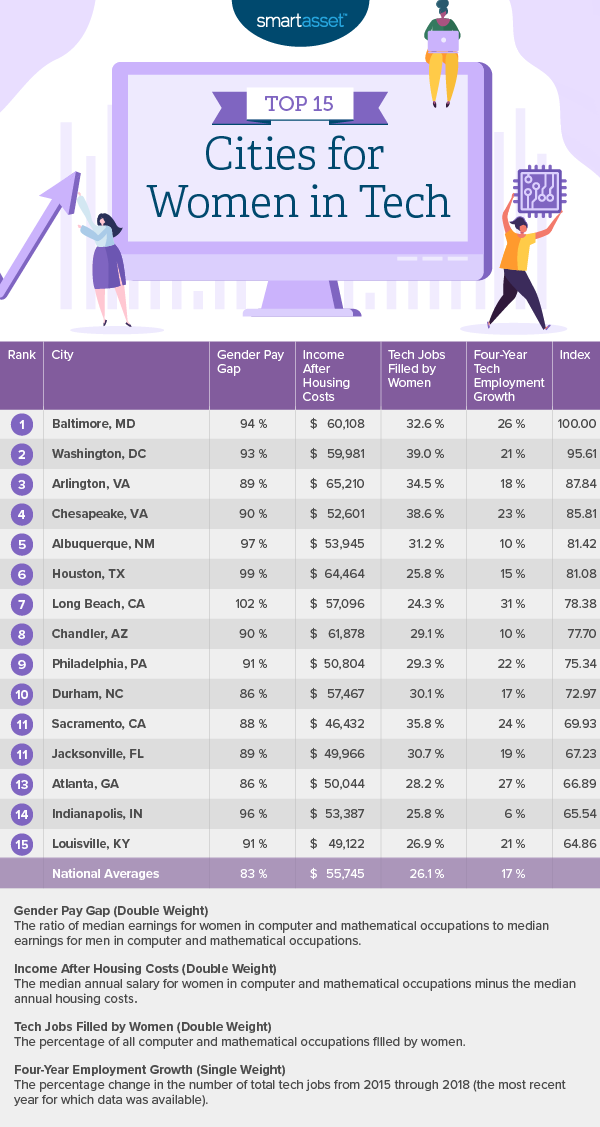 NC State and Delta partner on Commercial Application of Quantum
Delta Air Lines has announced it will be the founding industry partner to join the IBM Q Hub at NC State, as part of a multi-year collaborative effort to explore the capabilities and potential commercial applications of quantum computing. In recent years, Raleigh has become a hub for quantum technology, such as with IBM designating North Carolina State's Centennial Campus as its first university-based Q Hub in North America. The IBM Q Hub, which launched in fall 2018, is one of five worldwide, and NC State is developing a new curriculum that will allow students the opportunity to work alongside scientists and engineers to help build the computers of tomorrow.
Read more in the Digital Journal here.
How Diverse is Your City?
America's cities tend to be some of the most diverse places in the country, and they've become more diverse in recent years. Nearly 70% of the country's largest cities are more racially and ethnically diverse than they were in 2010, according to a U.S. News analysis. The change in urban diversity over the past decade or so has been modest, but significant. On average, the country's largest cities became 2% more diverse between 2010 and 2018. The U.S. News lists the 66 U.S. cities with a population of more than 300,000, ranked by change in racial and ethnic diversity between 2010 and 2018.
7 Reasons Why Both You and Your Wallet Will Love Raleigh, N.C.
Whether you're coming from a major city and hoping to slow down a bit or looking to move from a small town to a more happening locale, Raleigh, N.C. is ready to meet you in the middle.
Raleigh pairs an easy lifestyle and low cost of living with endless activities and abundant opportunities, making it one of the country's fastest-growing cities. The Ascent from The Motley Fool shows why moving to Raleigh could improve your life and help you save more money.
Young, Smart, and On-the-Go: Top 10 Metros for Millennials Who Want to Relocate
Millennials currently make up the largest segment of the U.S. labor force. As such, any migration patterns—whether between rural and urban areas, downtown and suburbia, or metro-to-metro—will boost the talent pool of those on the winning side. COMMERCIALCafé set out to determine the most attractive metro areas for this age group. Raleigh claimed No. 3.
City of Raleigh Issues RFI for 500+ Room Convention Hotel
The City of Raleigh has released a Request for Information (RFI) for an upper upscale, full-service convention hotel and a separate office/mixed-use building on two city-owned, prime vacant lots in the heart of downtown Raleigh, N.C. The goal of the RFI is to seek interested developers for the hotel and office/mixed-use sites. Learn more about the RFI on Visit Raleigh's website.
Numbeo.com releases Current Quality of Life Index
Out of over 231 cities listed and ranked on purchasing power, safety, healthcare, cost of living, and more on Numbeo.com's 2020 Current Quality of Life Index. Raleigh listed as No.3.
2020's Best & Worst Metro Areas for STEM Pro's
STEM workers are in fierce demand, and not just in the global epicenter of high tech known as Silicon Valley. According to the latest U.S. Bureau of Labor Statistics analysis, STEM — science, technology, engineering, and math — professions are expected to grow 8.8% between 2018 and 2028, compared to just 5.0% for all other occupations. In addition, the median annual STEM wage is $84,880, compared to $37,020 for all non-STEM occupations.

To determine the best markets for STEM professionals, WalletHub compared the 100 largest metro areas across 21 key metrics. Raleigh is ranked at No. 7 Best City for STEM Jobs.
Raleigh Ranks Third Best City for Millennials to Relocate
The Raleigh metro area is one of the most attractive places for Millenials to relocate, according to an analysis from Commerical Cafe. Millennials— adults age 23 to 38—currently make up the largest portion of the workforce in the country. The study ranked Raleigh third in the country, behind Denver and Austin, as a hot spot for Millenials by analyzing migration trends demographics, affordability, employment rates, educational levels, and commuter times.

"This research focuses on demographic and economic metrics but also recognizes that several other factors contribute to the perceived quality of life in each location," according to the study. "For instance, a wide array of personal preferences can greatly influence an individual's choice of living in a particular metropolitan area, such as the climate, geography, urban density, air quality, public transportation options, the local food, entertainment, and sporting scene."

Raleigh has seen a nearly 13 percent increase in its millennial population since 2014, likely due in part due to the tech/startup culture and downtown's renaissance. The City of Oaks also has among the lowest unemployment rates for millennials—less than 2.5 percent are hard up for a job.

Most notably, Millenials in Raleigh are among the most educated of the top metros, with 41 percent having a Bachelor's degree or higher.

Check out the full list on INDY Week.
U-Haul Names Top 25 U.S. Growth Cities of 2019
The Raleigh-Durham corridor registers as the top Growth City in America last year, according to U-Haul data analyzing U.S. migration trends for 2019. Raleigh-Durham is growing, thanks in large part to the Research Triangle," stated Kris Smith, U-Haul Company of Raleigh president. "North Carolina State University, Duke University, and the University of North Carolina at Chapel Hill serve as a major anchor in this region and attract an educated workforce."

Arrivals of one-way U-Haul trucks in the Raleigh-Durham market were up more than 3% while departures dropped more than 2% compared to the market's 2018 numbers. Durham locations alone saw a 7% spike in arrivals. Arrivals accounted for nearly 51.4% of all one-way U-Haul traffic in the Raleigh-Durham area.

"We have tons of businesses coming here, bringing new residents in U-Haul trucks," Smith added. "Raleigh-Durham is rivaling Austin (Texas) for attracting tech businesses and young professionals. We're seeing Silicon Valley talent and companies flock to the area. With a competitive cost of living, good wages and job growth, Raleigh-Durham is experiencing a boom in population."
Read more here.
The Ascent & Nasdaq.com Cover Raleigh
The Ascent & Nasdaq.com covered 6 reasons why Raleigh, N.C. is the best place to raise a family on a budget. Noting Raleigh's high average salary range, low cost of living, incredible education
(K-12/higher edu.), amenities, and culture, Raleigh is one of the best places for growing families. Read the entire article on The Ascent.
Best Cities to Work From Home in 2020
The average U.S. worker travels about 27.1 minutes to work and spends $2,600 annually on commuting costs, according to the 2018 Census Bureau estimates and the Citi ThankYou Premier Commuter Index. Working from home represents an opportunity for workers to save both time and money while additionally allowing greater flexibility for working parents.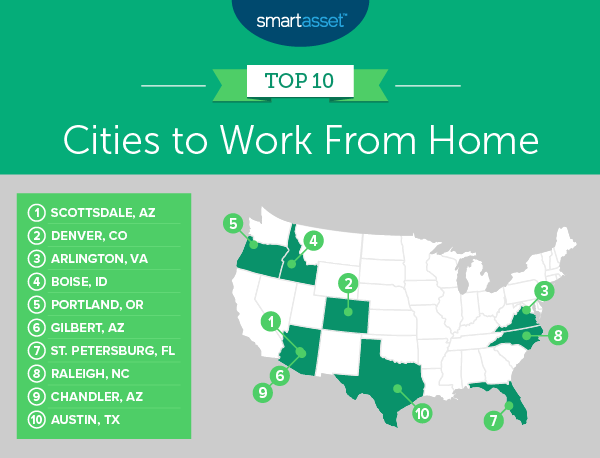 In SmartAsset's study, they found Raleigh as the No. 8 Best City to Work From Home. About 8.6% of workers in Raleigh do not commute, the ninth-highest rate for this metric across all 100 cities in our study. Additionally, housing costs as a percentage of earnings here are relatively low, ranking in the top third of the study.
Most Favorable Markets for Tech Expansion
Widely recognized tech hubs including the San Francisco Bay Area and Seattle are no longer the obvious spots for large tech companies to expand and/or for new startups to set up shop. Rapid housing cost growth in these areas and saturation of firms competing over limited pools of tech talent may instead push tech companies to shift their gazes elsewhere.

Zillow analyzed market conditions in 42 large metro areas nationwide, focusing on five factors that could suggest a market ripe for tech growth: housing affordability, market 'hotness', labor market dynamics, tech availability, and livability. Read Zillow's article to see why Raleigh was named 'Livable' and 'Up and Coming'.
NC State Q Hub Welcomes Delta
Delta Air Lines, the world's largest global airline, will be the founding industry partner to join the IBM Q Hub at NC State, as part of a multi-year collaborative effort with IBM to explore the potential capabilities of quantum computing to transform experiences for customers and employees. Read more about the announcement.
2020's Best Cities for Jobs - Raleigh named in Top 50
With 2019 behind us, it's time to think about new beginnings. For many people, finding a new job is their top resolution. According to the U.S. Bureau of Labor Statistics' most recent jobs report, the national unemployment rate is 3.6 percent, just a bit higher than the 50-year low of 3.5% seen in September 2019. To help with the job hunt, WalletHub compared more than 180 U.S. cities across 31 key indicators of job-market strength. They range from job opportunities to employment growth to monthly average starting salary.
Read WalletHub's article for their findings, additional insight from our panel of experts, and a full description of our methodology.
Where Will Jobs be in 2020? Raleigh comes in at No. 10
Resolved to land a new job in the new year? Although the U.S. economy is 110 consecutive months into its record-breaking stretch of job gains and the unemployment rate is at a 50-year low, hiring among employers in some areas is projected to soften. Each quarter, ManpowerGroup conducts an Employment Outlook Survey to get a sense of the hiring plans of employers in America's 100 most populated metropolitan areas. When seasonally adjusted to remove the influences of recurring events such as holidays and school schedules, the report reveals a net employment outlook of 19% for the first quarter of 2020, a 1% decrease from both the first and final quarters of 2019.
Read Forbes article to learn more about the change in job markets going into 2020, and why Raleigh was ranked No. 10.
Kevin O'Leary of 'Shark Tank' Visits Raleigh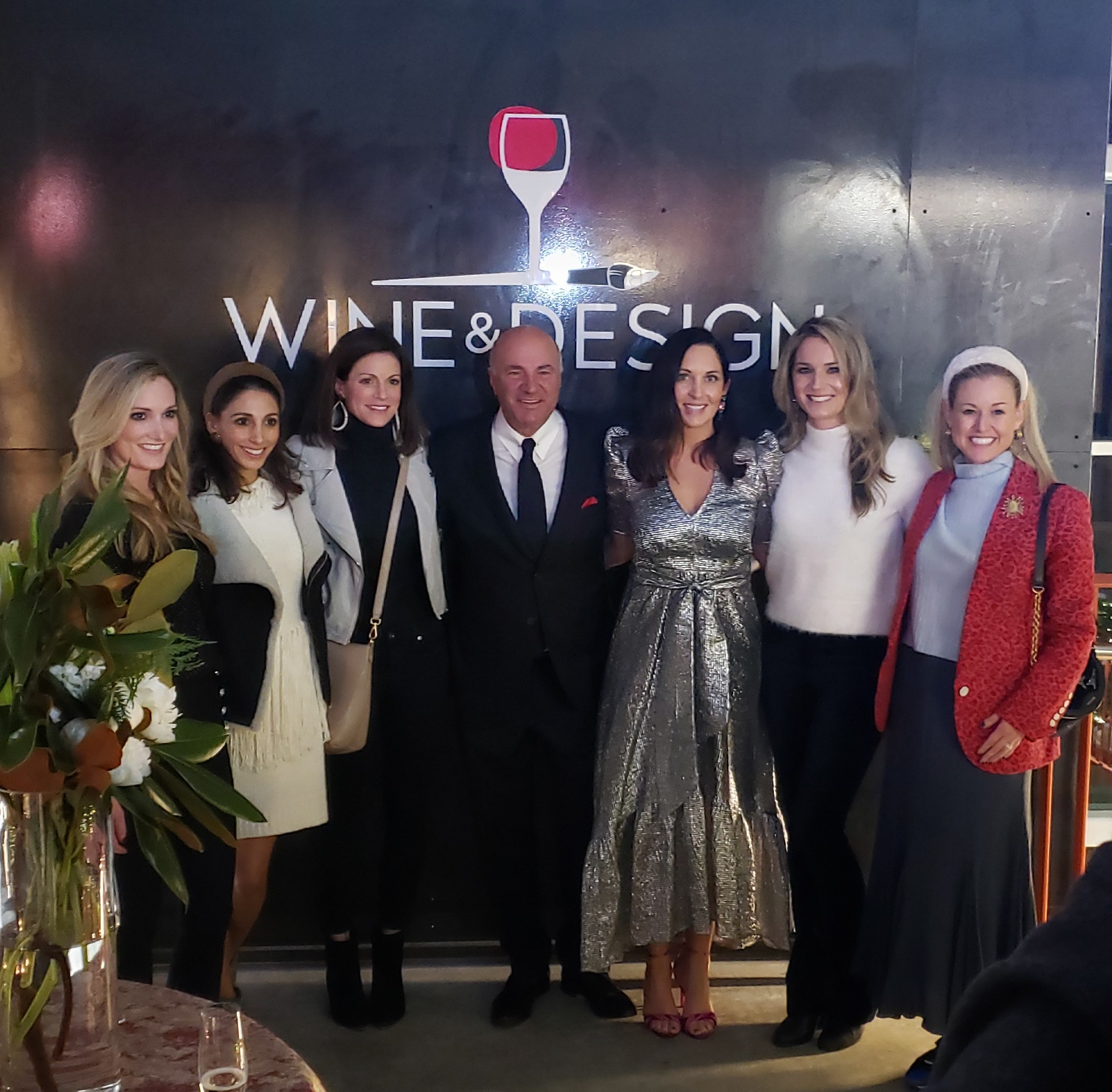 Shark Tank's "Mr. Wonderful," also known as Kevin O'Leary, was in Raleigh celebrating the grand opening of the Wine & Design headquarters at Union Station. "The whole region is on fire economically," O'Leary says. He points to a "pro-business environment" that includes a bustling airport, and he says Microsoft's recent decision to bring a major operation to Morrisville serves as further validation. O'Leary says the top three places to move a business to in the U.S. are Texas (Dallas and Austin), Florida (Miami) and North Carolina (the Triangle).
He also said another Triangle investment isn't out of the question – and that he has a lot to offer a company in terms of exposure. His other "Shark Tank" investments have included N.C. State University-founded Frill Clothing, and made a bid for RewardStock when featured on the show.
Read the TBJ to learn more about Kevin O'Leary's visit to the Triangle.



Which Metros Changed the Most this Decade?
While the 2000s ended with one of the worst financial crises in modern history, the 2010s were characterized by the longest economic expansion on record. This was also a decade in which the Millennial generation came of age, entering and transforming the labor and housing markets. While change was widespread this decade, it manifested differently in different parts of the country. In order to quantify this change, Apartment List compiled data on a variety of metrics that characterize the housing markets and demographics of the nation's 50 largest metropolitan areas and ranked the top 10 metros that have experienced the most change over the past decade.

As the core city of North Carolina's Research Triangle, Raleigh has one of the nation's most highly educated workforces but remains relatively affordable in terms of housing costs. This increasingly rare combination has made Raleigh a magnet for college-educated workers looking beyond the pricey coastal hubs and came in at No. 9 on the list.
Bloomberg states Raleigh is the next tier of Superstar Cities
For the past three decades, one of the central stories in the U.S. economy has been the rise of superstar cities. As the country has shifted from manufacturing to services, high-value knowledge industries such as technology, finance, and pharmaceuticals have become more important. These industries tend to cluster because skilled workers, entrepreneurs, big companies and funding sources all want to be in the same area. Now we are seeing more companies leaving the San Francisco Bay Area and NYC, in pursuit of more affordable locations, at the next tier of budding superstar cities such as Austin, Denver Atlanta, and Raleigh. Read the rest of the Bloomberg article.
Forbes Best State for Business - NC Ranked No. 1
Forbes ranks North Carolina as the No. 1 Best State for Business for the third straight year (2017 was its first time on top). With one of the highest net migration rates in the U.S., people have been flocking to North Carolina for the past decade. The 2019 ranking looks at job growth, cost of doing business, median household income, and more.
Forbes states 'North Carolina is Fueling Start-Up Success'
The entrepreneurial talent and start-ups emerging from Research Triangle Park in North Carolina are impressive, and starting to have a staggering impact on the world we live in—from what we eat to the software we use and the social media we share with our friends.

In a new Forbes article, Raleigh is named a Start-Up Hub. The article states that the region's abundant talent pool is helping fuel a vibrant startup ecosystem, local companies: Pryon, Pendo, and Bandwidth are noted for their entrepreneurial success.
Raleigh Company Listed on '10 Best Shark Tank' Moments of 2019
Whether you're a casual fan of Shark Tank or a devotee like this reporter, ABC's reality show provides a lot more than just business advice. Throughout its 11-year run, the program has inspired entrepreneurs to pursue their passions while showcasing moments of hilarity and humanity. Justin Miller and Tom Simon, founders of Zookies Cookies didn't tell the Sharks that the crunchy cookies they were sampling were actually intended for dogs. While the investors didn't love the taste of the product, guest Shark and Drybar founder Alli Webb agreed to invest in the Raleigh, North Carolina-based business. She offered $50,000 for 30 percent of the company, and the founders agreed. For more moments, see the article here.
Microsoft to Expand in Wake County
Microsoft Corporation, a global leader in software, services, devices and solutions, is set to expand in Wake County, in the Town of Morrisville. Microsoft has had a presence in Raleigh, North Carolina since 2003 and will look to expand by adding 500 jobs with investment of $47.5 million.This will be the second major expansion for Microsoft in North Carolina in the last two months –Microsoft announced 430 jobs in Charlotte earlier this year. You can read the press release from NC Commerce here.
PrecisionHawk Plans to Expand in Raleigh
Raleigh-based drone technology firm PrecisionHawk just announced a $32 million funder – led by venture investors such as Millennium Technology Value Partners, Third Point Ventures, Eastward Capital Partners and others. It's cash the company plans to use to further expand in the market, says PrecisionHawk CEO Michael Chasen. Much of the money will go toward building out its drone network, as well as further developing artificial intelligence and computer vision products in the energy, telecom, and agriculture space – technologies that analyze the data coming in from drones. Read more about PrecisionHawk's trajectory growth in the TBJ.
Raleigh Listed as one of Inc. Magazines Surge Cities 2020
Inc. magazine released the 50 Best U.S. Cities for Starting a Business in 2020 as part of its Surge Cities 2020 feature. Raleigh has continuously been named a Surge City, and this year is no different. The article mentions our world-class research universities, the success of our unicorn-status software company, Pendo, Dorothea Dix Park, and more.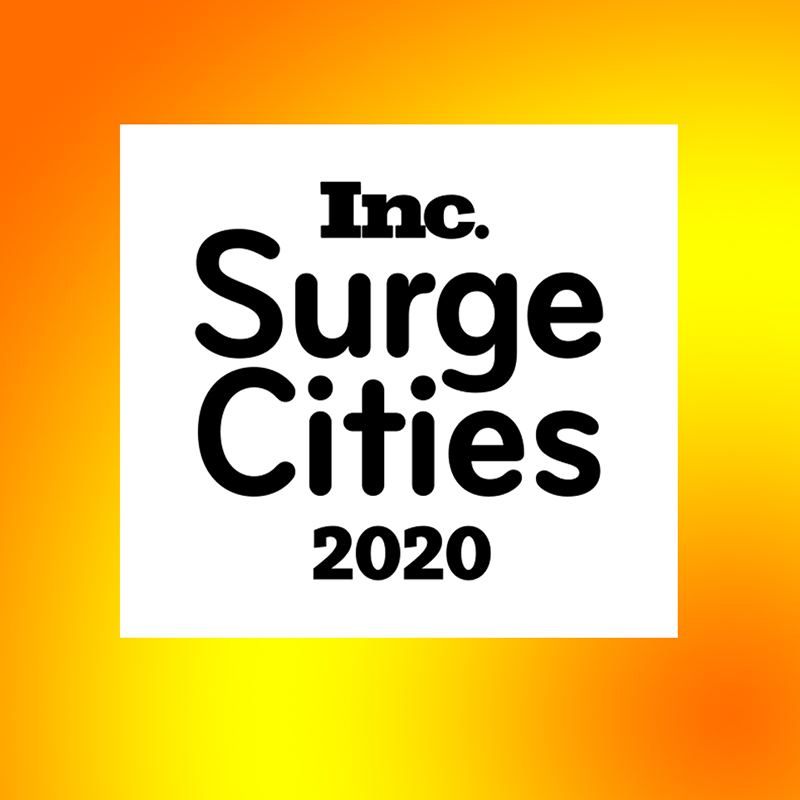 Southern Pride: A Guide to Raleigh's LGBTQ Scene
As part of our national media campaign, lifestyle reporter Annette Benedetti with Livability published an article featuring the Raleigh LGBTQ community, diverse and inclusive businesses, and community support resources. The article states "Raleigh offers the opportunity to gather with others who are thrilled to show their pride, celebrate and come together as a community in this vibrant Southern city." Read more of the article here.
50 Cities with Abundant Housing & Jobs - Raleigh Ranked #8
GoBankingRates analyzed more than 500 cities with populations of at least 50,000, then used home listing data from Zillow to identify which cities experienced an increase in listings from September 2018 to September 2019. Raleigh came in at No. 8 with the following stats:

- Number of new home listings in September 2019: 487
- Year-over-year change in home listings: 16.79%
- Number of employees: 651,200
- Year-over-year change in job growth: 3.2%
New York Times Recognizes Raleigh for Innovation
The New York Times features a new report that documents the concentration of cutting-edge industries in a few coastal areas, and why lawmakers ought to be alarmed. The report done by Brookings Institution and Rob Atkinson of the Information Technology and Innovation Foundation analyzes the top 20 cities that are dominating the business of innovation.
NC State University Named a Hot Spot for 5G Innovation
Earlier this year, the Research Triangle region was selected to host the country's third advanced wireless research facility. It's part of a nationwide effort to explore avenues for improving wireless communication, led by the National Science Foundation (NSF) and jointly coordinated by U.S. Ignite and Northeastern University. Over the next seven years, the NSF and an industry consortium are investing $100 million to build next-generation wireless research platforms across the country.

The goal? To accelerate the development and commercialization of promising technologies, ensuring our nation's leadership in wireless communications and preparing tomorrow's workforce. You can learn more about NC State University's involvement on their website.
Raleigh is the No.2 Tech Town of 2019
The second annual CompTIA Tech Town Index takes a deep dive into metropolitan areas across the country and analyzes where companies are hiring, estimated projected job growth, median annual salary and the average cost of living. The result is a ranked list of the 20 top cities for tech jobs where current and future IT pros can confidently find work, earn a lucrative salary and seek out a rewarding lifestyle. Raleigh was ranked as the No. 2 Tech Town of 2019.
SAS Partners with NC State Plant Sciences to Grow Food Supply
With deep roots at NC State University, SAS has announced a new partnership with NC State Plant Sciences along with creating a new agricultural technology business unit. With the world's population expected to hit 10 billion by 2050, nurturing and growing a secure and sustainable food supply is more important than ever. You can read the full press release on SAS's website.
New York Times Covers Research Triangle Park
When Research Triangle Park in North Carolina opened in 1959, its bucolic setting was considered a major selling point. With office buildings hidden behind grassy meadows and swaths of pine forest, the quiet development was viewed as a perfect spot for companies like IBM and RTI International. But tastes have changed, and to keep up, Research Triangle Park — the country's largest corporate research park — is finally changing as well. Projects such as Frontier RTP, a former IBM building with free co-working space has since expanded to three more buildings. Offering lower rates and smaller, flexible spaces that start-ups and young companies can use, Frontier RTP is now home to a third of the park's 300 companies. And in August, Research Triangle Park broke ground on the Boxyard RTP, a $7 million project that will turn repurposed shipping containers into a food and drink spot.

Learn more about the new development projects underway at the Research Triangle Park here.
Raleigh is the No. 10 Healthiest City in America
The MINDBODY Wellness Index ranks the health of the 50 top US cities (by population). How does the index rank them? A number of factors contribute to a city's score, including how much locals prioritize wellness and ultimately invest in it (including fitness, beauty/grooming, and integrative health services), their healthy habits, and the success of wellness businesses within the city.

Raleigh, like San Francisco and Seattle, has very few smokers. Seventy-six percent exercise at least once a week. Raleigh is also the HIIT capital of the US, with more HIIT enthusiasts per capita than any other top city.
FreshBooks – FinTech Firm Selects Raleigh for First U.S. Office
FreshBooks, a fast-growing fintech entrepreneurial company based in Canada and backed by banking giant JPMorgan Chase, is opening its first office in the US with HQ Raleigh serving as its host.The company, which focuses on accounting software and says it is the No. 2 player in that field among small businesses, mulled expansion to several cities before settling on the Triangle region.

"We considered a number of cities for our first U.S. office, but Raleigh and the Research Triangle area were the clear winner due to the region's strong talent and mature IT and tech community," said Scott Clugston, Senior Director of Sales at FreshBooks, in a statement. "We're eager to put down roots in Raleigh and to help more of America's small business owners grow and succeed."

Read the WRAL TechWire article for the rest of the story.
City of Raleigh Launches New Website
Raleigh is excited to announce that a completely new and improved RaleighNC.gov launched on 11/20/19. The effort has been years in the making, led by the Communications and Information Technology Departments, in collaboration with all departments citywide. The City's website is the top source for city info (as rated by 73 percent of residents in the 2018 Community Survey). The new site is modern and useful web platform to promote City services, improve community engagement, integrate third-party applications, and meet ADA best practices to ensure the information is accessible for all. Check out the new and improved RaleighNC.gov.
Wake Tech to Become HQ for National Entrepreneurship Organization
Wake Tech's Western Wake Campus, in Cary, will become the new corporate headquarters for the National Association for Community College Entrepreneurship (NACCE). The organization, a national leader in promoting and supporting entrepreneurship through community colleges, began in 2002. The NACCE's new home at Western Wake will house its leadership team and new hires, and serve as a training location for national and regional summits. It will officially open in February 2020 during National Entrepreneurship Week. Learn more about the partnership and entrepreneurship programs available on Wake Tech's website.
Raleigh's Walk West Mentioned in Inc. Article
The number of African American-owned businesses in America has ballooned in the past few years, increasing 37 percent between 2007 and 2012. While that overall growth is exceptional, some places served as prime breeding grounds for these entrepreneurs. Inc. Magazine released the Top States for African-American-Led companies, Raleigh's Walk West makes the cut. Walk West is one of four African-American-led companies that grew their collective three-year revenue 1,398 percent. Read the rest of the article here.
Emsi Ranks Wake County for Top Talent
Emsi, the industry leader in labor market insights, unveiled its 4th annual national Talent Attraction Scorecard, ranking the top small and large U.S. counties on how well they attract and retain skilled workers. In addition to the county rankings, the scorecard expands on a six-phase talent pipeline for short- and long-term workforce strategies that communities can implement to attract and develop talent. Wake County came in at No. 9.
Cary Makes History with Drone Delivery
The future has arrived in Wake County as UPS and CVS delivered prescription medication by drone for the first time anywhere in the country. "We now have an opportunity to offer different drone delivery solutions, tailored to meet customer needs for speed and convenience," said Scott Price, UPS chief strategy and transformation officer in a statement. Read the full story on ABC 11.
Duke, UNC, & NC State make Bloomberg's Best Business Schools in the U.S.
The Bloomberg Businessweek 2019—20 Best B-Schools ranking is based on 26,804 survey responses from MBA students, alumni, and recruiters in 2019 about their goals and experiences, as well as compensation and job-placement data from each school. See why three top-tier NC Universities made the list on Bloomberg's website.
Best Cities for Women in Biz? Raleigh Makes the List
Women-owned businesses in the United States employ almost 9 million people and account for some $1.7 trillion worth of sales per year.2 And only 39% of US businesses are owned by women, with some states having as few as 19% of their businesses owned by women—just imagine how high those numbers could be if more women started their own businesses. Read the business.org article to see where Raleigh placed in the top 20 list.
Haley Talks Jobs with the TBJ
The size of the pipeline is large when it comes to potential job recruitment for Wake County. The figures are 15,000 jobs and 47 companies that Wake County is trying to lure to the region, says Michael Haley, executive director of Wake County Economic Development. Read Michael's comments on jobs in Wake County in the Triangle Business Journal article.
TBJ Panel Features Michael Haley
The Triangle Business Journal held a panel on Tuesday, Oct. 29, to discuss the attraction and retention of the talent pipeline. Michael Haley, executive director of Wake County Economic Development, discussed the Triangle's business recruitment, retention, and expansion strategy when attracting talent.
Canada's Largest Newspaper Features Dix Park
As a result of the reporter visit several weeks ago (in partnership with the City of Raleigh), David Israelson published an article in Canada's largest newspaper, The Globe and Mail. The piece titled, "Cities turn to urban forests to combat climate change" includes several quotes on Dix Park, and has a slightly different angle focusing on the benefit of green space from a climate, and business perspective.
One of the main takeaways from the piece is the reminder that public parks have value beyond serving as a community gathering space, and that they act to revitalize a region, attract talent and business, increase livability, and help control/moderate climate change. Sean Malone, President, and CEO, of the Dorothea Dix Park Conservancy, have several quotes in the article that reflects the positive environmental impact a park has on a city and vice versa.
This article also reinforces Raleigh is at the forefront of a positive trend in the value of public greenspace and is compared to other large metros: Toronto, Halifax, and Winnipeg.
There have been several other great articles covering Dix Park - you can read them below:
Wake Med and UPS Partner for Medical Delivery Drone Project
UPS has launched an airline for life-saving medical deliveries, this is the first-ever approved drone airline, and used on Wake Med's campus. In partnership with the North Carolina Department of Transportation, drone companies and traffic management companies, WakeMed is one of only two health care systems in the United States testing long-range medical package delivery using drones. Watch NBC Nightly News to learn more about the drone delivery program in Raleigh.
Raleigh ranked in 30 Best Cities for Young Professionals
GOBankingRates released the 30 Best Cities for Young Professionals - Raleigh Ranks #6.
TBJ recaps our Trade Mission to Europe
The TBJ covers the highlights of our Trade Mission to London and the UK.
Pendo - North Carolina's Newest Unicorn
Pendo, headquartered in Raleigh, NC has raised a $100 million in a Series E round, giving the company "unicorn" status. Crunchbase News breaks down Pendo's capital funding, acquisition history, and product development that resulted in their newfound Unicorn status.
Is Raleigh following in Silicon Valley's footsteps?
Wral Techwire shares findings from an IoT panel presented at Innovate Raleigh's Summit. When asked if Raleigh is tracking the same path as Silicon Valley, Dr. Sarah Glova, director of Growth and Communications with RIoT answered, yes.

"IoT is absolutely our revolution," said Glova, who presented her findings at the recent Innovate Raleigh Summit at Union Station. "For us, like Santa Clara had silicon and the semiconductor industry and the computer industry, Raleigh has IoT and wireless expertise, and everything that we need to make this a center of excellence."
The Triangle is No.2 Hottest Real Estate Market
The 41st annual report from the Urban Land Institute and PricewaterhouseCoopers cites a wide variety of factors, from tech jobs to real estate investment, in calculating the ratings. The report stated on the Triangle's high ranking, " This market's concentration of educational institutions— Duke University, the University of North Carolina, North Carolina State University, and several smaller colleges—coupled with the Research Triangle Park, has branded the area as a technology mecca, and it now has more than 89,000 tech jobs, which, at 10.9 percent of the employment base, ranks third behind Silicon Valley and San Francisco in tech industry share, according to a recent Tech Cities report."
Read more on the report here.
Cary-Based Epic Games to Expand
Epic Games is expanding its Cary headquarters with a new facility that will add extra work and recreational spaces for employees. "We are elated that Epic Games is expanding their Cary headquarters," said Harold Weinbrecht, Mayor of the Town of Cary. "We know that Epic could locate anywhere in the world, and we're grateful that they've chosen to continue to call Cary home."
Watch ABC 11 for more coverage on the expansion.
Top 10 Cities Where Techies Can Afford to Live - Raleigh Ranks No. 8
SF Gate examined the 500 largest U.S. metropolitan areas, which include the main cities and surrounding towns, and used the following criteria to rank them: number of people employed in the tech sector, number of public tech companies, percentage of tech job listings, average tech job salaries and median home list prices.

When ranking Raleigh, the article said, " Raleigh, along with Durham and Chapel Hill, is part of the famous Research Triangle, a trifecta of world-class educational institutions. In fact, it's one of the most educated communities in the country—and tech is a healthy part of the job mix. According to commercial real estate firm CBRE's Tech Talent Scorecard, 6.6% of employment in the Raleigh-Durham area is tech talent, nearly double the national average of 3.5%."
RDU International Airport Elevated from Medium to Large Airport
Record-setting passenger growth elevated Raleigh-Durham International Airport from a medium to large airport in a 2019 J.D. Power study of North American airports. RDU ranked fifth in passenger satisfaction in its new category.

"We are thrilled that passengers consider RDU one of the top five best large airports in North America," said Michael Landguth, president and CEO of the Raleigh-Durham Airport Authority. "We strive to provide a world-class airport experience and we are continuing to upgrade our facilities and amenities to make traveling through RDU even easier and more welcoming."
5 Things You Need To Do in Raleigh
Budget Travel released an article with the Top 5 Things To Do in Raleigh, North Carolina.
"North Carolina is known for its destination-worthy beaches and dynastic college basketball teams, among other things. Home to North Carolina State University, not to mention world-class cuisine, standout arts organizations, and all the fun and games you'd hope to find in a college community, the easternmost point in the state's famed Triangle deserves a deeper look."

Read the rest of the article listing highlights for anyone visiting Raleigh here.
Black Entrepreneurship Week Successes
The Carolina Small Business Development Fund and Shaw University's Innovation and Entrepreneurship Center held their third annual Black Entrepreneurship Week on Sept. 16- 20. The program aims to capture the strength of diversity in entrepreneurship. More than 20 free sessions were planned, including workshops, panels, networking events and keynotes.

Danya Perry, Wake County Economic Development's director of Equitable Economic Development, served on the judge's panel. Danya said supporting black entrepreneurship is a "critical piece" of smart economic development."This is our community, and we want to make sure our business community is representative of our community. That's why it's a critical piece."

Read more about Black Entrepreneurship Week here.
Garner, NC, The Gem Next Door To Raleigh
Just a hop, skip, and a jump from downtown Raleigh—10 minutes to be exact—sits the town of Garner, North Carolina, a community of over 33,000 residents that is the 13th fastest-growing municipality in the state. Garner is becoming increasingly connected to downtown Raleigh given recent development patterns, and GoTriangle's eventual bus rapid transit service will offer better transit options for those going back and forth between the neighboring municipalities. Read more about Garner's diversity of business and community.
Refrigeration Startup Heating up in Raleigh
Phononic found its first home at NC State. Now, the startup's innovative solid-state cooling technology is heating up the refrigeration industry. Read the full story on Phononic.
Business Insider calls Dix Park the next 'Central Park'
As a result of our in-person meeting during the New York City media tour last month, Aria Bendix published a Business Insider article featuring Dorothea Dix Park titled, "The site of an abandoned mental hospital in North Carolina is being transformed into the next 'Central Park.' Take a look."
The article includes multiple quotes from Ashley Cagle and Veronica Creech, both of which were able to provide key insight into the thoughtful planning of Dix Park and the City's growth story.

"The city's goal is to create a space that connects many types of residents in Raleigh, from artists to techies to athletes. Local officials told Business Insider that they also hope to establish Raleigh as a place outsiders want to live and work."

Business Insider has around 28 million unique visitors each month. The article also features quotes that speak to our smart growth, inclusivity, and desire for Dorothea Dix Park to unite the community.
Business Insider Covers Raleigh & Dix Park
Local leaders, Ashley Cagle, Assistant Executive Director of Wake County Economic Development and Veronica Creech, Director of Economic Development for the City of Raleigh, sat down with Business Insider to discuss Raleigh and Dix Park. Ashley and Veronica shared information about smart growth, inclusivity, and the desire for Dorothea Dix Park to unite the community. You can read the full article here.
Raleigh Ranks No. 1 on 2019's Best & Worst Cities to Drive in

Raleigh ranks number one in WalletHub's Best & Worst Cities to Drive in compared the 100 largest cities across 30 key indicators of driver-friendliness. The data set ranges from average gas prices to annual hours in traffic congestion per auto commuter to auto-repair shops per capita.
Fast-growing D.C. Digital Firm Relocates HQ to Raleigh and Wants to Hire You
Go Fish Digital, a marketing agency with big-name clients like GEICO, United Way, and Adobe, has moved from Washington, D.C. to the Oak City.As part of its relocation, the firm has scaled up its workforce by almost 50 percent — from 25 to 39 employees, with 14 new hires. It has also added jobs to the local economy with its employee relocation.
"We had read several studies referencing the strong tech-oriented workforce here in Raleigh and were impressed by the talent coming out of the many universities in the Triangle. So we opened a small office as a test," the company's chief operations officer Daniel Russell told WRAL TechWire.
"It turned out that we were able to scale here much quicker than we originally anticipated – and much quicker than in DC, finding top talent and people that perfectly matched our culture.
Silicon Valley Cybersecurity Firm Picks Raleigh for Second HQ

The Silicon Valley-based cybersecurity firm Agari has picked the Oak City for its new innovation hub, with the average salary: $130,000 a year. "The jobs represent high-wage positions, spanning software developers, product leaders, and customer success professionals," Agari's chief marketing officer Armen Najarian told WRAL TechWire. If you are looking for a job in the Triangle region, then you will want to check out this new company. Read more.
Where do College Grads Live? Raleigh.
Talent, or what economists refer to as human capital, is a key driver of economic growth. A wide body of studies documents the role of education in the economic growth of cities, regions and nations. But, talent has increasingly concentrated in a relatively small number of cities, leading to a growing divergence in talent across places. Read more.
The Research Triangle Featured in "Local's Guide" Video Series
Berkshire Hathaway HomeServices (Carolinas Realty) has kicked off a five-part video series in partnership with Our State magazine. Episode two features "Top Spots" in the Reserach Triangle region. Watch the video.
Advance Auto Parts Names North Hills Tower Home
Advance Auto Parts, the national auto parts retailer that officially moved its corporate headquarters to Raleigh last year, plans to take up seven floors in Kane Realty's newest North Hills tower. Read more.
Talent & Infrastructure Drive Life Science Success in the Region
The Triangle owes its high status as a life sciences cluster to talented workers and plenty of space -- lab space, that is. The Raleigh-Durham metropolitan area falls behind only Boston, San Francisco, and San Diego, according to an annual report from commercial real estate company JLL. But despite its high ranking, the Triangle has a long way to go before competing for the top slots. Read more.
Homegrown Tech Company Continues Massive Success
Bandwidth's CEO and founder David Morken can basically sum up his company's crazy trajectory since its inception into one sentence: "We're a 20-year overnight success."Back in 1999, he was a young attorney-turned-entrepreneur, fresh from serving in the Marine Corps as an advocate judge, when he founded the Raleigh-based software communications company in a "spare bedroom." Read more.
Triangle Cities Make "Best Real Estate" List
WalletHub, a finance-focused website, recently did a study to determine the strongest markets for real estate. Several Triangle cities made the top 50 list - Durham, Cary, and Raleigh. Read more.
Raleigh-Based Manufacturer Schmalz Inc. Announces Major Headquarters Expansion

Schmalz Inc., headquartered in Raleigh, North Carolina, announced the expansion of the Oak Forest Drive location on Wednesday, Aug. 28. Schmalz Inc. is the global leader in vacuum automation products, robotic end-of-arm vacuum gripper tools, material-handling vacuum lifters, and CNC vacuum clamping tools. The manufacturer has been growing rapidly since it was founded in Raleigh 19 years ago. Read more.
Raleigh Ranks #5 for Best Cities for Female Entrepreneurs
Raleigh is an up-and-coming startup city that lands at No. 5 for the best cities for female entrepreneurs. Known for being a city of research thanks to its positioning near three major research universities and the famed tech-centric "Research Triangle Park," it's also a great city for female entrepreneurs looking to break into business — particularly in tech and innovation. It also has a below-average 3% corporate tax rate and an affordable cost of living. Learn more about the ranking here.
Xerox to Bring 600 Jobs to Wake County
Xerox, a global corporation that provides workplace and digital printing solutions, announced it will open a "Center of Excellence" in Wake County. The town of Cary will welcome 600 new jobs along with $18.4 million investment. The announcement was made at the Capitol building on Tuesday, August 18. Governor Cooper made the official announcement and noted talent and fast growth as major decision factors. Read more.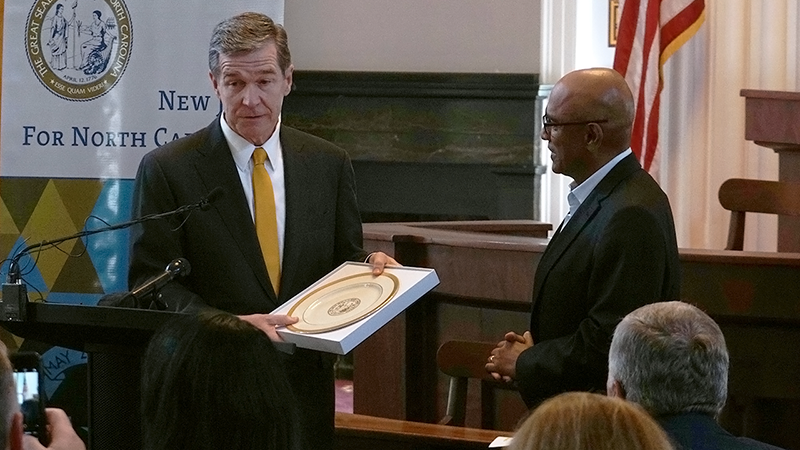 Wake County Economic Development was proud to partner with the Town of Cary and many others to welcome Xerox to the region.
Business Facilities Ranks Raleigh
Business Facilities magazine recently released the 2019 metro rankings report and ranked the "Raleigh-Durham" metro in several prominent categories. See below for rankings.

Raleigh-Durham combined metro is ranked #7 Metro for Economic Growth Potential (large metros)
#9 Start Up Ecosystem
Raleigh Metro #8 for STEM Jobs Leaders and Durham-Chapel Hill #5 for STEM Jobs Leaders
Wake County #4 Wage Growth Leaders
Raleigh Metro #5 Top Tech Hubs (Concentration of Employment)
Apex #3 Fastest Growing Mid-Sized community

Read the full report.
Research Triangle Companies Make Forbes "Best Employers" List
SAS Institute continues to live up to its reputation as a good place to work according to a new list of best employers. For its inaugural list of "America's best Employers by State," Forbes listed the Cary-based business software firm as the top employer to work for in North Carolina. Other regional giants like Duke Energy and Cisco Systems followed close behind in the recently published list.
NC State and HQ Raleigh Partner to Promote Entrepreneurship
NC State Centennial Campus and HQ Raleigh have teamed up to create the ultimate co-working space on campus.
Town of Cary Continues Smart City Movement
If you drive around the Town of Cary, there's a good chance you won't notice the technology that surrounds you. "We want to make the technology so seamless (that) they really don't know that's it's there," said Nicole Raimundo, Cary's Information Technology chief information officer.
Research Triangle Leads Nation in NIH Funding
A recent study by the State Science & Technology Institute (SSTI) reported that the Durham-Chapel Hill metropolitan area led the nation last year in per-capita funding from the National Institutes of Health (NIH). NIH is the medical research agency housed within the U.S. Department of Health and Human Services.
Danya Perry Featured on Podcast Raleigh
Interested in learning more about equitable economic development? Listen to Podcast Raleigh's new podcast with Danya Perry where he discusses vulnerable communities, economic mobility, and inclusive prosperity.
WRAL Techwire Features The State of Foreign Direct Investment Event
This year's State of Foreign Direct Investment hosted more than 100 people at the Brier Creek Country Club to hear Keynote speaker, Marek Gootman. Gootman spoke on how local companies can position themselves to compete and grow on a global scale. Read more on the success of the event in WRAL Techwire.
Raleigh Ranks in the Top 10 Tech Talent Markets
Raleigh-Durham proves once again it's a leading tech market. The city ranked in the Top 10 on CBRE's annual Scoring Tech Talent.
Virgin Hyperloop One CEO Says Technology Will Turn NC Cities Into Metro Stops
North Carolina's high-tech Research Triangle may get even more advanced in years to come.

The Tar Heel State announced on Friday that it is exploring options to bring Virgin Hyperloop One technology to the Raleigh-Durham-Chapel Hill corridor, which has grown into a hub for technology companies and research universities.

"You can literally begin to start thinking about the cities like they're metro stops," Jay Walder, the CEO of Virgin Hyperloop One, told Cheddar. North Carolina's inquiry makes it the ninth state to explore hyperloop as a potential regional transportation system. Read more.
North Carolina Named #3 Best State for Business in America
The CNBC America's Top States for Business study, conducted every year since 2007, ranks all 50 states for business competitiveness using more than 60 metrics in 10 categories including Workforce, Economy, Quality of Life, and Cost of Doing Business. Read more.
The Nation's Most Exciting Park Project is Taking Shape in
North Carolina
If you've ever wondered how different cities' signature parks, like New York's Central Park or Chicago's Lincoln Park, would look if they were designed in the 21st century, keep your eyes on Raleigh, North Carolina. Dorothea Dix Park, currently taking shape on a former mental hospital campus adjacent to the southern city's growing downtown, may be the nation's most exciting park project right now. It's being described as the Central Park of North Carolina—and it's not hard to see why. Read more.
Historic Mental Hospital Will Transform Into North Carolina's "Central Park"
ArchDaily features story on Dorothea Dix Park in Raleigh, North Carolina. The article states this is the largest park project in the United States.
NEW Office Space Open at HQ Raleigh!
In July, HQ is opening 23,000 sqft of coworking, classroom and office space in the heart of NC State's Centennial Campus. This unique partnership with NC State will bring together students, academic organizations, start-ups, and established companies to collaborate and share resources.

In September, HQ Raleigh is also opening a 21,000 sqft coworking and office space as a part of an exciting new renovation of the Gateway Plaza, located just north of downtown Raleigh off of Capital Boulevard. Gateway offers office space (and parking!) for teams of all sizes and stages. This innovative new space is the first of its kind in the Raleigh area. As a destination site, it houses not only a coworking space but also a coffee shop, brewery, restaurants, gym, and a daycare facility.

HQ's new and existing spaces offer flexible lease teams, a professional network of entrepreneurs, and a variety of resources for companies at all stages. HQ is perfect for early-stage start-ups, mid-size growing companies, and even larger established companies who are looking to lay deep roots in our community. To learn more about HQ Gateway or HQ Centennial, reach out to leasing@hqraleigh.com.
Raleigh Makes Top 20 List for Best Run Cities in America
WalletHub recently ranked the top 150 best and worst run cities in the U.S. With Nampa, ID coming in at number 1 and Washington, DC coming in last place at 150, Raleigh fit in at number 16 just below Durham and above Greensboro.
WCED Director of Equitable Economic Development Featured in Walter Magazine
Walter Magazine features Danya Perry's work on economic mobility, small business growth, diversity, equity & inclusivity & workforce development. Read more about Danya's work for the community here.
Raleigh Startup Opens New HQ
Insightsoftware, a startup launched only a year ago, is off to a roaring start. The company, which focuses on enterprise resource planning and enterprise performance management solutions, on Tuesday opened the doors to a new 32,000 square foot headquarters at the Highwoods Properties Forum complex. Insightsoftware also is looking to hire with 40 open positions currently – largely in sales, engineering and development – as demand grows for its ERP and EPM solutions. The company already has grown to 200 employees. Mike Lipps, CEO at insightsoftware shared in the excitement of the announcement –

"The last year has been an incredible journey of accelerated growth and opportunity, and Raleigh has been the perfect worldwide headquarters location to support that progress," said Mike Lipps, CEO at insightsoftware. "We believe the Triangle area is a hub of technology innovation and knowledge that rivals Silicon Valley, and insightsoftware is extremely fortunate to have access to this talent pool as we continue to expand our business and deliver more value for customers and partners around the world."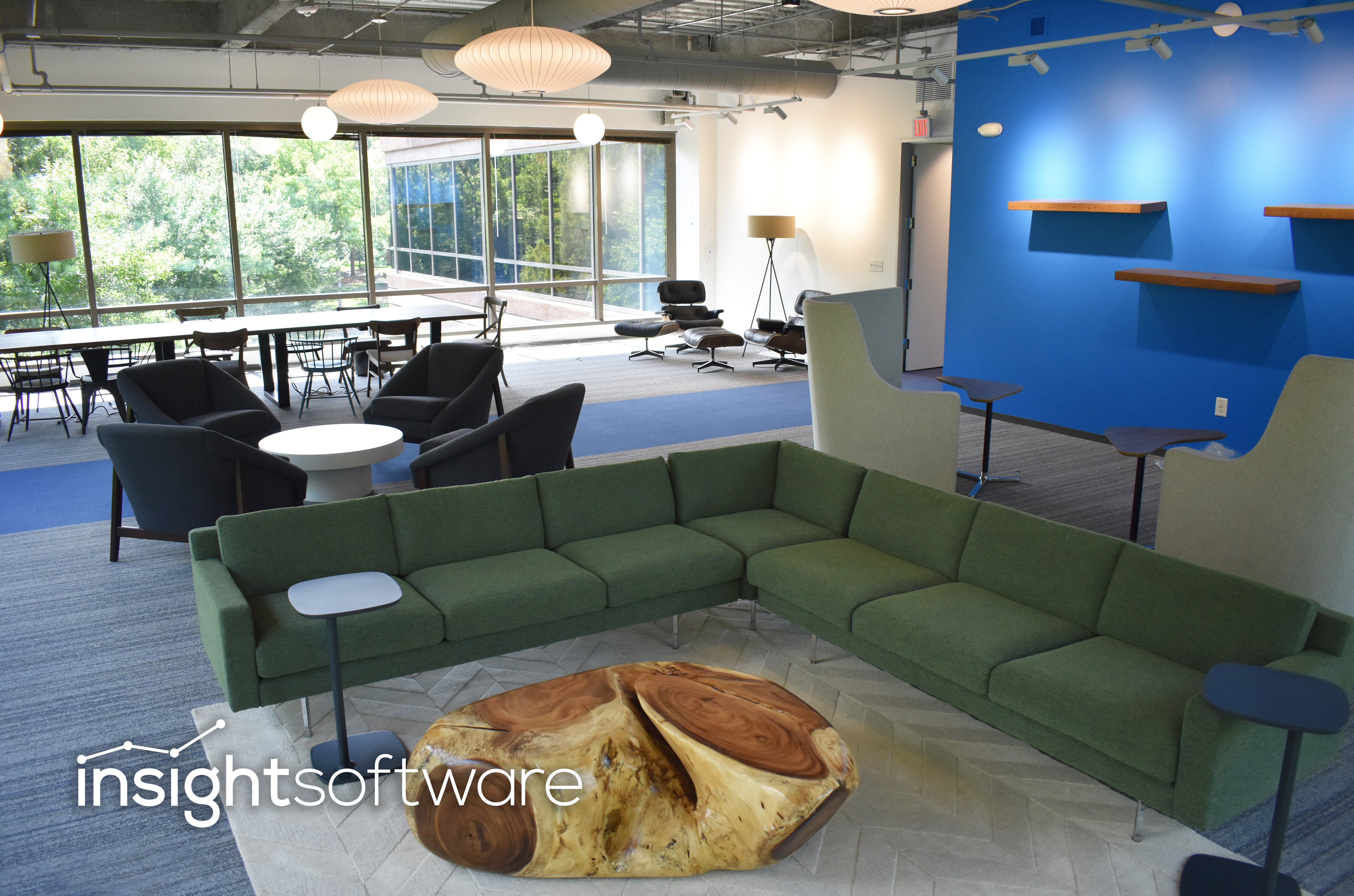 SAS Earns Spot on Computerworld's 100 Best Places to Work in IT
The Best Places to Work in IT list is an annual ranking of the top 100 work environments for technology professionals by IDG's Computerworld. The list is compiled based on a comprehensive questionnaire regarding company offerings in categories such as benefits, career development, training, and retention. Read SAS press release here.
Raleigh Ranked in Top 3
SmartAsset, a publication that reports on finances, recently ranked Raleigh in the top 3 "Best American Cities to Work in Tech." Read more.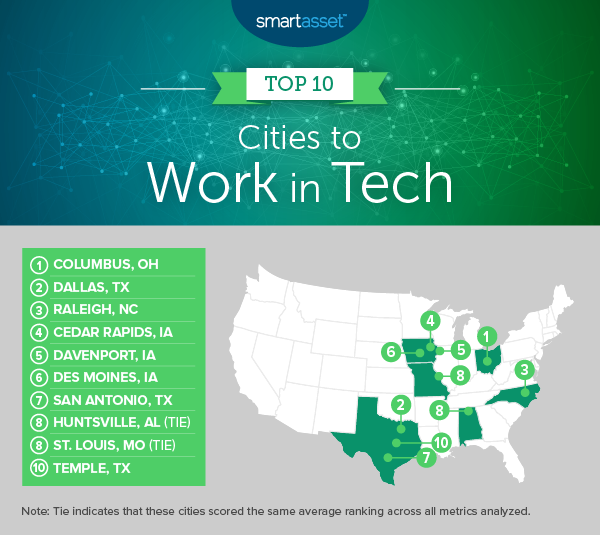 Michael Haley Wins Major Award
We are excited to share that Michael Haley has been named "Economic Developer of the Year" by the North Carolina Economic Development Association (NCEDA). The NCEDA team announced this award at the annual conference, taking place in Beaufort, NC.

Each year, the award goes to an Economic Development professional in North Carolina based on the following criteria: NCEDA member who made significant and measurable contributions to economic development. Michael is in his second year as the Executive Director for Wake County Economic Development and has been a true leader for Wake County and the Research Triangle region.
Michael has been directly involved with many initiatives and project wins over the past few years. Most notably, Michael helped welcome Infosys to Raleigh and Advance Auto. He also played a large role in helping Pendo name Raleigh the headquarter location. You can see a full recap of 2018 here. Michael was also recently named to the Consultant Connect Top 50 Economic Developer list in May of 2019.
Please join us in helping celebrate another award for Michael. His impact is truly felt across the state of North Carolina. Congratulations, Michael!
You can see past winners of the award here.
Wake Tech Named No. 1 Online Community College in the U.S.
Wake Technical Community College is ranked number one best community college online in the country. "No other online community college can compete with the sheer number of distance ed. degrees and certificates that Wake Technical offers". Read WRAL's article on the ranking here.
Bloomberg Covers Talent-Dense Cities
One of our major competitive advantages is the density of talent living in the Research Triangle region. A recent article in Bloomberg shared where the best and the brightest are living and Raleigh and Durham were included. Read more.



Why Entrepreneurs Are Choosing Fuquay-Varina
Sitting just 20 miles southwest of downtown Raleigh is the Town of Fuquay-Varina, which has become a hotbed for economic development, startup business growth, innovative technology companies, and much more. Read WRAL's story on entrepreneurship in Fuquay-Varina here.

Raleigh Tech Company Selects New Location
Pendo, a Raleigh-based tech company, will put its new headquarters and logo atop the new 19-story 301 Hillsborough. Pendo recently announced the designation of Raleigh as the offical headquarter location and will add 590 new jobs. Read more.

Ashley Cagle Featured on Podcast
Assistant Executive Director, Ashley Cagle, joined Nick Riashi with Consultant Connect to talk about her journey in economic development and how she manages her life at work and home. Listen here.
Forbes Features Raleigh CEO & Entrepreneur, Jon Hayes with RewardStock
Forbes spotlights Raleigh native's entrepreneurship story, read more here.
TBJ Covers the ED Forum
TBJ shares an article capturing our ED Forum event that occurred on Wednesday, May 15. Read more about the ED Forum here.
CEO of Republic Wireless Shares His Raleigh Success Story
Entrepreneur and CEO of Republic Wireless, Chris Chuang shares how moving from Silicon Valley to Raleigh, NC improved his work-life balance and accelerated his career. Read more about his success here.

Raleigh Ranked Among Leading Tech Hubs
Nearly a third of the tech jobs posted on Indeed last year were located in just eight metro areas with a population of at least 1 million. These tech hubs are much more similar than different: Six of them are on the east or west coast. All lean left politically. But only one—Raleigh, North Carolina—has a cost of living below the national average. Read More.
Report Shows Growth in Life Science Industry
North Carolina's 50 percent life science employment increase was fourth-highest nationally in the decade and a half through 2016. That compares to a 12 percent growth in the state's overall private sector since 2001, "and has far exceeded the pace of national (life science) industry growth of nearly 19 percent." Read More.
Indeed Reports on Advantages of Mid-Size Tech Hubs
Indeed article releases report on the advantages mid-size tech hubs have over larger tech hubs. Read more.
Innovate Raleigh Announces New Partnership
Innovate Raleigh has announced a new journalism partnership with the News & Observer. Read more.
Pendo Named No. 1 Privately-held Cloud Company to Work for
Battery Ventures is released its annual list of best cloud computing companies to work for, Pendo ranks first among private companies. The list highlights 50 privately-held companies—all B2B cloud computing companies—where employees report the highest levels of satisfaction at work, according to employee feedback shared on Glassdoor. Read more.
Planning for Talent in 2020
Learn about Work in the Triangle and all of the resources it provides. Read more.
PrecisionHawk HQ Moves to Downtown Raleigh
A fast-growing drone technology company has tapped downtown Raleigh for its new headquarters – a move that means more jobs on the Glenwood South section of downtown Raleigh. Read more.
IBM & NC State Create First University-Based IBM Q-Hub
IBM & NC State collaborate to create the next generation of Quantum computing workers. Read more.
Raleigh's Largest Park Looks at Equity as City Booms
Next City recognizes Dorothea Dix's Master Plan to focus on equity & inclusivity for the development of the park.
Raleigh Magazine Covers SXSW Trip
Raleigh Magazine covered our team's trip to Austin, Texas to attend South by Southwest. See the short write-up below:

Last month, Raleigh traveled to Austin with some local art in tow! A team comprised of members from Wake County Economic Development, the City of Raleigh and the Greater Raleigh Convention and Visitors Bureau (Visit Raleigh) traveled to Texas for the South by Southwest Trade Show (SXSW). Gino Reyes and his team at The Assembly and the Raleigh Murals Project created this artful backdrop for the travelers, with the theme "Picture Yourself in Raleigh." The mural was designed to depict the depth of Raleigh's ecosystem and its culture of community. At SXSW, Raleigh leaders had the opportunity to share the city's story with a global audience and to interact with top talent, as well as with companies and startups potentially looking for a new home.
Cary Town Council Adopts Downtown Cary Park Master Plan
The Cary Town Council has officially adopted the Downtown Cary Park Master Plan, the latest step towards creating an iconic public space in Downtown Cary. The Downtown Cary Park Master Plan will be developed by the Office of James Burnett Landscape Architecture (OJB). The design of the Downtown Cary Park will begin May of this year and is expected to be completed in 2020.
To learn more about the Downtown Cary Park Master Plan click here.
WakeMed Introduces Drone Delivery Program
A pioneering use of drones to fly blood samples across a North Carolina hospital campus launched Tuesday in the latest move to expand their roles in business and health care. Read more.
ABC 11 Talks Diverse Growth in the Triangle
The Triangle continues to be one of the fastest growing areas in the country and African Americans are making a major contribution. Black-owned businesses are growing and adding diverse businesses to our communities. Danya Perry, Director of Equitable Economic Development is helping promote the importance of diversity in our community and the workplace. Read more.
Cary-Based SAS Making Major Investment
SAS announces $1 Billion investment in Artificial Intelligence (AI). Read more.
Tom Snyder of RIoT Covers SXSW Trip
Tom Snyder, executive director of RIoT, the Raleigh-based Internet of Things users group, salutes a delegation of Raleigh and Wake County representatives for their efforts to represent the N.C. capital at South by Southwest. Read more.
Toursim Talk Blog Covers SXSW Trip
The story of Raleigh, N.C., at South by Southwest (SXSW) 2019 is one of collaboration. We talk about Raleigh being "a city that prides itself on our collaborative spirit," which I suspect many cities say about themselves, but not so many do. Read more.
Cellectis CEO Talks Talent in Wake County
Cellectis' CEO Dr André Choulika, says his company choose Raleigh over other cities in the country for three reasons: a pre-built building that peaked their interest, a deep talent pool, and a thriving biopharmaceutical industry – one that is thriving without tension. Read more.

French Life Sciences Company Joins Wake County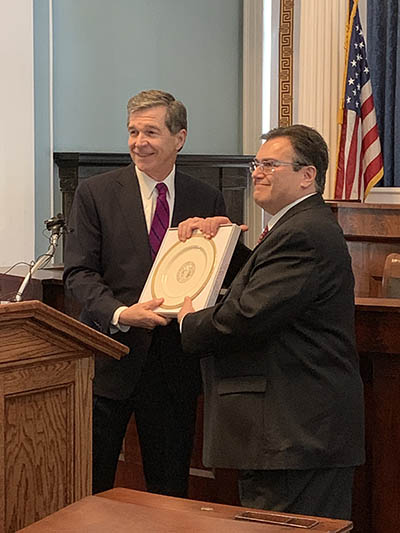 On Thursday, March 7, Governor Cooper announced French-owned company Cellectis Biologics, will be opening its first North American Manufacturing facility in Wake County, bringing 200 jobs and $68.6 million investment to the region. Cellectis, a life sciences company, will join over 700 foreign-owned companies in the Research Triangle region. You can read the formal press release here.

Cellectis will join a thriving life sciences sector in Wake County and will create a variety of positions with salaries ranging around $100k. The Research Triangle region continues to be a leader in the life sciences cluster with access to resources, talent, infrastructure, and XXX existing life science companies. Michael Haley shared the following:

"We are honored to be part of Cellectis journey in providing the next generation of cancer therapies. Wake County has a strong history in life sciences and supporting foreign-owned companies – we know Cellectis will find the best talent and resources in Wake County."

You can read the formal press release here.

EdScoop Features NC State Quantum Computing Hub
To accelerate the development of quantum computing, North Carolina State University and IBM are putting the technology in the hands of the the future workforce of the field — college students. New curriculum and research on quantum computing, enabled by IBM's first university-based quantum computing hub in North America at NC State, is introducing students to the technology that experts say will shape computing in the coming years. Read more.

Raleigh Named on WalletHub List
State capitals aren't just for lawmaking. Often, they're thriving cities with a lot of economic and cultural value. Raleigh has been ranked in the top 5. Read more.

Adrienne Cole Wins Again
The Triangle Business Journal has revealed its 2019 class of CEO of the Year Awards winners. Raleigh Chamber CEO, Adrienne Cole, has been named to the 2019 CEO of the Year list. Adrienne also recently was named part of Business North Carolina's "Power 100." You can read more about Adrienne Cole here.

NC State and Infosys Collaborate to Develop Future Data Science Workforce
NC State is entering into a three-year collaboration with Infosys, a global leader in consulting, technology and next-generation services, to help prepare the workforce of the future in data science by advancing employee education and skills development.

Triangle Business Journal Recognizes 3 Triangle Executives
The Business Journals' Influencers series spotlights 100 executives who stand to be in the headlines throughout 2019 in cities across the country. Cindy Eckert, Abbit Goodwin, and Deverre Lierman from the Triangle were recognized.

Adrienne Cole Lands on 2019's Power 100 List by Business NC
Adrienne Cole, President, and CEO, Greater Raleigh Chamber of Commerce was named a "craven success" by Business NC. Under Cole's leadership, the Triangle's largest nonprofit business membership organization has announced more than 20 corporate relocations and expansions
totaling more than $250 million in capital investment and creating more than 5,000 jobs.


Ashley Cagle Wins 40 Under 40 Award in Economic Development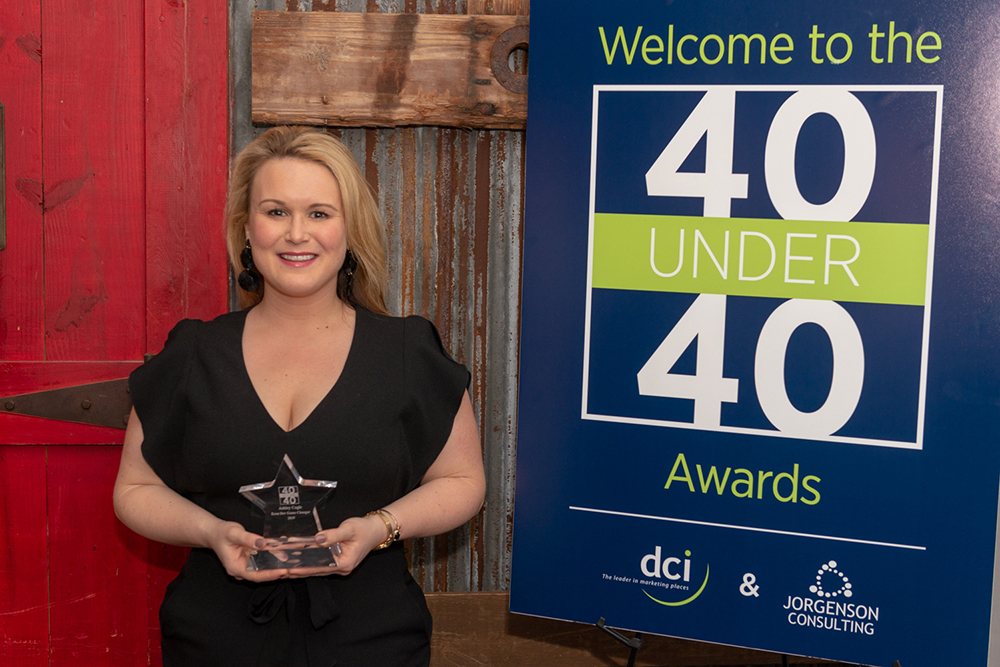 On Sunday, Jan. 27, Ashley Cagle became the second member of the Wake County Economic Development team to accept the Economic Development 40 Under 40 award. Read more.

TrialCard Continues Aggressive Growth
Continuing its aggressive growth strategy, a Triangle-area technology company has acquired a Raleigh medical tech firm. Read more.
LexisNexis Shares Love for Triangle
Jeff Pfeifer, Raleigh Site Leader and Vice President of Product Management for LexisNexis shares his love for the Triangle region. Read more.
Why You Should Visit Raleigh
The Washington Post says Raleigh is "Sneaky Cool" in a monthly series highlighting the "best vacation destinations you've probably never considered". Featuring local restaurants, breweries, parks and more!
TechWire Features Holly Springs Seqirus Success Story
People in the Triangle area may still be sleeping on Holly Springs, but Holly Springs hasn't waited for people to wake up and smell the coffee — or in this case, the economic possibility.
Seqirus, RoviSys, UNC Rex Healthcare — collectively, these big name companies employ thousands of people and each has operation based in Holly Springs, a town just southwest of Raleigh that has seen an explosive population growth of almost 200 percent in just 15 years. Read more.
Local Tech Company to Expand - Again
Raleigh communications technology firm Bandwidth is expanding at N.C. State University's Centennial Campus. Read more.
Cary Company Reaches $1 Billion
After several major accomplishments, Cary-based company, LORD Corporation secures $1 billion in sales. Read more.
Wake County Company TrialCard Has Transformational Year
Mark Bouck, President, and CEO of pharmaceutical solutions provider TrialCard Incorporated, today released the company's 2018 annual highlights, detailing the organization's impressive growth and performance over the past year. Read more.
America's 50 Best Cities to Live In - Morrisville, NC
24/7 Wall St. created an index of over two dozen measures to identify the best city to live in each state based off of affordability, economy, quality of life, and community. Morrisville offers close access to each of the three universities and is one of the fastest-growing communities in the entire country. Read more.
How the Triangle's Local Tech Talent is Impacting Commercial Real Estate
When people think about explosive city growth, they often think about the population increase and where everyone is going to live. Read more.
Raleigh-startup Adds Jobs & HQ Designation
Pendo, a growing technology company founded in Raleigh, will more than triple its local operations over the next five years, adding 590 jobs and investing $34.5 million in Wake County. Read more.
Press Release from Gov. Cooper on Advance Auto Expansion
RALEIGH: Advance Auto Parts, Inc., (NYSE: AAP) will designate Raleigh as its corporate headquarters and expand operations in Wake County by adding up to 435 new jobs over five years, Governor Roy Cooper announced today. These roles will enable the company to add value for customers and shareholders and enhance its omnichannel business. Advance's long-term integration plans and continued development of technology, eCommerce and digital platforms will be led in large part by teams based in Raleigh. Read more.
Raleigh Restaurant Featured on the Today Show
A Place at the Table a local restaurant in Raleigh, North Carolina, is founded by 27-year-old Maggie Kane. This restaurant allows customers to pay what they can, in order to help those struggling. Read more about Maggie Kane and her story here.
The 10 Best Big Cities to Live in Right Now (Raleigh #2)
Raleigh recently ranked as the second-best big city to live in America alongside other metros such as Austin, TX, Virginia Beach, VA, and San Diego, CA.
Michael Haley Talks about Projects with WRAL TechWire
Michael Haley, Executive Director of WCED, and Senior Vice President of the Greater Raleigh Chamber of Commerce informed the media on the strong talent pipeline growing in the Triangle region. Read the full WRAL TechWire article here.
Bee Downtown Lands Leigh-Kathryn Bonner On Forbes
30 Under 30
Fourth-generation beekeeper, Leigh-Kathryn Bonner founded Bee Downtown in Durham, NC to save the dwindling honeybee population, while simultaneously providing corporations with a novel approach to sustainability. Read more.
Jon Hayes, CEO of Raleigh-Born Company Pitches Start-Up
to Shark Tank
Tune in to ABC this Sunday from 9:00-10:00 p.m. ET/PT to watch local Raleigh entrepreneur pitch his company, Reward Stock to the Sharks. RewardStock provides personalized strategies to pay for travel with reward points. Read more.
Raleigh Ranks as the 4th Best City for Veterans
Raleigh recently ranked as the 4th best city for veterans alongside other metros like San Antonio, TX, Lincoln, NE, and Arlington, TX. Read more.

Raleigh Ranks High on Forbes List

Four cities from North Carolina ranked in the top 15 of the Forbes "Best Place for Business & Careers" list. Raleigh ranked at number 2, just behind Seattle. Read more.
Raleigh Ranks #8 on Top U.S. Cities For Finding A Job
Glassdoor recently ranked 25 cities to determine the best for finding a job, Raleigh ranked #8.
Read more.
RDU adds New Nonstop International Flight
Raleigh-Durham International Airport has scored its seventh nonstop international destination. Nonstop flights to Montreal will begin June 3rd, 2019. Read more.
Union Station Featured in Livability
Union Station, located in the heart of the Warehouse District in downtown Raleigh was featured in an article titled "Rail Reinvented: 8 Train Stations With Awesome Comeback Stories." Read more.
Raleigh named in the Top 15 Cities for Women Entrepreneurs
Coming in at number 11, Raleigh appeared on a list from Magnify Money as a top location for women entrepreneurs. Read more.
WCED's Ashley Cagle Receives Award for Leadership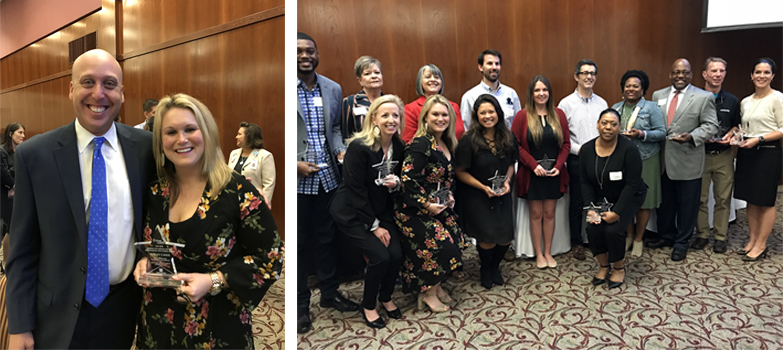 During the Wake County Public School System Superintendents Breakfast, Ashley Cagle, assistant executive director for Wake County Economic Development, was honored for her outstanding leadership as a volunteer for WCPSS School-to-Career Council. Ashley is a dedicated advocate for K-12 education and the involvement of business with education programs. Over the summer, she was instrumental in connecting area businesses with educators as part of Wake County's Public School's first-ever CTE teacher immersion day.
---

$40M funder to accelerate WalkMe's growth in Raleigh
After announcing the move to a new space, WalkMe receives more good news with announcement of an additional $40 million in funding. Read more.
Raleigh Makes New List
Major news outlet CNBC recently included Raleigh in a top ten list of cities where jobs are plentiful and businesses are thriving. Read more here.
How you can Help after Hurricane Florence
Our beautiful home state of North Carolina was hit hard by Hurricane Florence over the weekend. While Wake County was spared major damage, many communities need help. Check out these articles to see how you can help those in need. Reference the links below:
Tropical Depression Florence: How to Help

Helping Out After Hurricane Florence: Where, What & How To Donate
Local Tech Startup Raises $100 Million
Pendo, a local tech startup in Raleigh, has raised over $100 million since 2013. Read more.
Virginia solar panel firm picks Raleigh over Charlotte
A Virginia solar panel provider has picked Raleigh over Charlotte for an operations center, and is the midst of hiring 75 people in the Triangle. Read more.
Raleigh Ranks #2 as Best City for Young Professionals
Thrillist.com, a popular website dedicated to covering food, drink, travel, and entertainment recently released an article covering the best cities for young professionals. Compared to 24 other cities, Raleigh ranked number 2. Read more.
Wake County Economic Development Partners with Pendo for Career Night
Danya Perry, WCED's Equitable Economic Development Manager partnered with Pendo to host a careers and community night to help attract a diverse talent pool for careers at Pendo. Read more.
Infosys Opens Raleigh Technology and Innovation Hub
Thirteen months after Indian IT services firm Infosys announced plans to bring a 2,000-job tech hub to Raleigh, the doors opened to the new technology and innovation office in Brier Creek. Read more.
Garner Welcomes Amazon Distribution Center
It's official: A four-story 2.6 million-square-foot high-tech Amazon fulfillment center will open at the ConAgra site in Garner (Wake County.) Read more.
Downtown Raleigh Tech Company Expanding
Two years ago, California startup WalkMe picked Raleigh for a "regional headquarters" over competing cities Austin, Nashville, and Denver. Now, WalkMe is expanding their space with enough room for a total of 90 employees. WalkMe currently has 55 people in the downtown Raleigh office. Read more.
Wake County Company TrialCard Expands & Announces 500 Jobs
TrialCard (based in Morrisville), announced the expansion of its Market Access division in Morrisville, North Carolina. Read more.
MetLife Launches New Startup Accelerator in Cary
Ten companies – handpicked from locales across the globe – are gathered in Cary for the first Triangle iteration of the MetLife Digital Accelerator. Read more.
Arch Capital Services Brings 365 Jobs to Wake County
Arch Capital Services has selected Raleigh over Atlanta for a new location that will bring 365 jobs over four years. This announcement also comes on the heels of other large fintech announcements from Ipreo and Credit Suisse which demonstrates that this industry sector will only continue to expand. Read more.
Tourism in Wake County Continues to Grow
Raleigh area welcomed 16.45 million visitors who spent $2.5 billion locally in 2017. Visitation, economic impact, and job creation are at an all-time high. Read more.
WCED Executive Director Talks Jobs & Growth with WRAL TechWire
Michael Haley, Executive Director of Wake County Economic Development discusses increased interest in Wake County. Read more.
WCED National Media Campaign Lands Forbes Article
Through Wake County Economic Development's ongoing national media campaign efforts, Forbes reporter Elaine Pofeldt interviewed Wes Lawson, owner of Lawson Hammock. Read more.
Inc. Features Article on Raleigh
The article titled "Why Raleigh will be the next startup hub" was written by Jeff Barrett, after his three day visit to Raleigh. The article is an incredible and accurate reflection of the momentum of the region and highlights many local companies and amenities. Read more.
senseFly Moves Operations to Wake County
Previously located in Washington, D.C., the company's new office will accommodate its rapid growth and its location allows senseFly to join the Research Triangle, a growing network of technology leaders. Read more.
Raleigh Makes Top 10 List for Best Large Cities to Start a Business
Raleigh along with two other North Carolina cities landed in WalletHub's 2018 Best Large Cities to Start a Business. Read more.
Local Companies Recognized for Outstanding Executive Leadership
Raleigh companies Red Hat and Pendo received recognition in USA Today for outstanding executive leadership. Read more.
North Carolina wins the Gold Shovel for Economic Development Success
Area Development named North Carolina a Gold Shovel recipient for securing two of the largest economic development announcements in the country last year. Credit Suisse announced 1,200 jobs, while Infosys announced 2,000 during 2017. Read more.
IBM veteran tapped to lead Infosys' new 2,000-job Raleigh hub
Infosys is taking a big bet on an IBMer, tapping former IBM Digital Commerce leader Deverre Lierman to helm its Triangle operation. Read more.
Credit Suisse names new RTP site lead
Credit Suisse is promoting from within to replace longtime Research Triangle Park site lead Jim Captain. Its tapped 10-year Credit Suisse veteran Sophia Wajnert to lead the operation under a new title: senior franchise officer. Read more.
Chief Executive Magazine Features Major Raleigh Company
As the Research Triangle region continues to draw the eye of business leaders across the nation, experts are analyzing what has made the region such an attractive landing spot for businesses over the past decade. Read more.
Global Traveler Magazine Covers Raleigh
In the May 2018 issue of Global Traveler magazine, journalist Ron Bernthal captures his recent visit to Raleigh detailing the business-friendly environment and quality of life amenities that enhance the community's lifestyle. His article offers a perfect reflection on the current landscape of Raleigh and the Research Triangle as the region has quickly become one of the top competitive metros in the U.S. Read more.
Ipreo Announces Expansion at Downtown Raleigh Location
Ipreo will expand its presence in downtown Raleigh after receiving a new grant from the state of North Carolina and the city of Raleigh. Read more.
Ipreo to add another 250 jobs in Wake County
New York financial services and analytics firm Ipreo is doubling down on its commitment to Wake County, promising another 250 jobs and $2.1 million in investments. "This region offers a talented and innovative workforce, a strong university system, and a collaborative business environment," stated O'Hara Macken." Read more.
Credit Suisse breaks ground on massive RTP expansion
At a reception in a glass-walled lobby, executives and state officials, including Gov. Roy Cooper, gathered Tuesday morning to celebrate a day that even Jim Captain wasn't sure would arrive: the groundbreaking for the massive expansion Credit Suisse announced last year. Read more.
Wake County ED Proposes Incentives to Lure Business to Vulnerable Areas
The Wake County Economic Development Department wants to implement an innovative policy that would provide incentives to businesses to make decisions that benefit vulnerable groups across the county. Read more
Michael Haley talks about New Jobs in Wake County
Projects with more than 14,700 potential new jobs are eyeing Wake County right now, the area's top economic developer, Michael Haley confirms. Read more
Raleigh Local Featured in Chief Executive Magazine
Aly Khalifa (Raleigh-based innovation and sustainability entrepreneur) was featured as a top 20 maker in Chief Executive Magazine who is making a difference in American manufacturing with his company, Oceanworks. Read more on pages 40-43.
Ashley Christensen Featured in USA Today
Ashley Christensen (Raleigh Chef and James Beard finalist) received the North Carolina nomination in the USA Today article for "50 States: 50 Female Chefs". Read more on slide 33.
Raleigh, Durham, Chapel Hill Tagged as Top 5 Tech Hotspots
This trio of cities has been an innovation center for decades. Read more
GeekWire HQ2 Revealed
GeekWire is Looking for HQ2 — Could They Select Raleigh?
GeekWire, a tech publication based in Seattle is looking for a temporary HQ2 for the month of February. Raleigh is one of four finalists. Read More
Triangle ships 32-pound Amazon HQ2 proposal
The Research Triangle region makes it official and submits large box with Amazon HQ2 proposal. Read More
#TriangleDelivers Twitter Campaign Aims to Lure Amazon
The Research Triangle region makes it official and submits large box with Amazon HQ2 proposal. Read More
Is Raleigh the New Belle of the South?
A reporter from Orbitz visited Raleigh over Bluegrass weekend and was impressed with the revitalization of downtown. Read More
Thrillist Notes the Warehouse District is About to Get "Crazy Popular"
With its charming brick facades, chic aesthetic, and local food joints, the Warehouse District is on the verge of becoming one of the best neighborhoods in the nation. Read More
Forbes Ranks Raleigh #2 Best Place for Business and Careers
Raleigh has been ranked for the last 5 years in Forbes rating of best please for business and careers. Read More
Forbes Ranks North Carolina as #1 for Best State for Business
With one of the country's strongest business climates, Forbes touts North Carolina for business and careers once again. Read More
Millennials from Raleigh Tell Us Why They Prefer Raleigh Over Silicon Valley
Contributors from PrecisionHawk and Dropsource wave the flag for Raleigh as a preferred tech hub. Read More
Inside Raleigh's North Person Street Neighborhood
Travel & Leisure covers Person Street, an up-and-coming area just minutes outside of downtown Raleigh. Read More