Regional Skills Analysis 2020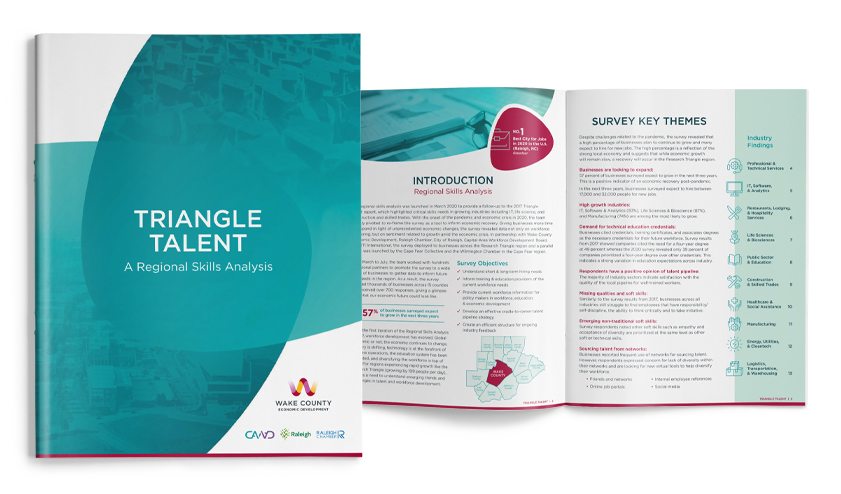 Using the Regional Skills Analysis data collected throughout the summer, Wake County Economic Development updated our Triangle Talent publication to display important findings and data from the RSA survey.
Wake County Economic Development (a program of the Raleigh Chamber) partnered with the City of Raleigh and Capital Area Workforce Development Board to relaunch the Regional Skills Analysis.
Prior to the COVID-19 crisis, the region was on pace for incredible growth and development. While it will take time to regain that momentum, the survey can help us get back on track. The Regional Skills Analysis survey aims to gain a better understanding of the current state of the local workforce, skill gaps, and trends in growth, hiring, and industry development. Additionally, the survey data will help inform a coordinated strategy to prepare economic and workforce development partners to address the needs of industry partners as we navigate the economic recovery.
To view the results of the first survey (2018) you can download the full report here. Data collected from the survey will be used to compile a robust report of the workforce-related data and will help inform the next steps on building a stronger workforce and talent pipeline. Below is an example of the data collected in 2018:
73 percent of companies surveyed expect to grow in the next three years
In the next three years, businesses surveyed expect to hire between 22,000 and 36,700 people for new jobs
Friends and Networks are being used frequently for sourcing talent
Preliminary survey data was unveiled on July 8 at the Economic Development Summit Series. You can read the event recap blog here. Final survey data will be shared in the fall.
Stay Connected - Triangle Talent