Are you an international firm interested in a partnership or strategic acquisition in the Research Triangle? We can help. Please email Kathleen Henry for more information.
Download information about Foreign Direct Investment
点击此处下载关于外商直接投资(FDI)的资料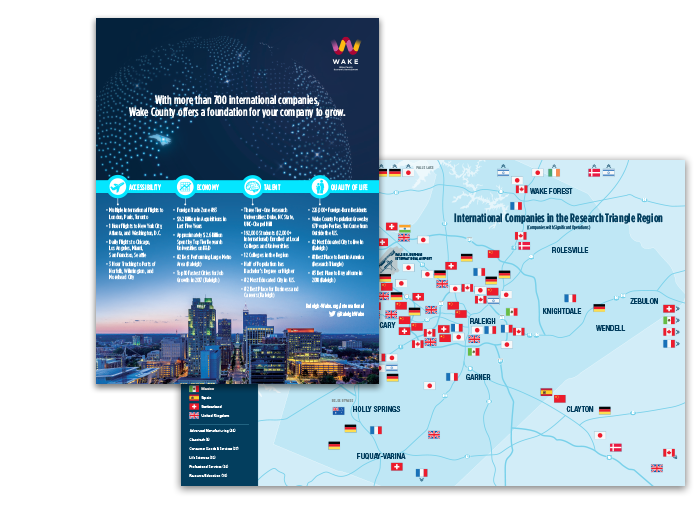 In an effort to increase the region's global competitiveness, Wake County Economic Development developed an international business strategy with a committee of 20 key members from our local business community with international expertise to help proactively and strategically market the Research Triangle's competitive advantages. This committee was tasked to identify gaps and provide resources on best practices in recruiting, retaining, and doing business with foreign-owned companies.
As a result of our region's growth and proactive efforts to connect on a global stage, our region has welcomed Ambassadors and high-level dignitaries, including:
The Indian Ambassador to the U.S., Harsh Vardhan Shringla
The Belgian Ambassador to the U.S., Dirk Wouters
The Irish Ambassador to the U.S., Dan Mulhall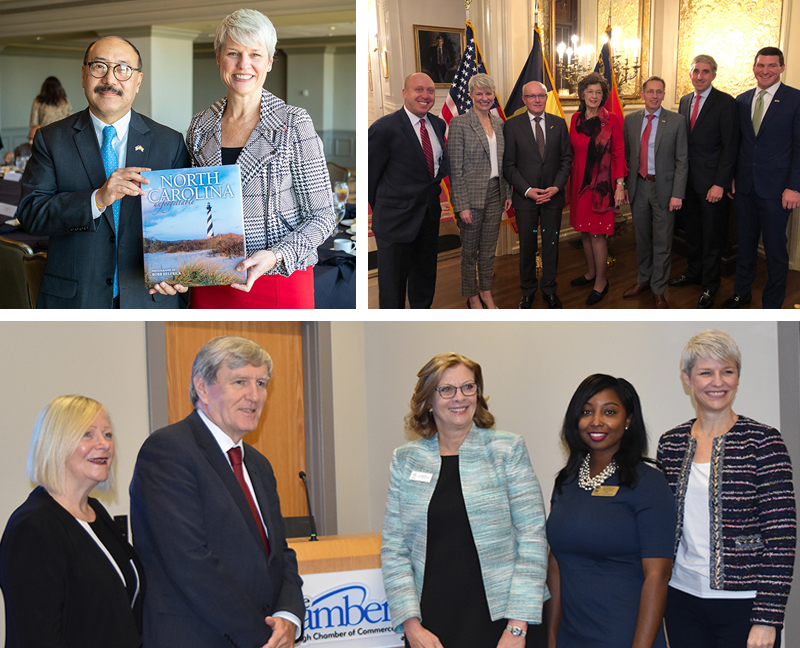 Over the last 60 years, North Carolina's Research Triangle Region has garnered a reputation as a top place for business and living attracting talent and businesses from across the region. The Triangle is known for its high caliber of talent, concentration of innovation, stable and affordable business climate, and vibrant communities
Rankings:

Top 10 Cities Where Jobs Will Be In 2020 (Raleigh, NC) Forbes | 2019
No. 4 Life Sciences Market (Raleigh-Durham, NC) JLL | 2019
No. 8 Best City for High Salaries & Low Costs of Living (Raleigh, NC) Motley Fool | 2019
Wake County is home to more than 700 International companies. Below is a list of the Triangle's most significant foreign-owned operations:
| | |
| --- | --- |
| Company | Country of Origin |
| Arkema | France |
| Schneider Electric USA, Inc. | France |
| Cellectis | France |
| Sodexo, Inc. | France |
| BASF | Germany |
| Deutche Bank | Germany |
| Schmalz Inc. | Germany |
| Siemens Medical | Germany |
| Merz | Germany |
| HCL | India |
| Infosys | India |
| Recipharm Laboratories | India |
| GlaxoSmithKline | UK |
| IHS Markit | UK |
| Circassia Pharmaceuticals | UK |
| AW North America | Japan |
| Fuji Film | Japan |
| Konica Minolta | Japan |
| Cbc America | Japan |
| Credit Suisse | Switzerland |
| ABB | Switzerland |
| Novartis | Switzerland |
Wake County additionally has a number of resources to help both companies interested in the region, as well as existing organizations. Some of these include:
Economic Development
The Center for International Understanding (Go Global NC)
Economic Development Partnership of North Carolina
North Carolina Hispanic Chamber of Commerce
European American Business Chamber
Chinese Association for Science and Technology
Education
SKEMA Business School
The Lerner School
Raleigh Chinese Language School
Carolina Chinese Academy
Raleigh Japanese Language School
Japan Culture Exchange
Government
US Commercial Service
Foreign Trade Zone Administrator
The North Carolina Consular Corps
Consulate of Mexico
International Relations
TIE-Carolinas (South Asia/India)
North Carolina World Trade Association
The North Carolina China Center
The North Carolina Japan Center
North Carolina Chinese Business Association
Triangle Area Chinese American Society of North Carolina
Chinese American Friendship Association of North Carolina
Triangle British American Business Council
North Carolina Chinese Business Association
To learn more about International Business in Wake County, please contact Kathleen Henry.