Research Triangle Park
Some say this is the research park that started it all. Seen as a model of innovation, the Research Triangle Park (RTP) is arguably one of the most successful research parks in the world. RTP is home to more than 200 global companies, including IBM, GSK, Syngenta, RTI International, Credit Suisse, and Cisco, that foster a culture of scientific advancement and competitive excellence. The Research Triangle Park is located between the region's three tier-one research universities: Duke University in Durham, North Carolina State University in Raleigh and the University of North Carolina at Chapel Hill.
Founded in 1959
7,000 acres split between Wake County and Durham County
22.5 million square feet of built space
Industries invest more than $296 million in R&D at the region's universities each year – double the average R&D investment for innovation clusters elsewhere in the nation.
Visit the Research Triangle Park website for more information.

Centennial Campus
North Carolina State University's Centennial Campus is also seen as a model research park-though for a different reason than the RTP. Centennial Campus is all about interaction and partnerships. In fact, companies located in this research park must have some type of partnership with the university. These partnerships range from student internships and co-ops to formal research agreements between industry and faculty.
Founded in 1985
1,227 acres immediately adjacent to NC State's main campus
1,013 acres – Centennial Campus, and 214 acres – Centennial Biomedical Campus
4 million sq. ft.
$1 billion invested in facilities and infrastructure to date
Visit the Centennial Campus website for more information.

Download an Information Sheet about RTP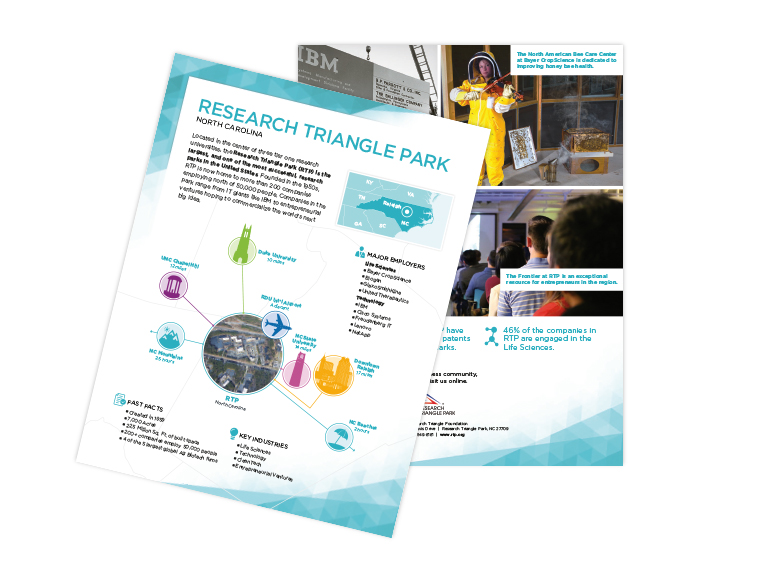 Research Triangle Park
(RTP) is the leading and largest high technology research and science park in North America. Founded in 1959, this 7,000-acre namesake for the entire Triangle region is two miles wide and eight miles long. Research Triangle Park is based in Durham with an extension now spilling into Wake County toward Cary and Morrisville. - See more at: http://www.durham-nc.com/maps-info/districts/research-triangle-park/#sthash.AeJTVml4.dpuf