WHAT IS EQUITABLE ECONOMIC DEVELOPMENT?
Equitable economic development unlocks the full potential of the local economy by dismantling barriers and expanding opportunities for lower-income citizens and communities of emphasis. During the past three years, Wake County Economic Development (WCED), a program of the Raleigh Chamber, has worked closely with Wake County Government to better understand Wake County's most vulnerable communities and how to support and promote economic mobility for these targeted growth areas. WCED has recognized that as Wake County continues to grow in terms of population and wealth, there are areas within the county that are not experiencing the benefits of this growth.
TARGETED GROWTH AREA IDENTIFICATION
In collaboration with Wake County leaders and RTI International, WCED worked to identify portions of the county as "targeted areas for economic growth." These communities were identified by using an index provided by the U.S. Census Bureau American Community Survey that measures poverty, unemployment, demographics, housing, and education. Once the communities were identified, WCED expanded its scope to focus on community sustainability and place/people-based strategies within those communities.
Targeted Growth Areas Map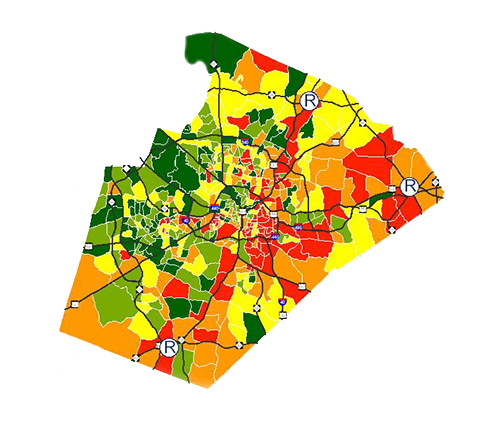 PROGRAM OF WORK
Equitable economic development is a necessary strategy to have in place as the surrounding community grows at a fast pace. All citizens must be given the opportunity to thrive as a result of growth, new jobs, and investment. A comprehensive program of work has been created to act as the foundation for WCED's focus on equitable economic development. The program of work efforts include:
Inclusive Economic Mobility
Talent and Workforce Development
Small Business & Entrepreneurship Support
As a result of this ongoing strategy for equitable economic development, on Oct. 1, 2018, Wake County Commissioners voted to amend the Wake County Business Investment Grant policy. With this vote, the county has added a new tier to the existing incentive policy focused on "Targeted Growth Areas." This amendment further promotes and addresses equitable economic development in Wake County's most vulnerable communities and looks to support development, job growth, and investment in these targeted growth areas. You can learn more about incentives here.
FOR MORE INFORMATION ABOUT EQUITABLE ECONOMIC DEVELOPMENT PLEASE CONTACT:
Dr. Torri A. Staton
Director of Equitable Economic Development, Wake County Economic Development
Vice President, Diversity, Equity & Inclusivity, Raleigh Chamber
tstaton@raleighchamber.org