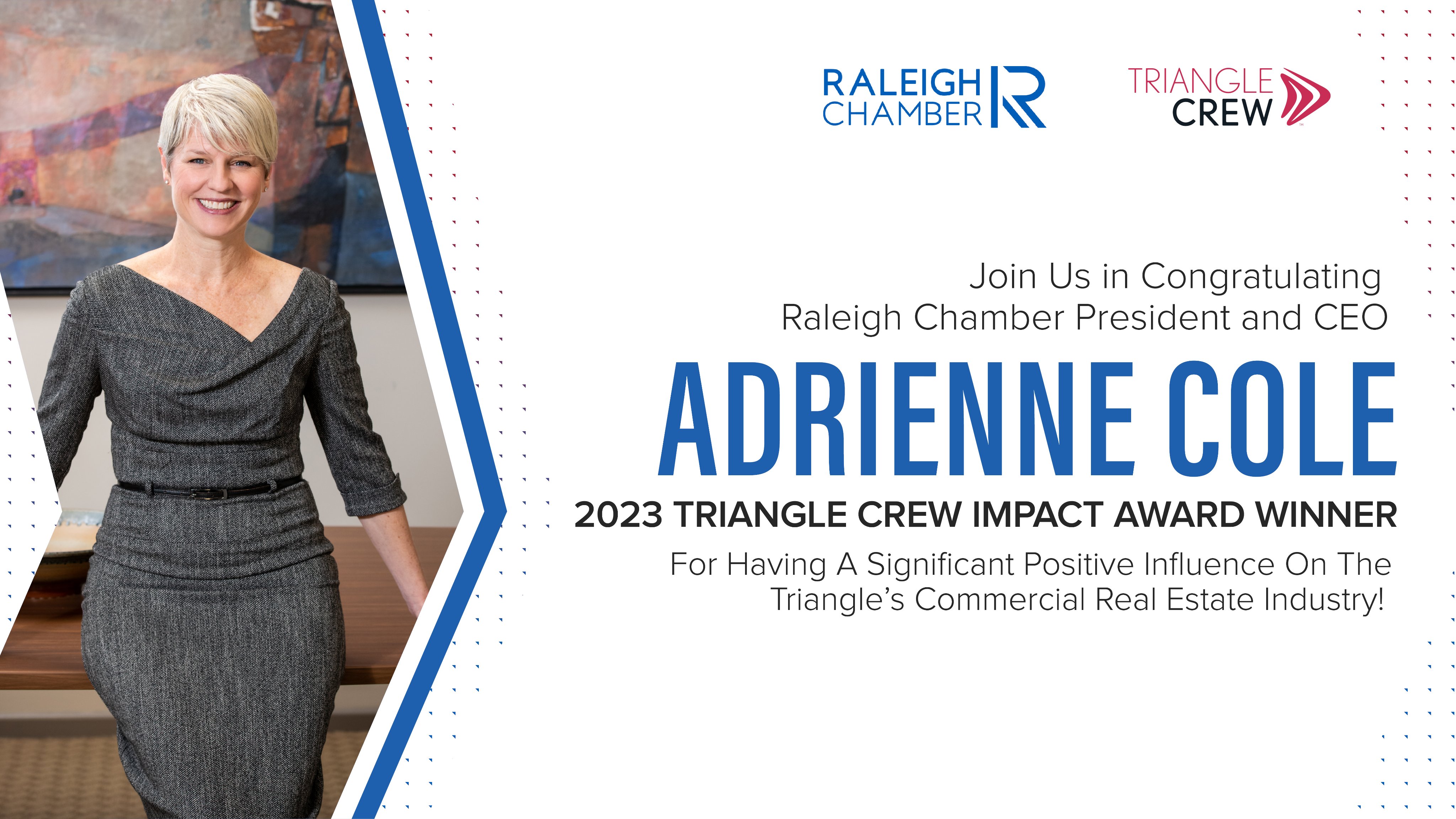 We are thrilled to share that Raleigh Chamber President & CEO Adrienne Cole has been awarded the TCREW Impact Award for 2023. This honor is awarded to an individual who, over the course of a distinguished career, has made a transformational contribution to or has had a significant positive influence on the Triangle's commercial real estate industry.
Very few Triangle-area leaders have had as much influence on the local commercial real estate industry as Adrienne, who has played a role in project wins totaling $5.24 billion and 23,600 jobs since 2014. These projects include Bandwith, Inc., which will add 1,165 jobs and over $100 million in capital investments and FUJIFILM Diosynth Biotechnologies' $2 billion project will create 725 jobs in Holly Springs. The transformational announcement of Apple will equal $1 billion in investment and 3,000 jobs. The list goes on and on.
From Advance Auto and Pendo to Red Hat, Credit Suisse, Infosys and Campbell Law School, Adrienne has led Wake County Economic Development (WCED) and the Raleigh Chamber through 16 years of unprecedented success, culminating with North Carolina being named CNBC's America's Top State for Business!
While these successful project announcements have directly affected the Triangle's commercial real estate industry, Adrienne's additional accomplishments, affiliations, and volunteer positions have had an indirect impact on the industry, making our region the envy of the country for its collaborative investment successes.
Under Adrienne's leadership, WCED's Work in the Triangle talent recruitment campaign and website were launched nationally to help companies meet their talent needs and resulted in millions of impressions worldwide. She played a role in the Fayetteville Street Mall reconstruction in 2006, contributing to a revitalized space that continues to draw workers and visitors to Downtown Raleigh.
Adrienne spearheaded the creation of the Chamber's Triangle DEI Alliance in 2018, which informs and impacts the Triangle community, leading the effort to make our region the most diverse, equitable, and inclusive business environment in America. Adrienne has led the advocacy efforts on school, parks and affordable housing bonds totaling over $1.4 billion of investment in our community.
Her volunteer roles on the boards of RDU, the Triangle YMCA, the Research Triangle Regional Partnership, Association of Chamber of Commerce Executives and the Meredith College Board of Trustees demonstrates her commitment to keep our region as one of the best places to live and work in the country. Great leaders inspire those around them to achieve success, and Adrienne Cole's tireless work and collaborative spirit have directly impacted the Triangle's business leaders and our region's current and future prosperity.
Prior to her role as President & CEO of the Raleigh Chamber, Adrienne served as the directors of both Raleigh and Wake County Economic Development. Her leadership within the organization is just as impactful as her work in the community, according to her teammates.
"We are all lucky to learn from Adrienne every single day," said Ashley Cagle, Assistant Executive Director of Wake County Economic Development and Vice President for Economic Development of the Raleigh Chamber.
"In each of her roles over her career, Adrienne has always worked to improve her community in big and small ways. We are so excited to see her honored with this year's TCREW Impact Award!"
TCREW is the Triangle Commercial Real Estate Women's Network. Our region's local CREW chapter is made up of 220+ members employed in a wide variety of disciplines within the industry.