We are excited to share that our 2018-2019 annual report has been released! The annual report shows an overview of activity from the past year and provides a high-level look at projects, initiatives, partnerships, and awards. This fiscal year, we saw an increase in jobs and investment, further promoted the growth of our community, focused on economic mobility through our equitable economic development strategy, and continued to build a skilled workforce to grow our world-class talent pipeline.
The annual report is an overview of the activity of the past year and provides a high-level look at projects, initiatives, partnerships, and awards.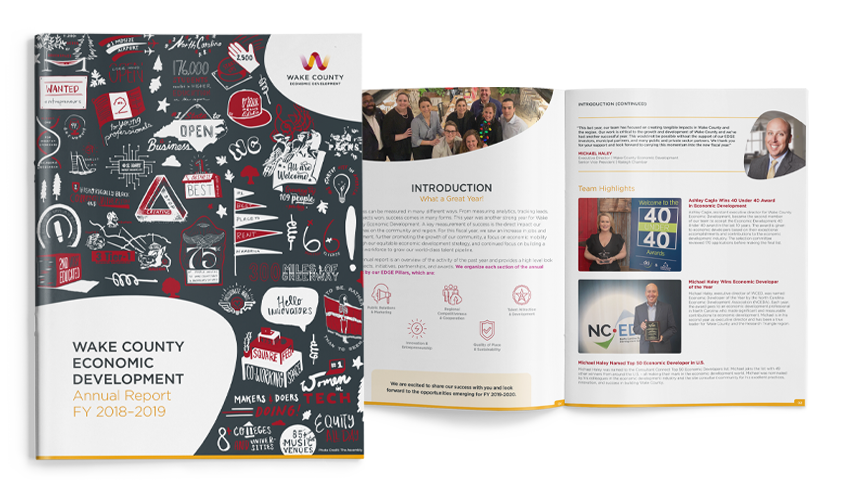 Highlights from this year's Annual Report FY 2018-2019 include:
Job Creation & Investment
In FY18-19, we announced 8,273 jobs and $519 M investment across our key sectors of life science, technology, cleantech, and advanced manufacturing.
We welcomed new companies and expanding companies to our market: Xerox, Cellectis, Pendo, Seqirus, Advance Auto Parts, and Schmalz.
Public Relations & Marketing
During the past several years, our national media campaign has gained momentum due to the growth of the market.
The Raleigh-metro story carried the momentum into 2018-2019, which resulted in 14 stories in 12 different publications including Curbed, Next City, and Business Insider, a successful media trip to New York City, a talent perception study, and new key messaging for greater Raleigh.
Regional Competitiveness & Cooperation
Over the past year, our team has worked with numerous partners including the Economic Development Partnership of North Carolina (EDPNC) and Research Triangle Regional Partnership (RTRP) on a series of initiatives to help our region remain competitive in a fast-changing global economy.
Hosted our Economic Development Forum: Exploring the Triangle of the Future and The State of Foreign Direct Investment
Hosted 12 International Delegations from 22 countries, totaling 73 Delegates.
Foreign Trade Mission to France and the UK
Produced a Financial Technology Study
Talent Attraction & Development
Talent was a key focus for WCED in the last year. With labor force and employment numbers increasing from year 17/18, the focus on developing talent and building a durable workforce was at the forefront of a number of talent-related initiatives.
WCED, CAWD, & Raleigh Chamber receive the Laurie Moran Partnership Award
Wake County Economic Development partnered with Wake County Public Schools to participate in the SummerSTEM program. Companies like BASF, Credit Suisse, and Biogen spent time with educators over the summer to share their industry knowledge and discuss how to help students succeed in a changing workplace.
Hosted Triangle Talent: The Workforce of Tomorrow - 175 attendees and panelists from JLL, Meredith College, MedThink Communications, and Credit Suisse.
Hosted 50 #TriangleTuesdays virtual career fairs, with 3,300 average weekly twitter impressions.
Innovation & Entrepreneurship
Hosted Innovate Raleigh Summit - 300 attendees
Created the Innovate Raleigh & News and Observer Partnership to hire a reporter to focus on solely innovation and technology stories.
Quality of Place & Sustainability
Hosted second-annual Diversity, Equity, & Inclusivity conference - 500 attendees, keynotes from representatives with Lowe's Companies and Georgia College, and breakout sessions from a variety of DEI professionals
Created new programming for DEI: We Connect, Courageous Conversation, Black Business Momentum, Love Your Story Workshop, Pathways Program, Southeast Raleigh Business Collective
Created a new Targeted Growth Incentive in partnership with Wake County Government
Officially launched the Triangle Diversity, Equity, & Inclusivity Alliance
We look forward to continuing the momentum into 2020!
View the full report here.