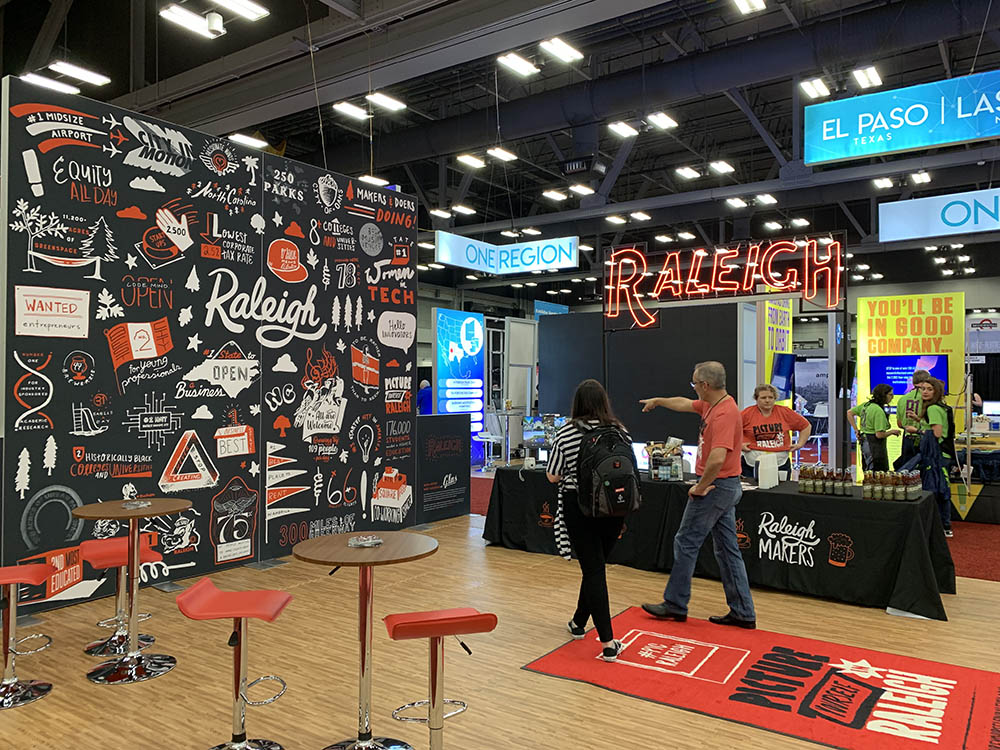 Day one of the South by Southwest trade show is complete! After a successful setup on Saturday, March 9, we opened the SXSW trade show on Sunday by greeting attendees with cold brew coffee and a chance to win a Raleigh gift basket. This week is sure to be filled with lots of conversations and stories sharing why Raleigh is such an incredible place to live, work, and visit.
The SXSW interactive trade show offers a unique opportunity to share our story with a global audience of techies, CEO's, startups, companies, talent, tourists, media, and the occasional celebrity. For the past few years, a team from Raleigh has spent 6-8 months planning and executing a strategic activation to present to SXSW attendees in the form of a compelling booth presentation and content that drives interest back to Raleigh. For 2019's activation, the goal will be to showcase Raleigh as a diverse and inclusive community as it relates to culture, business, industry, and people. We aim to do this by asking attendees to "Picture Yourself in Raleigh" and will invite them to engage with our 12-foot mural created to show the depth of our market.
The mural represents the very essence of what makes Raleigh – Raleigh! A true collaboration of the passionate minds of our community. In partnership with the City of Raleigh, the Greater Raleigh Convention and Visitors Bureau, and Wake County Economic Development (a program of the Raleigh Chamber), the team worked with the Raleigh Murals Project and The Assembly to create a visually stunning piece to share at SXSW. With the goals of maximizing brand awareness of Raleigh and showing the many aspects of our community, a list of our top amenities, attributes, rankings, etc., was provided to our design team and, from that list, the foundation of our booth exhibit was created. A team of 13 designers collaborated to create a piece that would be a showstopper in the midst of the constant activity at a trade show as large as SXSW.
All week long, we will be inviting attendees to "Picture Yourself in Raleigh" by engaging in conversation, showcasing the Raleigh neon sign by Nate Sheaffer at Glas, offering samples of the finest beer from Trophy Brewing beverages, sampling Slingshot Coffee, and enticing attendees to stay engaged with us by visiting www.pictureyourselfinraleigh.com. Our team will share what makes our home special and in the words of our Visit Raleigh partners, all it takes is a visit.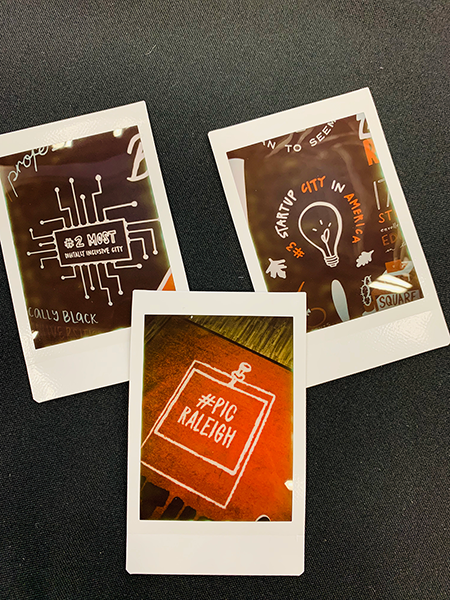 Visit us at Booth 831 and picture yourself in Raleigh!
Special thanks to our dream design team at the Raleigh Murals Project & The Assembly: JT Moore, Jed Gant, Gino Reyes, Nikelle Orellana-Reyes, Mary Ann Bitter, Joshua Gajownik, Paul Tuorto, Tim Reavis, Katelyn Taylor, Mark McClawhorn, Sarah Faucette, Christian Tompkins, Marie Schacht, Tyler Northrup, Brett Dona, and Sarah Powers (City of Raleigh.)