By Michael Haley, Executive Director
6/16/22
Bright, adaptable, expanding, inclusive and growth. These are just a few of the words used to describe Wake County's future at the Economic Development Annual Meeting, hosted by the Raleigh Chamber and Wake County Economic Development.
More than 200 people gathered on June 14 for conversations on the theme of "Creating a Headquarters Community." We've long considered Raleigh and Wake County to be a community of "what's next," and we believe the next phase of our evolution will be growing and attracting headquarters operations. Headquarters are important to economic development because they impact communities by generating jobs, increasing philanthropic investment, attracting talent and much more.
At the event, we approached this challenge from two perspectives. The first panel featured site selection professionals who work with companies on their location decisions. We were joined by Lauren Berry of Maxis Advisors, Deborah Boucher of Cushman & Wakefield and Dave Efird of Womble Bond Dickenson.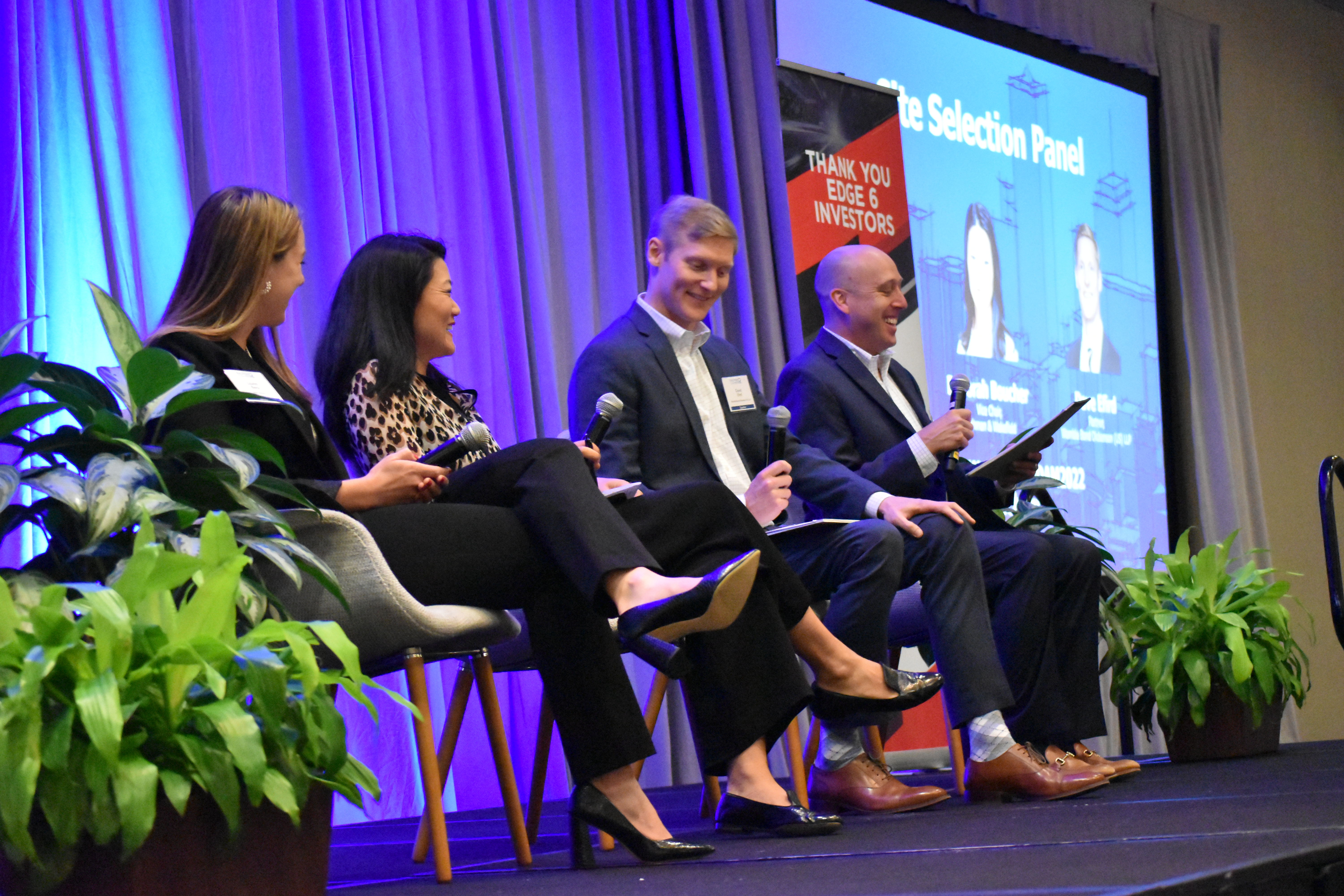 A couple of themes emerged from this first conversation: the Triangle wins on talent, collaboration is key, and not every HQ project starts as an HQ project. We continue to stand apart from our peers based on our deep talent pipeline and strong university anchors. Raleigh and Wake's competitive position is bolstered by industry partnerships and associations like the North Carolina Biotechnology Center.
Finally, Lauren Berry reminded us that the best way to sell our community is by getting out of the conference room. "I think one of the most powerful things you can do when you are recruiting a company is to show them around, get out of the board room. The more you show them the more they understand what Raleigh has to offer." Lauren's comments reminded us that some headquarters start with a small base of operations, and as the company gets to know the community, and grow and thrive here, the opportunities are endless.
The second panel, moderated by Raleigh Chamber President & CEO Adrienne Cole, was comprised of local c-suite leaders. Ted Klinck of Highwoods, Rob Cato of Lenovo and Hyunna Coelho of Merz Aesthetics each lent their perspective on the future of the Raleigh/Wake market.
Talent again emerged as a top theme, with Ted Klinck noting what we have in common with peer metros like Austin, Charlotte and Nashville -- we are all magnets for young talent. And where talent goes, companies will follow.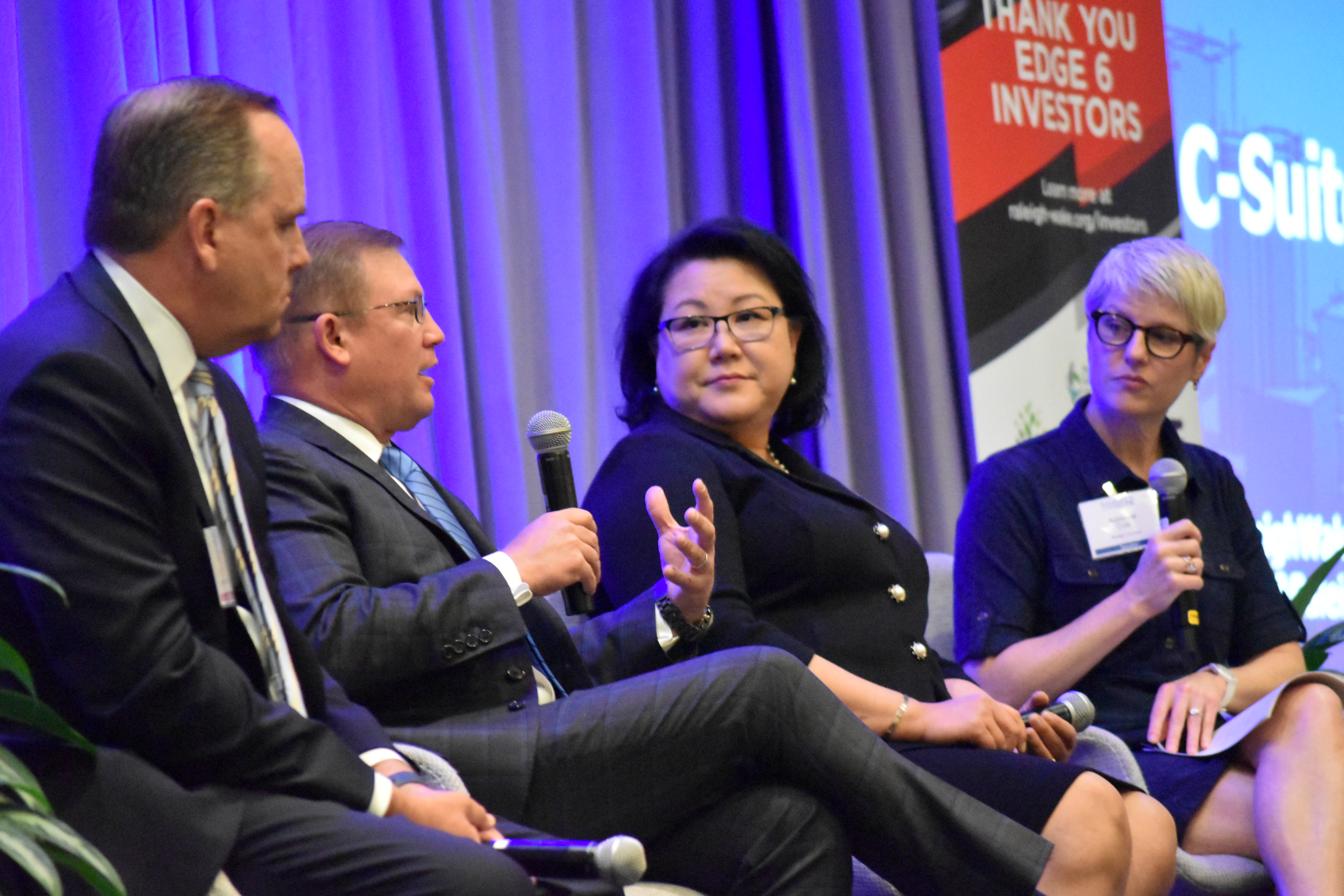 Hyunna Coelho shared that Merz Aesthetics selected Raleigh as their headquarters because the community aligns with what they want for their employees. What was once the "three c's: climate, commute and cost of living" has expanded to "total wellness, career and community."
The panelists all agreed that supporting our local existing companies was of primary importance.
Throughout the event, we took several opportunities to ask the audience for engagement and feedback. Hearing from our community on their vision for our future is just as important as hearing from our panelists. We began the morning with a word cloud activity by asking each attendee to describe the future of Wake County in one word. "Growth/Growing" is the response that showed up the most, followed closely by "bright," "opportunities," "diverse," "vibrant," and many other synonyms.
We also asked attendees to work with their tablemates to identify strengths, weaknesses, opportunities and threats impacting our community as we seek to grow and recruit new headquarters. And finally, guests were tasked with envisioning Raleigh 20 years in the future and writing a postcard about how we got there.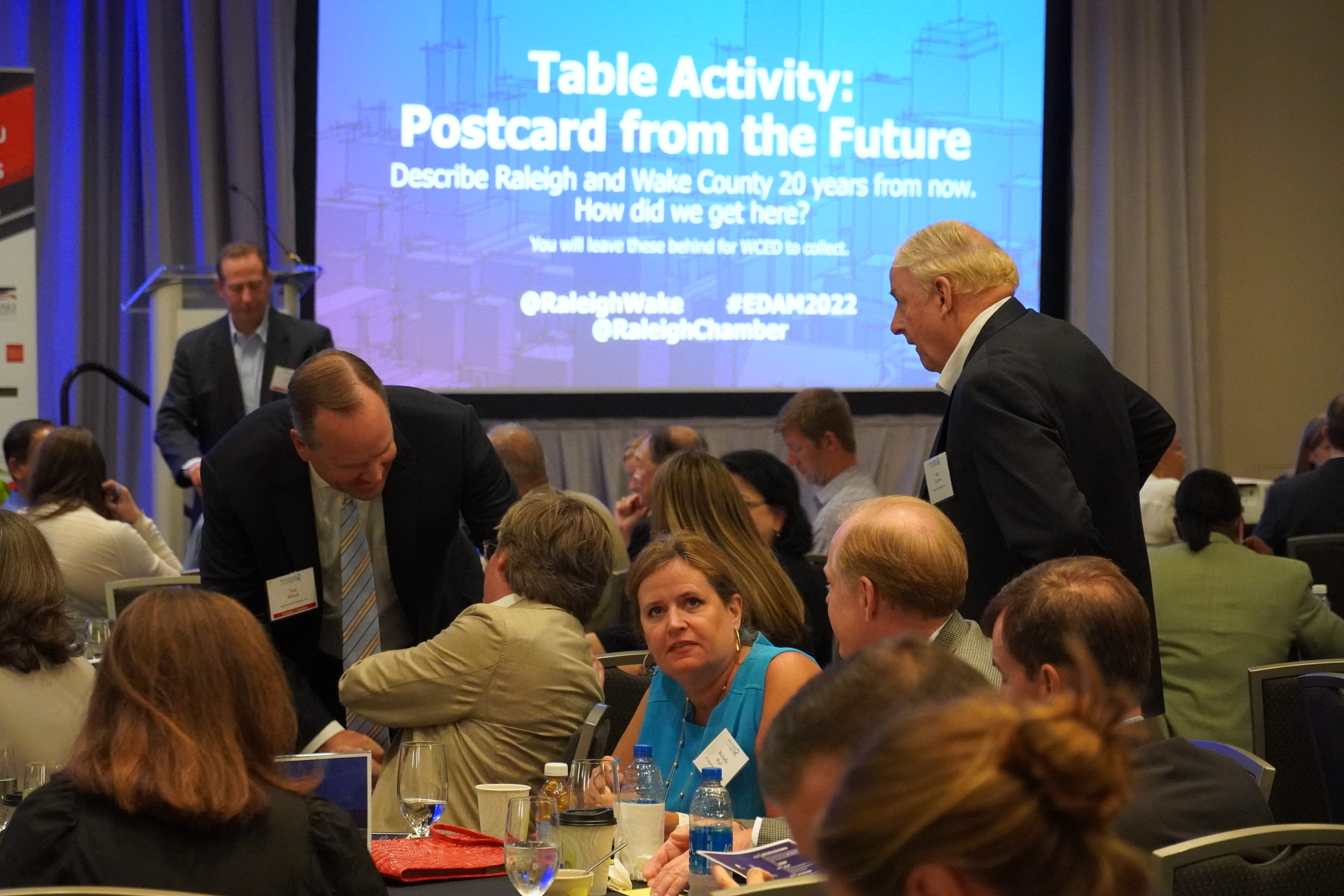 Building on our exercise to identify one word to describe our future, my four key takeaways from the event are: leverage, focus, talent and collaboration. We must continue to leverage our fundamental strengths as well as seize on the economic and economic development momentum underway. As a community we must be focused and intentional on building our future. Talent is the top priority for all businesses. It is critical to support the talent and workforce needs of existing companies, startups and new companies. One of the most important calling cards of our community is the level of collaboration found here. As such, we need to work together to build our future that supports the growth of new companies, new headquarters, as well as economic mobility opportunities for everyone.
We are truly a community of what's next.