Ashley Cagle, assistant executive director, Wake County Economic Development, interviews the John Deere team to share learnings from the COVID-19 crisis.


1. Describe John Deere's presence in Wake County, employee count and range of services.
John Deere is a world leader in manufacturing advanced products for agriculture, turf care, forestry, and construction with factories, offices and other facilities in more than 30 countries around the world.
In Wake County, we have more than 1,000 employees who work in Cary and Fuquay-Varina. In our Cary Office, we have many functions including engineering, supply management, accounting, marketing and training. Our Turf Care factory in Fuquay-Varina is a manufacturing facility that includes production line positions, engineering, supply management, accounting, product support, and product testing. In addition, we also have a dealer-training center that operates in Morrisville to serve John Deere dealers through the Southeast.
2. What have been the impacts from COVID-19 across John Deere?
Like most companies, the health and safety of our employees has been a top priority, so we've taken steps at all our locations to facilitate social distancing, implement health screenings, provide personal protective equipment (PPE), and encourage those who can work from home to do so.
Throughout this time, we've also provided continued support to our customers. Many of our customers operate essential businesses in agriculture, landscaping and construction, and many of our products support military operations, so it has been critical to keep operations running to fill this customer need. In addition, many of our dealers have been providing services like free delivery, curbside pick-up for parts, and phone consultations.
We've also seen greater recognition of the value of connected technology for our customers. Through John Deere Connected Support, our customers and dealers can remotely monitor and proactively service machines connected to our cellular and GPS network to optimize service while being away from the machine. In addition, through the John Deere Operations Center, our customers can remotely provide important crop/field data to other farm advisors during this critical time of year when planting is taking place.
3. How has technology helped John Deere face the challenges presented by COVID-19?
Technology, communication, and a nimble workforce have allowed John Deere to quickly pivot how we work during this challenging time, while still supporting the needs of our customers. Due to the strong telecommunications infrastructure in the region, we were able to confidently provide telework arrangements for our employees. Also, the highly educated workforce in the region quickly adopted telework technologies to remain productive during this unprecedented time.
In addition, John Deere engineers have been developing various ways to keep workers safe. They've created a 3D printed clip that can be affixed to a standard protective ballcap and used to hold a protective face shield in place. They've also created a 3D printed door opener that allows the user to "grasp" a door handle with an angled hook without touching the handle. Design files for both items have been made available through the John Deere COVID-19 Innovations Center.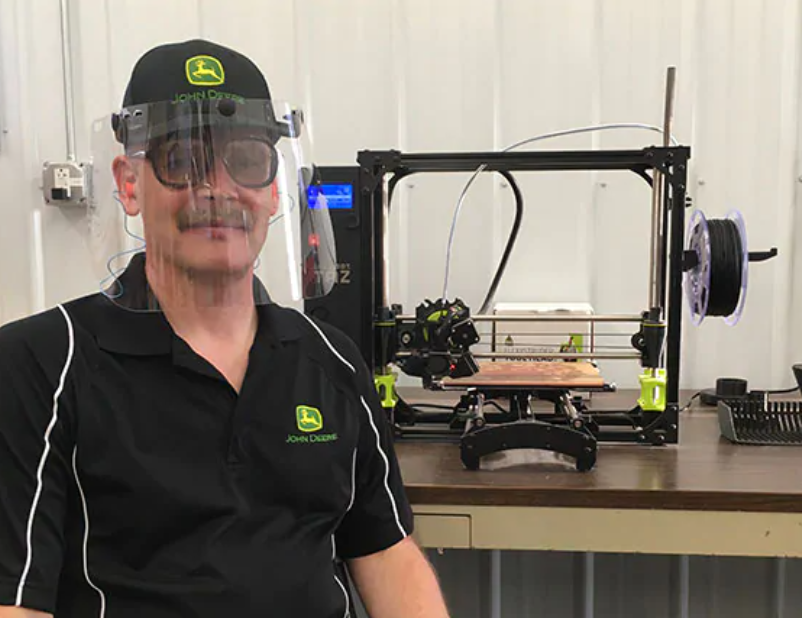 4. What aspects of John Deere have changed permanently as a result of COVID?
It's too soon to tell how COVID-19 will impact long term business operations, but it has highlighted the ever-increasing need for reliable telecommunications, strong and scalable technology infrastructure, and a technology savvy workforce, all of which the Triangle provides.
5. John Deere has a long history in Wake County and has seen growth during that time, how do you anticipate the Triangle will weather COVID-19?
COVID-19 has caused extensive economic disruption throughout the entire country and in the Triangle region. Our region is uniquely positioned to weather this storm because of the underlying strength of our business community and educational system. That being said, we must all do our part to help the community during this challenging time.
As of May 5, John Deere has donated more than 1,000 face shields to local medical personnel and first responders in the region. In addition, our employees have donated over $700,000 dollars to various food banks and support agencies across the country with the help of a matching donation by the John Deere Foundation.
As the situation improves, the resilience of our region will become quickly apparent due to the strong business community and supportive business environment that has been fostered in the Triangle over the last two decades.
The Triangle provides a diverse business environment with everything from startups, small businesses and large corporations that will persevere through this situation. In addition, the outstanding university system will continue to bring new talent and innovative thinking to the region that will further aid in the recovery.