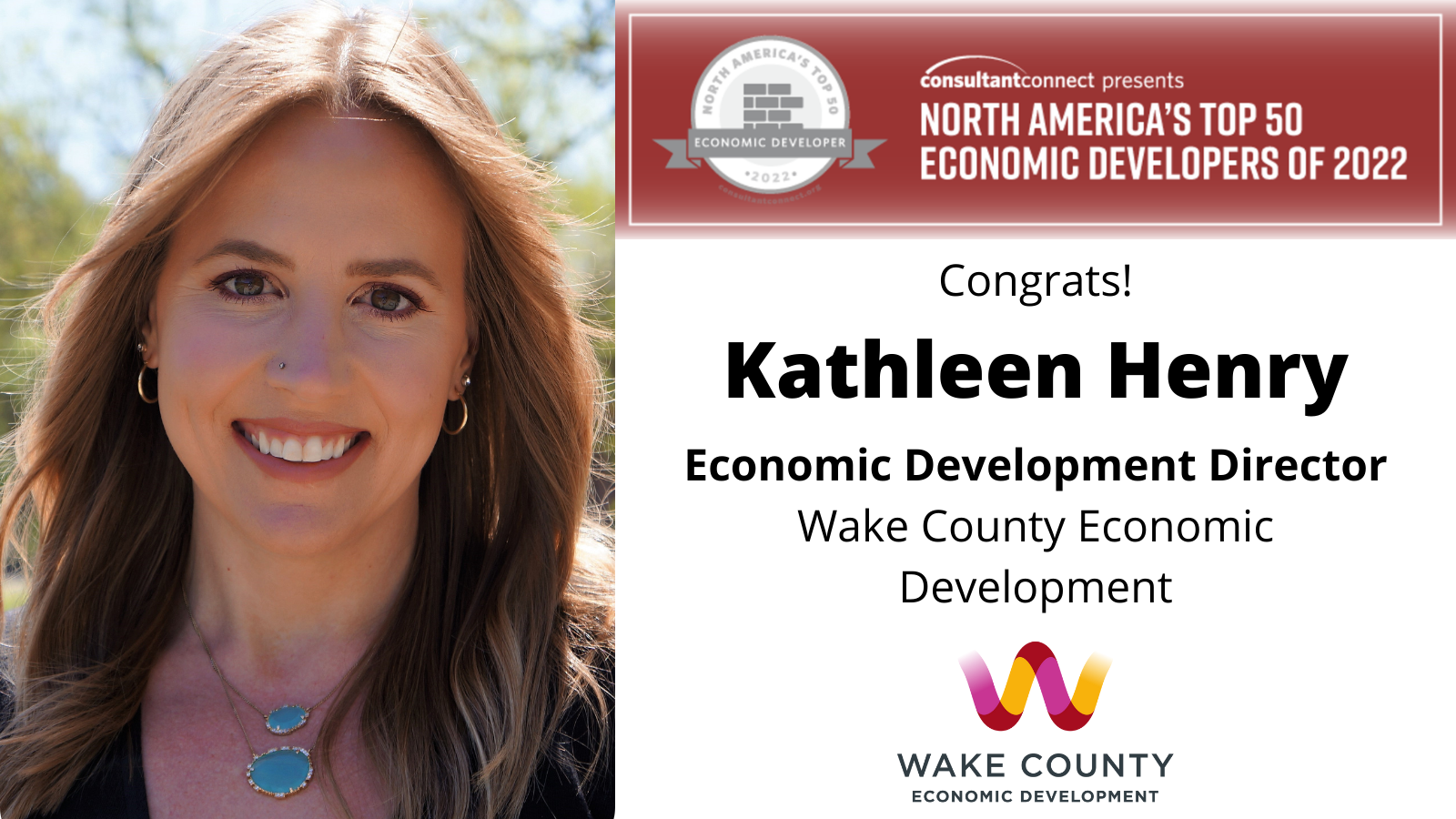 Kathleen Henry, Economic Development Director of Wake County Economic Development, was recently selected as one of North America's Top 50 Economic Developers of 2022 by Consultant Connect. The economic development professionals selected for this list were nominated by their colleagues in both the economic development industry and the site location consulting industry for excellent practices, innovation and success in building the communities they serve.
This annual list recognizing North America's Top 50 Economic Developers is designed to acknowledge the hard work of the top leaders in this field and elevate the conversation around economic development and job creation.
As a key member of WCED's business recruitment and expansion team, Kathleen manages all aspects of the business recruitment and expansion process and contributes to the overall BRE strategy. She also leads efforts around WCED's Foreign Direct Investment (FDI) initiative with the goal of recruiting and marketing the region to foreign-owned companies.
Kathleen manages economic development projects from beginning to end, including real estate, incentives, coordinating workforce support and more. In her five years with WCED, Kathleen has led several key economic development projects such as the Cellectis SA, Microsoft and Bandwidth announcements. Kathleen is responsible for over 12 project announcements (and counting), equating in over 4,000 new jobs and $833 million in planned capital investments. Her projects represent over 1.2 million added square feet across the county.
Most recently, Kathleen was responsible for bringing Amgen to Holly Springs. Amgen, one of the world's leading biotechnology companies announced plans to invest $550 million to build a new facility in the town. The investment will bring 355 jobs to the town, which has become a preferred destination for the life science industry.
As part of the Foreign Direct Investment strategy, Kathleen has hosted over 12 international delegations, from 22 countries, totaling 73 delegates, including an outbound business development mission to France and the UK. These delegation visits present opportunities to highlight the strengths of North Carolina and the Research Triangle.
Kathleen is instrumental in Site Selection Consultant cultivation for she has conducted over 40 site visits, attended countless site selector trips across the country, and hosted numerous site consultant tours. Through her continuous engagement, Kathleen builds relationships with the site selector community and shares updates on new initiatives, projects and sites in Wake County and the Research Triangle region. With a large majority of projects coming through the site selection community, Kathleen understands the importance in keeping site consultants updated on our community and its success, which ultimately increases our chances of landing the next Fortune 500 HQ project in our community.
"Kathleen's leadership and vision in economic development and international business make her a valuable member of our team and to this accomplished list," said Ashley Cagle, Assistant Executive Director for Wake County Economic Development.