By: Ashley Cagle, Assistant Executive Director, Wake County Economic Development
At Wake County Economic Development, a program of the Greater Raleigh Chamber of Commerce, we fulfill our mission of economic prosperity for all in many ways, but primarily through targeted business recruitment and expansion.
As our community continues to evaluate and adjust from the impacts of COVID-19, our Business Recruitment and Expansion team has been hard at work studying trends that may be emerging in what appears to be a new normal. Weekly, we capture the number of active projects our team is working on and the jobs and capital investment associated with those projects. Active, by our definition, means there has been recent activity and a clear indication that the associated company is seriously considering Wake County for their new location or expansion.
Since March of this year, we've had zero projects cancel because of COVID-19, though many have paused until they can better understand how COVID-19 will impact their business. The stream of projects has slowed but only to what we consider a normal stream of activity, averaging 1-3 new projects a week. Before COVID-19, our highest volume of activity peaked around 2-5 new projects a week in the Summer of 2019.
Our observations are that, though project activity has returned to a "normal" level, the quality of projects is extremely high. In March 2019, we had more active projects (48), compared to our current active project count (39), but in March 2019 those 48 projects amounted to approximately 5,000 potential new jobs. Whereas our current April 2020 project list of 39 amounts to more than 9,000 potential new jobs.
March 2019 Scorecard View PDF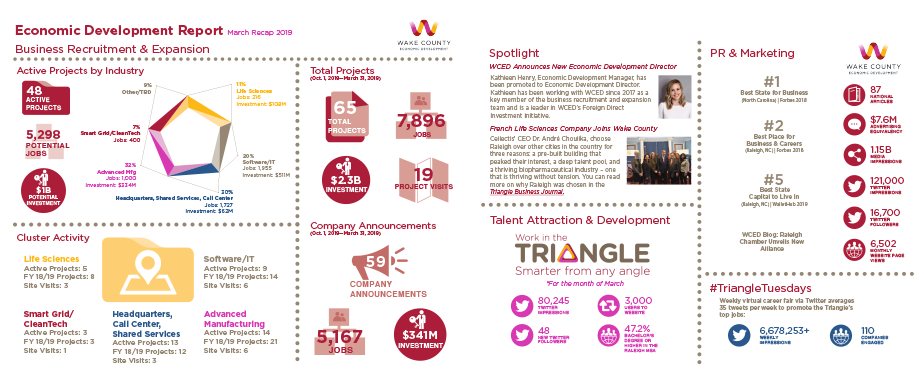 April 2020 Scorecard View PDF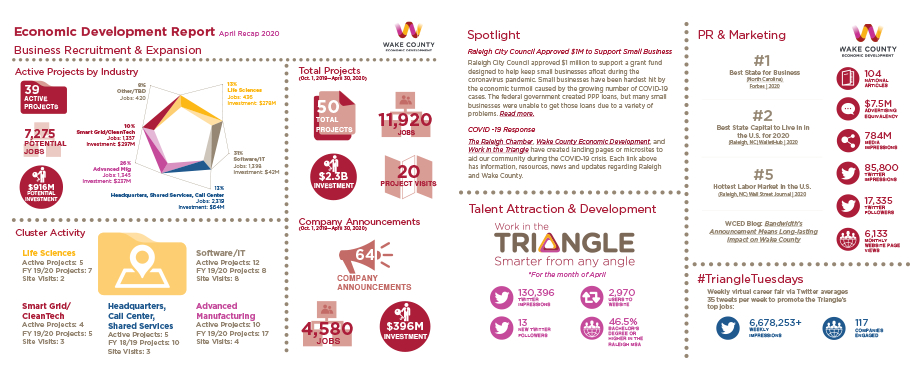 The range of industry sectors and types of operations we are seeing is very diverse, which is a critical element for our economy to rebound from this crisis; the diversity of our economy was a major contributing factor to the relatively mild impacts of the 2008 recession. Our active project list contains everything from Fortune 500, Headquarters, R & D and manufacturing spanning life sciences, technology, shared services, and clean technology. A wide range of job types is important to have a job market suitable for workers of all skill levels. Job diversity also helps in our appeal to talent in other markets that we need to supplement our workforce.
Specifically, since March, we've seen:
An increase in California-based companies looking to make a total relocation
Consumer brand companies that have increased or maintained steady sales of their products looking to add capacity through an additional operation
Life science projects that came before COVID-19 are continuing to move forward and new projects in the sector are being added to the list
Though our project activity has remained consistent and we are positive about our ability to weather this storm, we rely heavily on site selection consultants to help us understand trends in economic activity. Our business recruitment team took the time to call consultants from all over the world to hear what they are seeing and their predictions.
Their observations/predictions:
Current market conditions are not an indication of companies' abilities to make future investments. Many are waiting to see the long term results of COVID before making investment decisions.
Companies in high-density markets like NYC will consider leaving those markets to avoid such severe impacts in the future.
Reshoring is highly likely and some companies have started that process.
There will be an increase in call-center projects as companies have more of a need for collections, insurance claims and the like
Communities will experience the most growth from their existing industries.
COVID-19 changed everything in our world, but one thing that hasn't changed is our commitment to the growth and support of our existing companies. As evidenced by Bandwidth's announcement to bring 1,165 new jobs to Raleigh and invest more than $30 million in capital outlay and, as noted by our consultant outreach, existing industry is the backbone of every community.
Over the next five years, in partnership with Wake County municipalities and many other partners, WCED will service more 300 existing industries through our existing industry program, our equitable economic development efforts will identify more than 400 under-served small businesses, and through our partnership with Innovate Raleigh, approximately 500 entrepreneurs will receive connections to talent, funding and customer resources needed to grow and thrive.
How we get from where we are today to whatever the other side of this crisis looks like won't be easy. Workers will need to be retrained with new skills and company cultures will develop around remote working. The reality is some industry sectors will suffer greatly while others thrive. Our goal right now is to triage our existing businesses where needed while letting the world know that Wake County is still open for business.