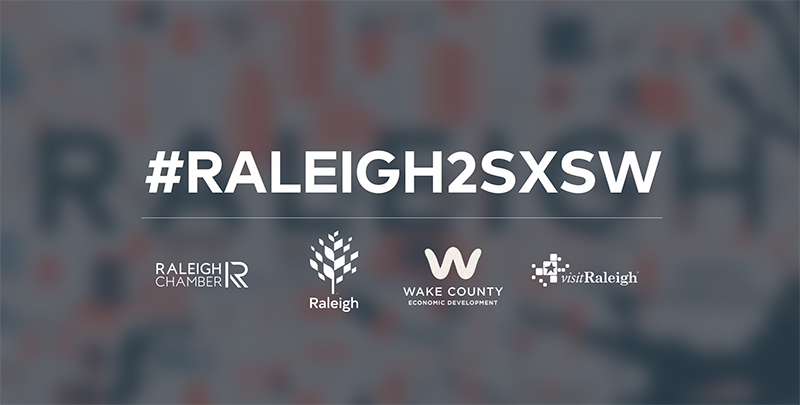 On Saturday, March 14, a team of local organizations will travel to Austin, Texas, to host a booth at the South by Southwest Interactive (SXSW) Trade Show. Wake County Economic Development, the City of Raleigh, and the Greater Raleigh Convention and Visitors Bureau will unveil a new campaign in Austin highlighting the many strengths of Greater Raleigh.
Last year, the team took the "Picture Yourself in Raleigh" campaign to Austin and had success in promoting the Raleigh story. The campaign featured a vibrant and bold depiction of what makes
Greater Raleigh the best place to live, work, and play. The campaign this year features the story of Greater Raleigh from the standpoint that life is just easier here… for many reasons.
The journey to SXSW thrives on the collaboration of key community organizations all focused on the same objectives to highlight the Greater Raleigh story. Outside of collecting leads, making connections, networking, and sharing our story, the overall goal is to showcase Raleigh as a diverse and inclusive community as it relates to people, business, industry, and culture. Austin, a peer city, is the perfect stage to showcase this.
The exposure at SXSW is the key. With an international audience of 70,000 (at the trade show alone), the visibility at the trade show allows the delegation to connect with attendees from around the world. Here is a snapshot of the attendee profile:
25% of attendees are decision makers
59% of attendees are looking for new business opportunities
5% are looking to invest in new companies
74% of attendees are from the U.S.
26% of attendees are from outside the U.S.
Along with showcasing the Greater Raleigh story, a team of "makers" also join the trip to Austin. The makers (Raleigh small business owners) add depth and interest to the overall activation at the booth. We are proud to partner with Chris Powers of Trophy Brewing Co., Jenny Bonchak of Slingshot Coffee, Gino Reyes of The Creative Offices of and The Assembly, Sam Ratto of Videri Chocolate Factory, and Jessica Kiernan of Wallaby Content. We truly are lucky to partner with some of Raleigh's best thinkers and doers.
The team will be sharing live updates from the trade show starting on Sunday, March 15! Follow along at #Raleigh2SXSW, check out our blog or Visit Raleigh's blog.
If you are going to SXSW and would like to meet up, send us a note!
Stay tuned for more!