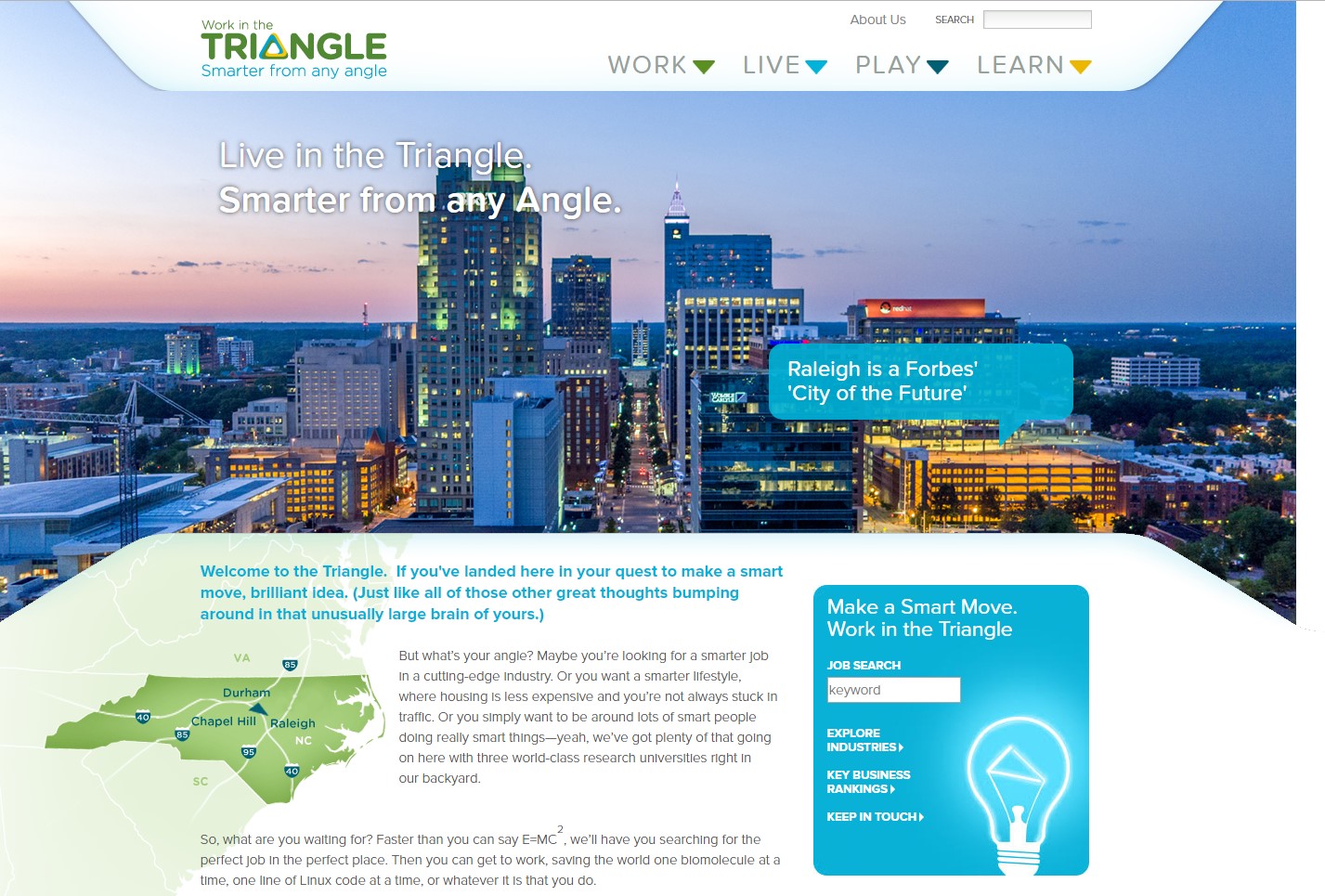 By: Kristin Skiba, Marketing Coordinator
If you are looking to relocate or if you already live in the Research Triangle region, you need to know about Work in the Triangle (WITT). This talent initiative is a FREE and valuable resource for anyone looking to relocate to the area, whether you are a large corporation, a family, or a single individual.
Work in the Triangle was established in 2012 in partnership with our regional economic development organizations, including the Greater Raleigh Chamber of Commerce, Greater Durham Chamber of Commerce, Orange County Economic Development, Chapel Hill - Carrboro Chamber of Commerce, Research Triangle Foundation, and the Research Triangle Regional Partnership. These organizations started the groundwork for a proactive talent initiative, called "Work in the Triangle, Smarter From Any Angle." The campaign's goal was to showcase the Triangle nationally and internationally as one of the top destinations for talented professionals.
The website offers a variety of features to help users search for a job, find information on local companies and industries, learn about different municipalities in the area, see education options, check out the best places to visit and much more.
Most importantly, WITT features #TriangleTuesdays every Tuesday where hot job leads are collected in the Triangle and we promote them for free through our virtual career fair.
#TriangleTuesdays include:
Each Tuesday, our virtual career fair occurs via Twitter: @WorkTriangleNC
We post a new job every 15-20 minutes
We cover industries such as health care, IT/data, tech, education, financial services, life sciences, and more
Our Impressions, number of times our content is displayed on twitter feed weekly, ranges from 450,000-600,000
110 companies enlisted to receive weekly call for jobs and analytics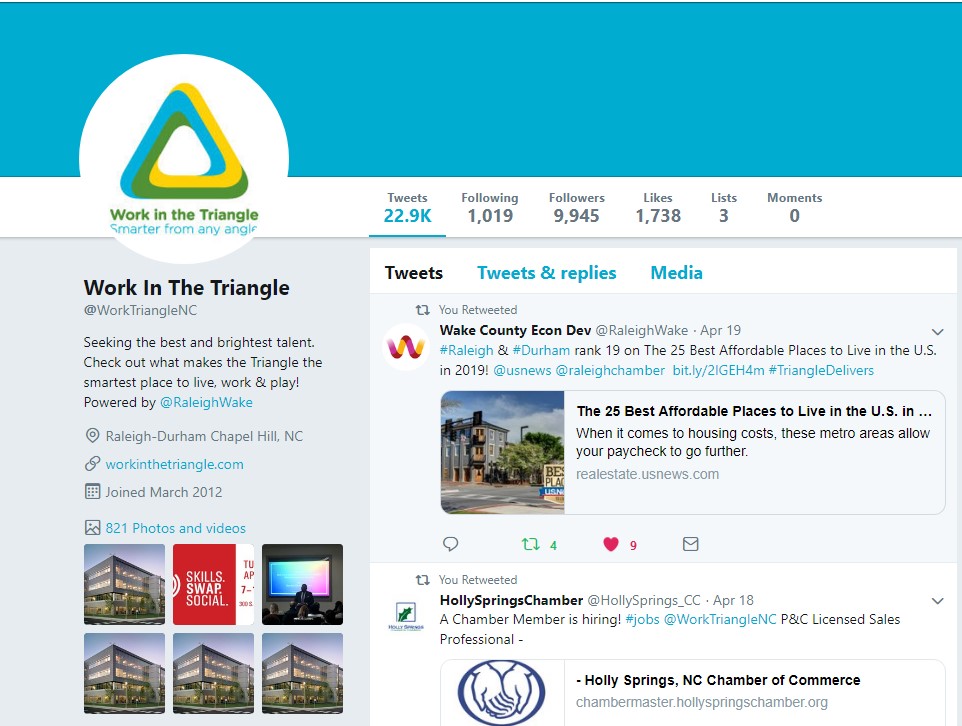 Fast forward to 2019: the future of Work in the Triangle. The WITT website and virtual career fair have shown to be a valuable resource of many people either living here or looking to make a move. Like all things, the WITT strategy and website will be going through a complete refresh and launching a new brand mark and marketing campaign in 2020.
Ashley Cagle, assistant executive director of Wake County Economic Development, believes that revamping Work in the Triangle will further strengthen our position as talent leaders in the U.S. "As a key pillar in our business recruitment strategy, we utilize WITT to share our talent story with incoming companies and top talent. The Work in the Triangle initiative is a core element of our talent strategy, it is vital that we continue to update the initiative as our community grows."
For more information on Work In The Triangle, please contact Jennifer Miller.
For information on #TriangleTuesdays, contact Kristin Skiba or tag us on twitter @WorkTriangleNC.