Raleigh has landed in the top 5 Best Performing Cities for 2021, as ranked by the Milken Institute, a nonprofit, nonpartisan think tank. Concentration of high-tech industries, education and housing affordability top the list of Raleigh's accolades.
According to the recently-published report, "the Best Performing Cities (BPC) Index uses an outcomes-based set of metrics—including job creation, output growth, and wage gains especially in high-technology sectors—to evaluate the relative performance of metropolitan statistical areas (MSAs) and metropolitan divisions (MDs) in the United States. The goal of the index is to help readers evaluate how well these cities promote economic vitality relative to their peers."
"The top performing metro areas leverage their assets to remain competitive places for businesses to operate and workers to live, regardless of the nation's overall economic trajectory. These cities combine steady growth on one hand and dynamic innovation on the other."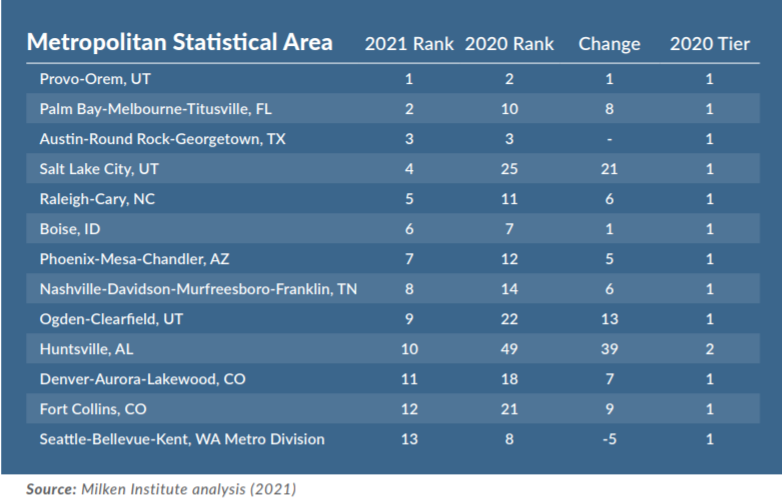 Tier 1 notably includes several southern metros with concentrated high-tech sectors, demonstrating the expansion of the high-tech sector outside of Silicon Valley and North East. According to the report, Raleigh's placement in the top 5 is largely due to "dynamic, diversified, and dense high-tech sector. Further, the region has experienced significant growth over the last five years in both high-tech output and overall wages."
The report also cites the metro's research universities and availability of young, educated talent. Unsurprisingly, Raleigh boasts many accolades related to talent, including being the #2 city for new grads in 2020, with over 73% of the population over 25 with postsecondary education.
Housing affordability is another key factor elevating Raleigh's success. The report states, "the region is backstopped by generally affordable housing—especially when compared to tech hubs like San Francisco—and top-tier broadband access." This data is further supported by our Metro Comparisons publication, with Raleigh's average single family home value far underneath that of cities like New York or San Francisco.
Each of these factors speak to Raleigh's bright future, following North Carolina's State of The Year ranking by Business Facilities, recent project announcements and more.