By Kathleen Henry, Economic Development Director
Kathleen leads FDI Strategy for WCED
Raleigh has taken the 10th spot in the Top 25 American Cities for FDI Strategies, as ranked by fDi Intelligence, a specialist division of The Financial Times providing industry-leading insight and analysis on foreign direct investment and investment promotion. The list includes cities across both North and South America.
According to the report published in July, "The submissions for this year's FDI Strategy category demonstrate the efforts made by Investment Promotion Agencies (IPAs) to maintain visibility in the context of the coronavirus crisis, as well as other key programs in economic development and investment promotion that contribute to the economic and social recovery of the cities they represent."
"The most commonly cited action taken in response to Covid-19 was the move to online engagement, whether attending events, organizing meetings and virtual site tours, or providing greater information in a digital format on existing and new platforms. The pandemic has shaken up the working methods of those who previously relied on face-to-face interactions that have had to move fully online – but it is possible these improvements made to online interaction and exposure could increase the visibility of many locations into the future."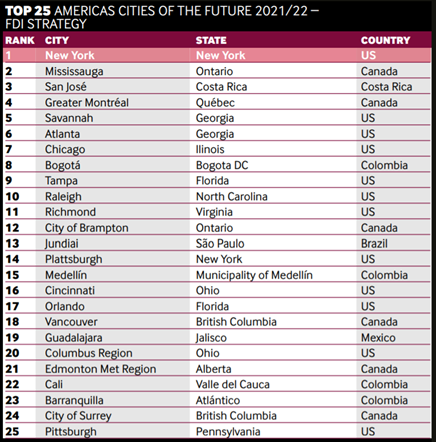 During the pandemic, our organization was able to participate in a dozen virtual conversations with audiences across Europe to discuss challenges, best practices, and trends -- in turn making new connections to organizations like the UK Innovation Corridor and strengthening relationships with organizations met during previous trade missions. In addition, we participated in five global webinars, reaching hundreds of UK and European-based companies.
Our organization also announced three foreign direct investment wins, including Japanese-owned Fujifilm Diosynth Biotechnologies, whose expansion into Holly Springs will be its second biomanufacturing facility in Wake County and one of the largest life science projects ever announced in North Carolina's history. The leading contract development and manufacturing organization will create 725 jobs and invest $2B into North America's largest end-to-end biopharmaceutical manufacturing facility.
Since 2016, Wake County Economic Development has led an international business development committee, comprised of 30 business leaders & experts in international investment & promotion. The committee has helped guide a regional strategy to increase the Research Triangle's global competitiveness. Included in the strategy are 5 target countries: Japan, India, Germany, the UK & France. These countries, chosen based on existing connections and targeted industry overlap, are where we focus proactive efforts & resources to foster relationships and create mutually beneficial opportunities between the Triangle and these countries.
This recognition by fDi Intelligence during a pandemic that disrupted economic development and markets across the globe is a testament to the strength and perseverance of our market, as well as the committee's commitment to making the Research Triangle one of the most competitive locations in the world.