Active involvement in the North Carolina Economic Developers Association (NCEDA) is a priority for Wake County Economic Development, with attendance at conferences and active participation in committees that are shaping the industry for the state. NCEDA conferences provide an excellent opportunity for economic development professionals from across North Carolina to expand their knowledge, sharpen their skills and build connections so they can advance their careers and better serve the needs of their communities.
At last year's NCEDA Conference, Michael Haley was named "Economic Developer of the Year" by the North Carolina Economic Development Association team. Each year, the award goes to an Economic Development professional in North Carolina based on the following criteria: NCEDA member who made significant and measurable contributions to economic development. Read more on Michael's award.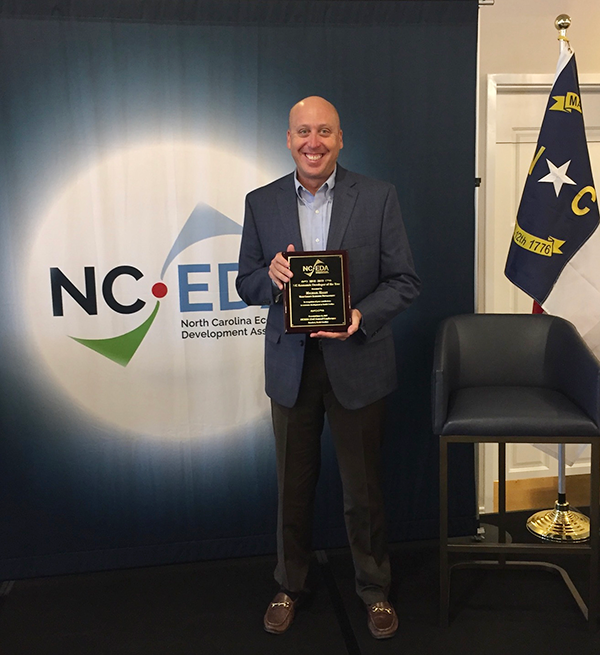 This year's Fall Conference theme was 'Finding Success Amid Constant Change' held in Asheville on Oct. 29-30. Kathleen Henry, Economic Development Director, and Albert Alwang, Economic Development Manager, attended on behalf of WCED. The two-day conference consisted of professional development workshops and networking opportunities. In addition, this year's conference had record attendance with approximately 300 registered attendees from NC including multiple local municipalities.
The purpose of attending this event is the chance to network with our partner's throughout the state that we do not work with on a daily basis. Highlights from this year's conference included hearing from Secretary Copeland on smart growth and getting ahead of potential challenges. Secretary Copeland provided a positive outlook on the state of North Carolina as well as the NC Early Childhood Foundation, Economic Development Partnership of North Carolina, and the NC Department of Transportation.
Kathleen Henry, Economic Development Director, stated: "NCEDA has helped WCED expand and grow our network of economic development professionals in North Carolina. The organization has also provided me opportunities for ongoing training and educational programs to continue my professional career growth".
If interested in learning more about the content of this year's conference, please see the agenda.
The next NCEDA Conference, 2020 Spring Conference will be on March 24-25 in Pinehurst, NC. Registration will open in January.