By: Morgan Ross, Senior Research Manager
Wake County is consistently recognized as one of the best places for business and careers in the country. The region's availability of buildings and shovel ready sites, competitive incentives and taxes, and a strong talent pool make it a great place to invest, expand, and thrive.
To help prepare and educate our partners on the most requested building and site requests we have analyzed data from (01/1/2019 – 1/1/2020). The data below represents an overview of the building and site requests received by Wake County Economic Development from project leads over the last 12 months. The information offers details on the type of space companies are looking for such as existing buildings, sites, acreage of sites, and square-footage of buildings.
Site Request Trends
Of the total property requests received from prospects since January 2019, 62% requested existing buildings, 15% requested sites/land, and 23% requested both buildings and sites. Compared to previous years, we have seen an increase in clients requesting the combination of both existing buildings and available land.
Existing Building Space
Demand for an existing building is at an all-time high, with almost 85% of property inquires requesting space in an existing building. We have seen almost half of existing building requests look for an industrial building, while the other half are look for a combination of industrial and office.
14% of clients requesting existing space are looking for 25,000 square feet or less
60% are interested in square footage between 50,000 and 200,000 square feet
Majority of the above requests are looking for just industrial space
What does this mean?
These numbers reinforce the need for mixed-use development. Companies and site selectors are looking for more than space for an office or warehouse but room for expansion and amenities that can give their employees everything they need to establish a career.
Demand for greenfield sites remains a top priority for site sectors and companies as well. Regarding the size of land requested, the most popular acreage range falls between 0 and 25 acres. In contrast to previous years, a majority of clients were interested in 50 acres or less.
54% of clients requesting land are interested in land suited solely for an industrial/manufacturing building, while only 10% of land requests are interested in land suited solely for Class A office.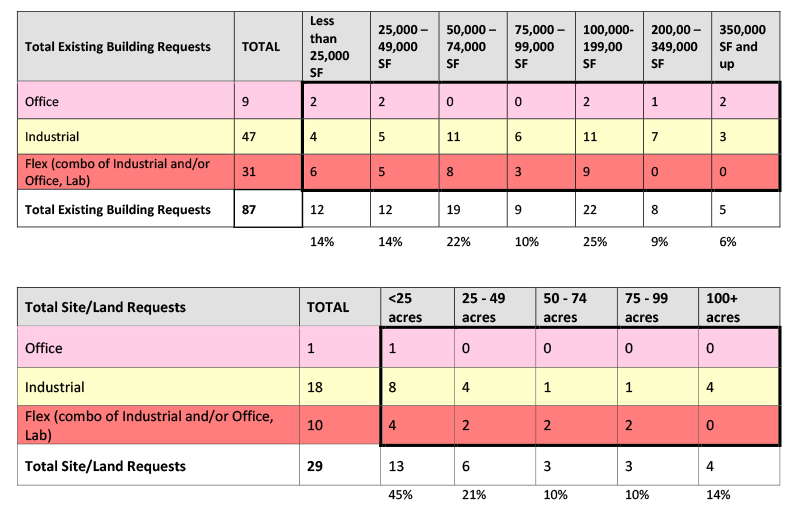 Are you looking for space in Wake County? To learn more about site requests visit our website, or contact Morgan Ross.