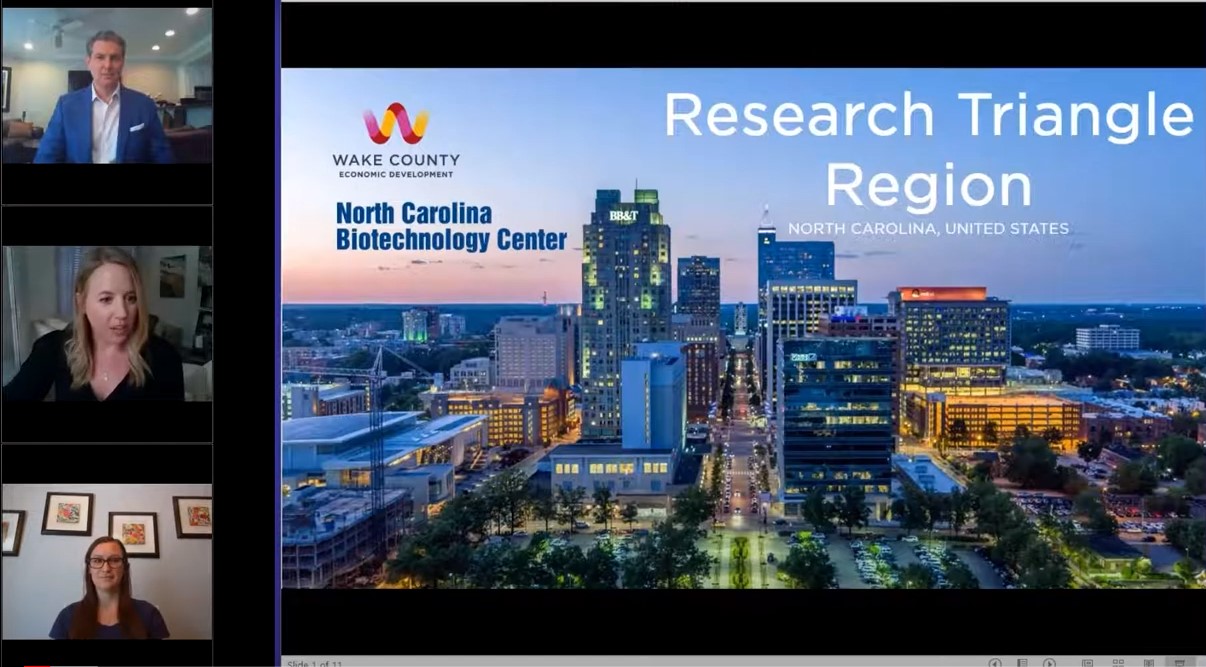 By: Kathleen Henry, Economic Development Director, Wake County Economic Development
On July 13 – 14, in partnership with Dr. Laura Rowley, Director of Life Science Economic Development at the North Carolina Biotechnology center, Wake County Economic Development recorded a webinar that debuted during On Helix 2020. This was a virtual conference hosted by One Nucleus, the life science cluster organization covering the heart of Europe's largest life sciences and healthcare cluster that is the Greater London – Cambridge – East of England corridor.
Our connection to One Nucleus:
In the fall of 2019, we led an international business development mission to France and the UK where our delegation met with Tony Jones, CEO of One Nucleus. The international mission focused on building strategic relationships with two of our target countries and marketing the Research Triangle region as a strategic US location for France & UK-based life science companies. Participants in the mission included the North Carolina Biotechnology Center, the Town of Holly Springs, the Research Triangle Regional Partnership and the Economic Development Partnership of North Carolina's European office.
During our meeting with Tony, it became very apparent that there were areas of overlap between our two regions, especially as it relates to research and development, talent pipeline and access to partnership and collaborative opportunities. Tony shared that the US market is a prevalent topic with his life science companies and that entering the US market is often not a matter of "if" but rather "when and where."
It is no secret that most international companies look towards major US cities like New York City, Boston and San Francisco when establishing an initial US presence. Locations in these cities often present challenges such as higher operating costs, competitive hiring processes and less opportunity for peer-to-peer connections and collaborations, creating a difficult environment for a first US location. These are all reasons that the majority of people & businesses moving into the Research Triangle region are coming from major US metros like those mentioned above.
In the Triangle, they are able to gain access to an incredibly innovative and collaborative environment, be amongst some of the most highly educated people in the US, and significantly reduce operational and living costs, while not sacrificing access to a great, inclusive quality of place.
Quarantine Connections
Fast forward to March when the world went into quarantine and we decided to take advantage of an unfortunate situation and explore opportunities with our partners across the pond. Tony had recently turned their annual, in-person conference to a virtual platform and was contemplating the creation of an "International Hubs" segment to feature information on international life science locations outside of the UK. We were delighted to accept the invitation to pre-record a webinar on the advantages of the life science industry in the Research Triangle.
On Helix 2020
Our webinar, "Research Triangle, North Carolina: a Leader in Life Sciences and Clinical Research" featured an introduction to our life science ecosystem, as well as a conversation with Dr. Chris Learn, Senior Therapeutics Strategy Director, Cell and Gene Therapy at IQVIA.
The conference which gained attendance from over 200 life science companies, allowed a unique opportunity to show case the Research Triangle to a European audience. Our location was one of five other locational participants, including the following:
New Jersey
Flanders Region, Belgium
Wallonia, Belgium
Heidelberg, Germany
Catalonia, Spain
As a follow up to the conference, we have already received several inquiries to continue one-on-one discussions and will be exploring a more personalized Question & Answer event with One Nucleus.
For more information on our International Business, efforts in Wake County or the Triangle region visit our website or contact Kathleen Henry.