Over the last five to 10 years, several successful corporate companies have chosen Wake County as their new home. Why? The Raleigh metro is the most competitive in the United States.
The diverse talent pool, proximity to an international airport, lower tax rate, top-tier education, and a community that believes in supporting young entrepreneurs and small businesses is hard to find and beat. The strength of the Raleigh metro lies within the data presented in our 2019 Metro Comparison publication, which contrasts the Raleigh metro with the top 100 largest metros across the United States.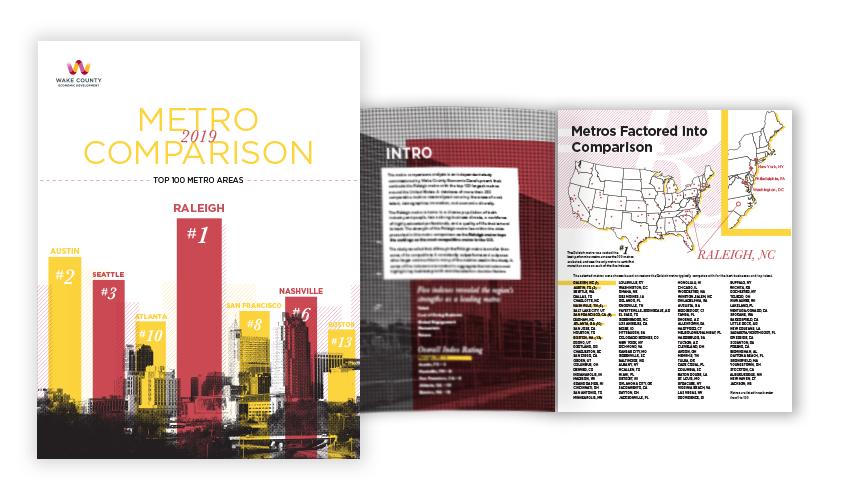 One of the key differentiators for the Raleigh metro is the access and abundance of highly educated and skilled talent. Nearly 50 percent of the existing population in the Raleigh metro has a bachelor's degree or higher and 68 percent of new residents have a bachelor's degree or higher. That is more than double the national average!
A company's decision to grow or locate in a community relies heavily on the business environment and the general cost of doing business. With our low cost of doing business (5% below the national average), companies see this as a huge advantage. Ashley Cagle, assistant executive director of Wake County Economic Development shared, "Quartz at Work recently mentioned the Raleigh metro as the ONLY tech hub with a cost of living below the national average. That comes straight from our low-tax structure, construction costs, electric rates, and pro-business regulatory environment, and our overall cost of living."
The proof is in the major announcements our region proudly has shared, such as Fortune 500 Advance Auto Parts relocating its headquarters to Raleigh, newly-named Unicorn, Pendo, expanding in Raleigh with a new HQ location, and EPIC Games expansion in Cary. You can read more about Advance Auto Parts relocation on our blog.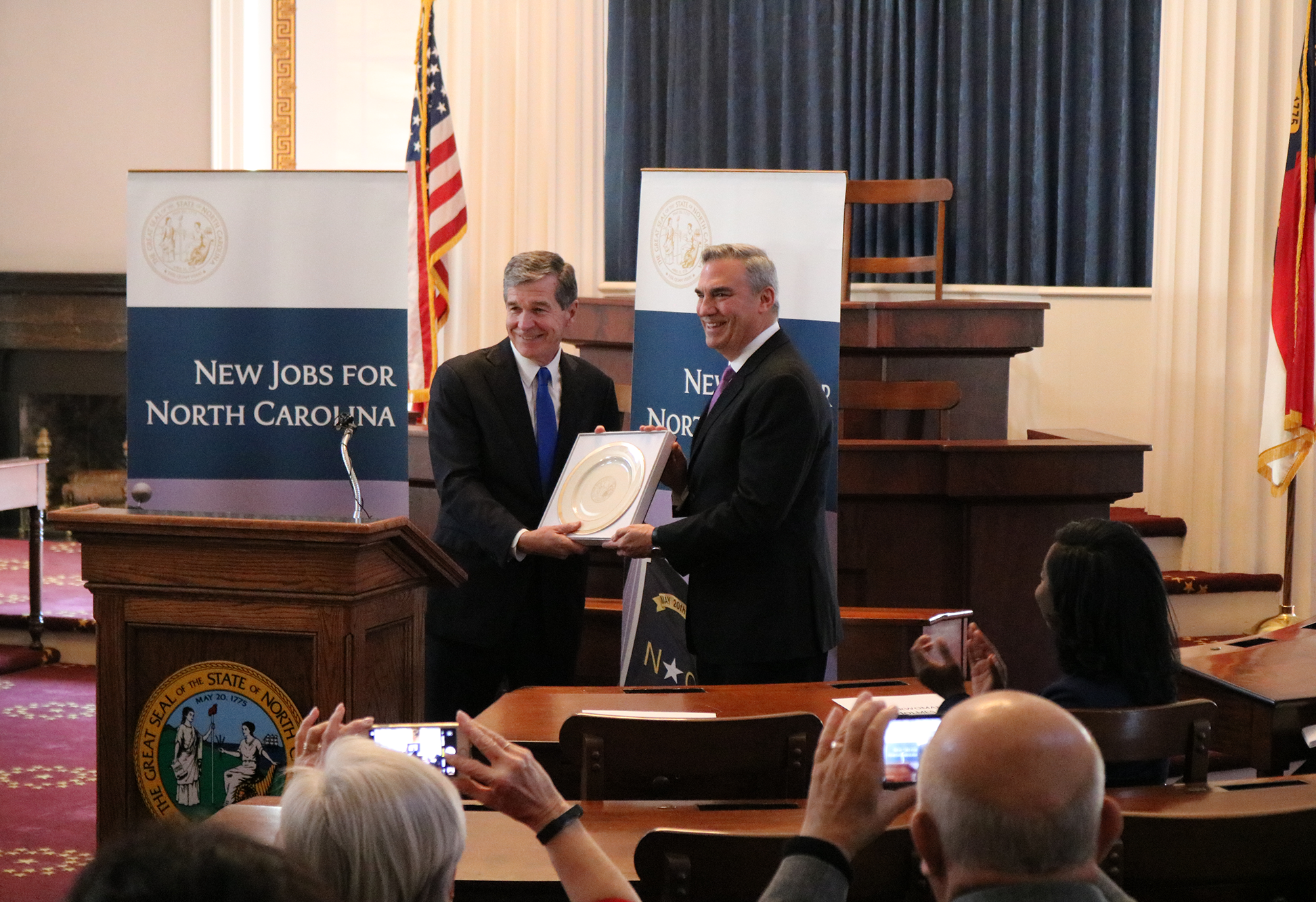 Image Governor Cooper with Tom Greco, Advance Auto Parts
Smaller companies have also expanded or relocated to Wake County, such as FreshBooks, a fast-growing Fintech entrepreneurial company based in Canada. The company, which focuses on accounting software, explored several cities before settling on the Research Triangle region as its first U.S. location. "We considered a number of cities for our first U.S. office, but Raleigh and the Research Triangle area were the clear winner due to the region's strong talent and mature IT and tech community," said Scott Clugston, senior director of sales at FreshBooks, in a statement for WRAL TechWire. "We're eager to put down roots in Raleigh and to help more of America's small business owners grow and succeed."
You can learn more about companies like FreshBooks and Advance Auto Parts who have recently moved to Raleigh by visiting our new and expanding report on our website.
Expanding the lens outside of Raleigh and the Triangle, North Carolina is also a prominent player in the bigger talent recruitment strategy. The state is home to 12 Fortune 500 and 27 Fortune 1000 headquarters, including globally-known companies located in the Triangle region, such as IBM, SAS, Lenovo, and more. The region is also home to more than 700 foreign-owned firms such as GSK and Credit Suisse. To learn more about North Carolina headquarters and success stories, visit Economic Development Partnership North Carolina.
As successful as headquarter locations are in the region, they also greatly benefit the community in which they reside. Along with bringing jobs and investment, headquarters also bring new talent, innovation, and diversity to the ecosystem. Additionally, another major benefit is the number of indirect jobs that are created and help employ all members of the community in industries such as healthcare and hospitality.
Success stories such as Advance Auto Part's relocation to Raleigh sends the message that Wake County and the Triangle region are a competitive market for large corporations. The presence of large Fortune 500 companies such as IBM and Red Hat also creates a "buzz" that is hard to miss. Large corporations are running successful operations in the Research Triangle region.
IBM has evolved from a small business that made scales, time clocks, and tabulating machines into a globally integrated enterprise since relocating to RTP in 1965. Now, IBM is one of the largest tech companies in the world, coming in at No. 6 in Forbes' 2019 10 Largest Tech Companies in the World list. The corporation employs approximately 9,000 employees in North Carolina.
Michael Haley, executive director of Wake County Economic Development shared, "Wake County checks all of the boxes when it comes to companies looking to expand or locate a headquarters, with a talented workforce, diverse industry, top-ranked higher education options, and high quality of life."
To learn more about our headquarters recruitment strategy, you can contact Ashley Cagle.