Guest Blog Written by: Michael Hogan RTI International, Center for Applied Economics and Strategy
In the winter and spring of 2020, Wake County Economic Development, together with the Raleigh Chamber, City of Raleigh, and Capital Area Workforce Development Board launched the 2020 Triangle Talent Regional Skills Analysis to follow the 2017 effort and gather insights on how employers in key sectors perceived the talent pipeline and hiring growth. The survey, managed by RTI and launched in March of 2020, quickly pivoted to focus on employer sentiment related to the pandemic and its economic consequences. The survey offered a glimpse into the economic impact of the pandemic and the closure of businesses and changing consumer and work habits between March and June of 2020, amid unprecedented unemployment. In April, national unemployment reached a peak of 14.7% and North Carolina's unemployment rose to 12.9%, an abrupt shift from 3.5% two months earlier. It was a stark disruption to over a decade of sustained economic growth in North Carolina and in the Triangle region.
Through the survey, were able to capture forward-looking data from employers amid the economic downturn and the results reflected an uneven impact to jobs. Employers surveyed expressed a cautious optimism about growth, particularly in manufacturing (5,200 new jobs), healthcare (4,700 new jobs) and IT (4,600) planning to continue to hire, reiterating ongoing needs for specialized skills and credentials. However, the data showed a wide disparity across industries. Restaurants, hospitality, entertainment and retail were hard hit in the short term, while the public and nonprofit sector expressed a less optimistic outlook on growth in the upcoming years, with more companies planning to maintain or downsize their workforce.
Question: Do you plan to grow your workforce in the next three years?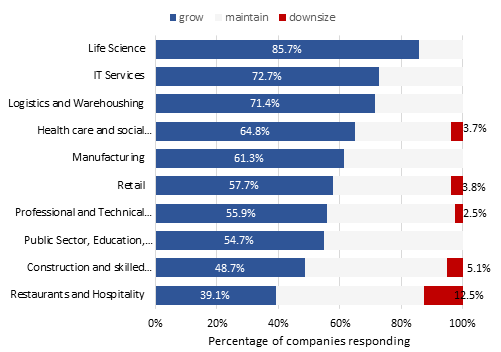 Source: RTI employer survey of Research Triangle area companies, April-June 2020. n=737.

In the months between the start of the pandemic (March 20) and the writing of this report (January 21), the unemployment situation in the state has improved, but it remains challenging. In the most recent data available, national unemployment dropped to 6.7% in December. That places it far below the April peak of 14.7%, and below the 10% reached October of 2009, the worst period of the Great Recession. North Carolina's unemployment remained slightly lower over the course of the pandemic, and the Triangle region's unemployment sat at 5.3% in November, below the state and national averages.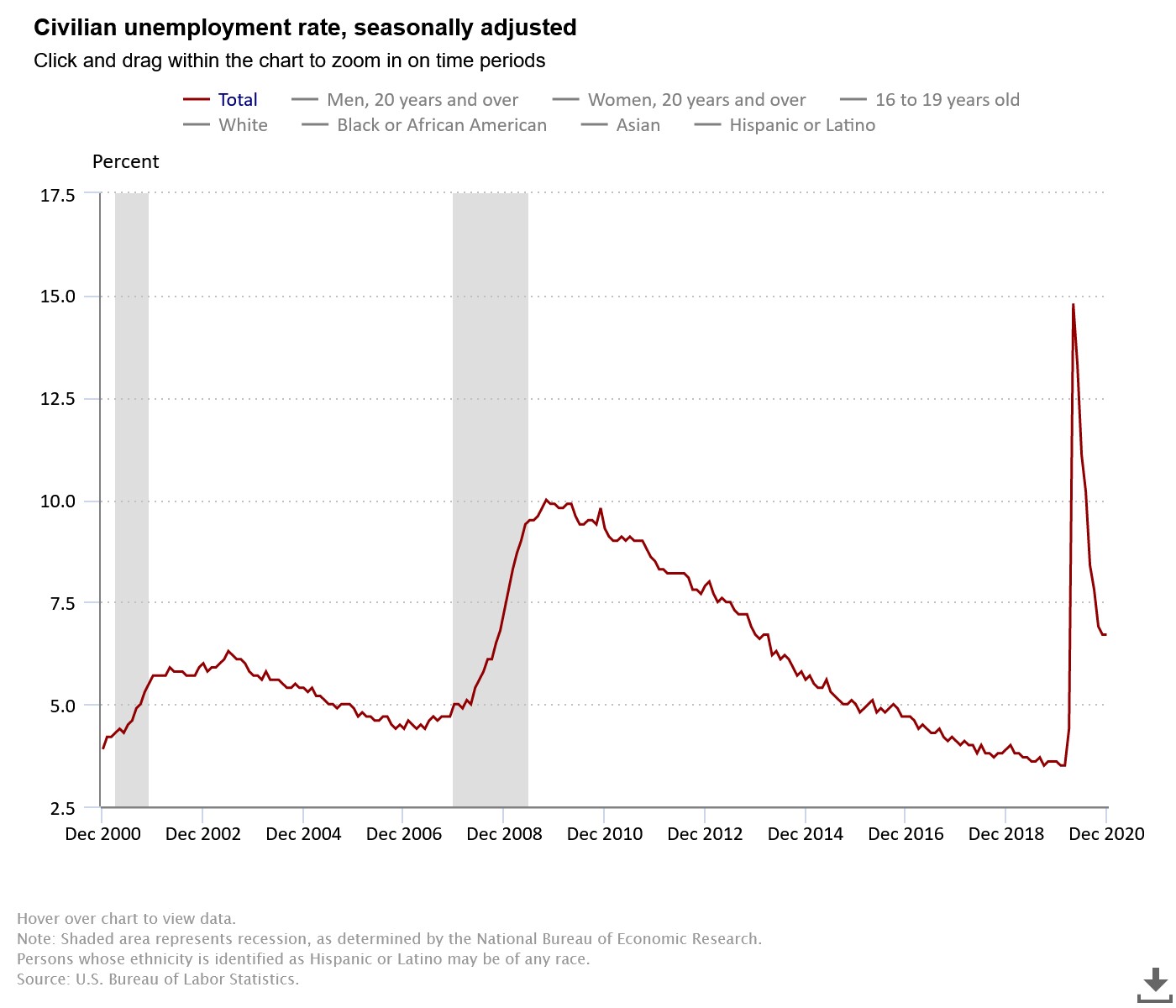 Source: https://www.bls.gov/charts/employment-situation/civilian-unemployment-rate.htm
There are signs that the Triangle region is well positioned to recover from the economic downturn and job growth from April to September is a cause for optimism. Unemployment is lower than state and national figures, and announcements in IT, life science, and manufacturing indicate that those sectors are strong in the region and employers are continuing to hire and project growth in new, in-demand positions. In Capital Area Workforce Development Board region, the most common job titles on postings in the last 90 days include registered nurses and computer programmers, in addition to a mix of jobs in retail, restaurants, and education[1]. However, economists are projecting longer-term struggles in the restaurant, leisure, and hospitality industry as travel remains curtailed, and companies' shift to teleworking changes consumer spending habits at places like coffee shops and restaurants.
While there has been a rapid jobs recovery in some sectors, unemployment remains persistently high and short-term job losses are likely to turn into long-term job losses as some business closures become permanent. The December 2020 jobs report from the NC Department of Commerce LEAD indicated that statewide employment had declined by 4.2% from the year before, with the largest losses in leisure and hospitality services and education and health services.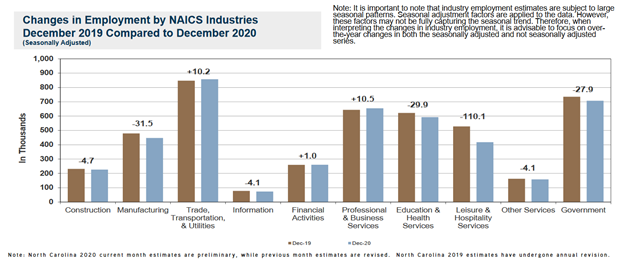 Source: NC Department of Commerce Labor and Economic Analysis Division, State Labor Market Conditions. https://www.nccommerce.com/document-collection/state-labor-market-conditions
The challenge that is receiving less attention is the effect on people leaving the labor force – people no longer actively looking for work. In September of 2020, the U.S. Bureau of Labor Statistics reported over 53,000 people unemployed in the metro areas that make up the Research Triangle Region (Raleigh and Durham-Chapel Hill), an increase of nearly double from before the pandemic. At the same time, it reported an additional 43,500 people fewer participating in the labor force than before the pandemic, bringing the total number of people out of work to over 96,000 when compared to 7 months earlier. Challenges of childcare, virtual school, caregiving, health concerns, and discouraged workers are among the many issues facing people when returning to work.
Employment Status of Workers in the Research Triangle Region: 2019-2020
Source: RTI analysis of BLS LAUS for Raleigh and Durham-Chapel Hill Metro Areas. "Out of Labor Force" calculated as the number of people who left the labor force when compared to February 2020 (1,055,903 workers).
For economic and workforce development leaders in the region, the challenge of supporting over 53,000 unemployed plus an additional 43,000 workers who left the labor force will require a coordinated effort to match potential jobseekers with skills and positions. Dr. Mike Walden, in his October 2020 index of leading economic indicators for North Carolina, explains that "even in the best outcome, we will still be facing major changes in the labor market and the need for massive worker re-training in the months and years ahead as a result of permanent impacts from the virus." [2] The data points to a jobs recovery that is underway, but it is starting to show slowing employment growth as many of the temporary furloughs have returned to work, while more workers are facing longer-term unemployment and a greater challenge as we see an uneven recovery into 2021.
Key takeaways:
Unemployment rates have improved significantly since the worst of the crisis in April 2020, with 5.3% unemployment reported in November in the Triangle Region. This is lower than state and national figures.
In the CAWDB region, there are thousands of reported vacancies online, with the most common being for registered nurses and software programmers in addition to a mix of jobs in retail, restaurants, and education.
Economic recovery has been uneven. The restaurant, leisure, and hospitality sectors continue to show large job losses statewide and other sectors including education, manufacturing, and public sector are still far below employment levels from the same time in 2019.
In November 2020, there were nearly over 53,000 people defined as unemployed in the Triangle region, an increase from over 33,000 in February 2020. In addition, there are over 43,000 fewer people in the labor force when compared to February, representing many previously employed people who have stopped actively looking for work for reasons including childcare, virtual schooling, caregiving, health concerns, and others.
[1] https://cals.ncsu.edu/agricultural-and-resource-economics/wp-content/uploads/sites/12/2017/07/October-2020.pdf
[2] Labor Market Overview: CAWDB, November 2020. https://files.nc.gov/nccommerce/documents/LEAD/Labor-Market-Overviews/2020_11_Capital_Area_WDB_Update.pdf