Creating 1,200 jobs and investing $70.5 million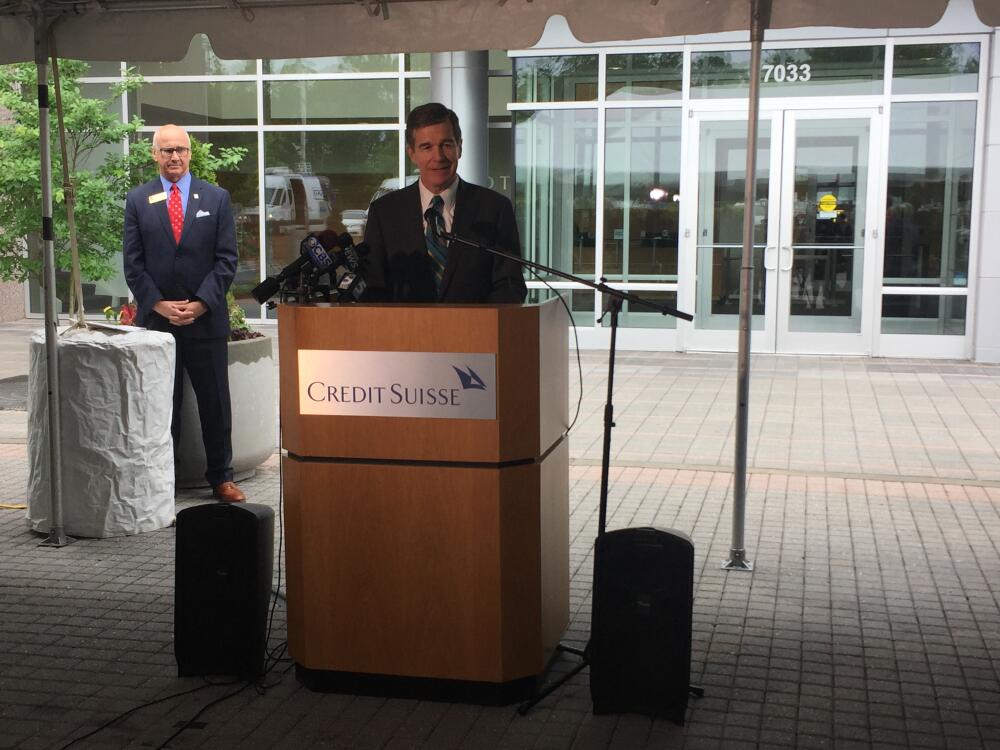 Gov. Roy Cooper, N.C. Commerce Secretary Tony Copeland and the Economic Development Partnership of North Carolina (EDPNC) announced today that Credit Suisse will expand its Research Triangle Park campus operations in Wake County, creating 1,200 jobs and investing $70.5 million.
Credit Suisse is one of the world's leading financial services providers, offering clients its combined expertise in private banking, investment banking and asset management. Headquartered in Zurich, Credit Suisse employs close to 47,000 employees in about 50 countries worldwide, including approximately 1,500 already in Wake County.
Credit Suisse will bring a variety of jobs to Wake County, including IT, finance, and other critical corporate functions. Salaries will vary by position, but the total compensation of the 1,200 new jobs is expected to represent more than $100 million per year over the next 10 years.
Partnering with N.C. Commerce and the EDPNC on this project were the North Carolina General Assembly, the North Carolina Community College System, Wake County Economic Development (WCED), Wake County, NC State University, Capital Area Workforce Development Board, The Research Triangle Park Foundation and Duke Energy.
Supporting Quotes

Roy Cooper, Gov. of North Carolina
"Credit Suisse has enjoyed a strong presence in North Carolina for more than a decade, and they've flourished here. We're encouraged that this commitment to North Carolina will bring high-paying jobs and spur economic development across our state."

Adrienne Cole, president and CEO, Greater Raleigh Chamber of Commerce 
"Credit Suisse's growth in Wake County is a testament to the Research Triangle region's strong talent pool and university network. We look forward to their continued success in Wake County."
Eric Varvel, President and CEO, Credit Suisse USA
"Over the past decade, Credit Suisse Raleigh has become an important and effective center supporting our U.S. businesses. We have had a long commitment to North Carolina, our people and their families in the Raleigh community, and we pride ourselves on fostering a truly inclusive and high-quality work environment for our employees here and around the world."

View the news release via the Governor's Office here.