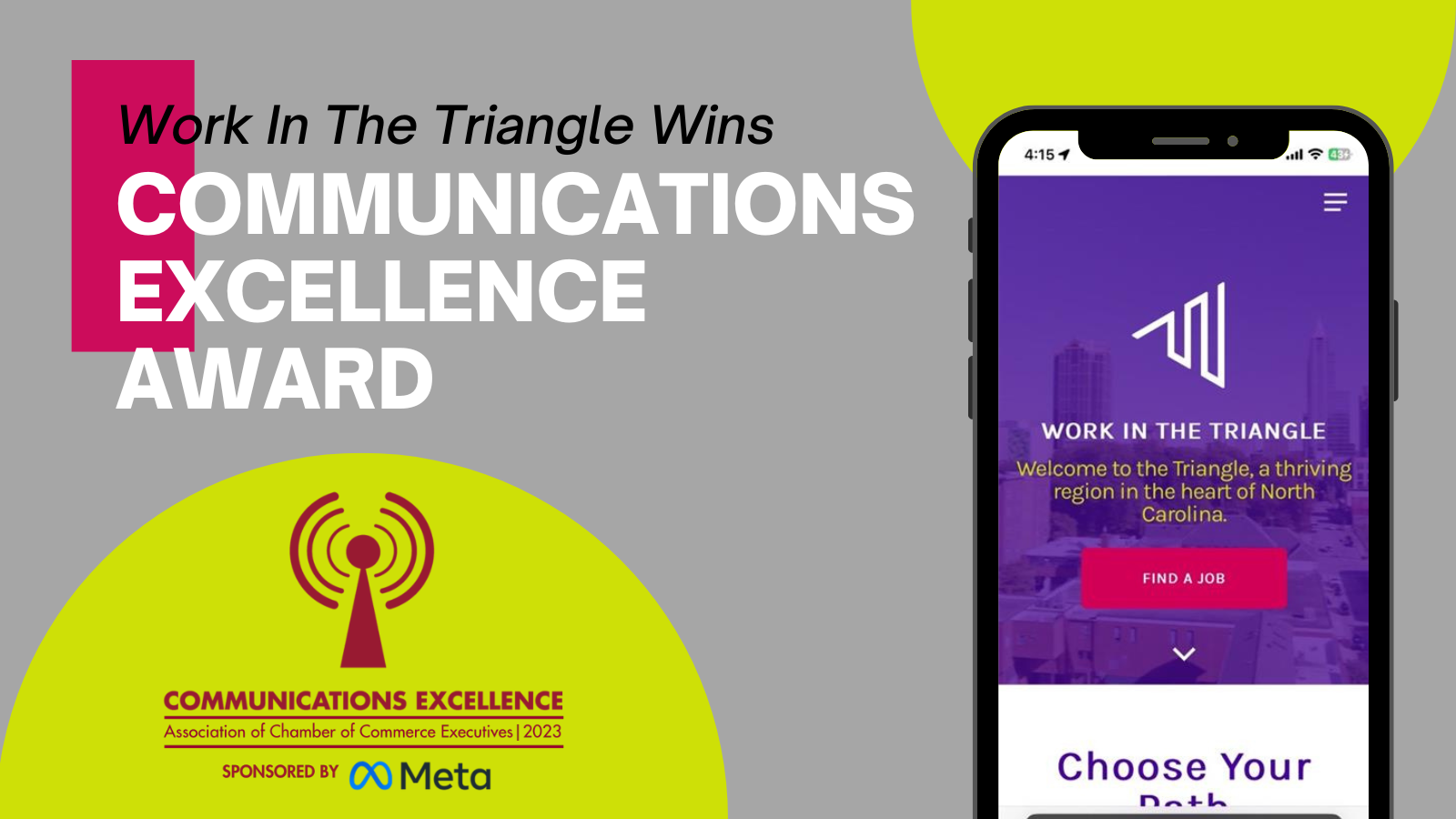 The Greater Raleigh Chamber of Commerce has been named one of 12 Communications Award of Excellence winners by the Association of Chamber of Commerce Executives (ACCE). ACCE is an association based in Alexandria, Va., that has over 1,600 chambers of commerce and related business and economic development organizations as members, representing more than 9,000 professionals in the industry.
The ACCE annual Communications Excellence Awards program is designed to showcase the top communications and marketing work of chambers of commerce and similar organizations. These entries highlight some of the freshest and most innovative marketing and communications work coming from ACCE member organizations of all types and sizes.
Entries were organized by category — based on the chamber's annual revenue — and entry type: campaigns, print and electronic publications, videos and websites & apps. Work In The Triangle took the prize for Best Campaign in its category. A panel of communications and marketing professionals from ten U.S.-based chambers of commerce evaluated entries submitted for this year's competition. Three of these 12 winning entries will be revealed as Best in Show within their total annual revenue category at ACCE's annual convention in Salt Lake City during the Awards Show on August 1.
First launched in 2012, Work In The Triangle is a national talent attraction marketing campaign powered by Wake County Economic Development, a program of the Greater Raleigh Chamber of Commerce. Ten years later, the chamber relaunched the campaign in January 2022. The chamber explained that the rebrand and reboot was like starting from scratch. "While we could have put the initiative on the back burner due to the pandemic, we decided to dive headfirst into the changing landscape of talent attraction at a time when there was plenty of uncertainty on the part of both employers and job seekers," the chamber shared. The campaign features a talent website, videos, a marketing toolkit, social media and digital advertising. Highlights from the campaign's performance in 2022 includes 128,408 unique website users and 9,315 Indeed job views and 9,689 cost of living calculations. Digital ads produced 5,358 job views. Advertising accounted for 76% of all web traffic, including 52,069 visitors to the "find a job" page and the website saw a 407% increase in traffic since the relaunch.
We would like to thank our EDGE investors for your support in making this work possible.