By: Kathleen Henry, Economic Development Director
The team at Wake County Economic Development and representatives from the Town of Holly Springs, NC Biotechnology Center, EDPNC and Research Triangle Regional Partnership traveled to France and the UK Sept. 30 - Oct. 4, 2019. In case you missed our last blog on why we traveled to France and the UK, check it out here: Our Trade Mission to Europe is Next Week.
LYON, FRANCE
We started our visit to Europe in Lyon, France. Located in the east of France, Lyon is part of the country's Auvergne-Rhone-Alpes region, boasting the second-highest GDP and is the second-largest economic center in France. Over the course of two days our delegation met with industry and economic development leaders, including the following:
Lyonbiopole, Lyon's cluster organization focused on biotechnology
Cancéropôle Lyon Auvergne-Rhône-Alpes (CLARA), the region's cancer research organization
BIOASTER Technology Research Institute, an organization facilitating industry research for microbiology
Centre Leon Berard, cancer care and research center serving as a medical care facility, a research center and a center of education & training
Leadership from the primary economic development agencies for Lyon and the region:

Invest in Lyon
Lyon Metropole
European American Chamber of Commerce
Lyon Chamber of Commerce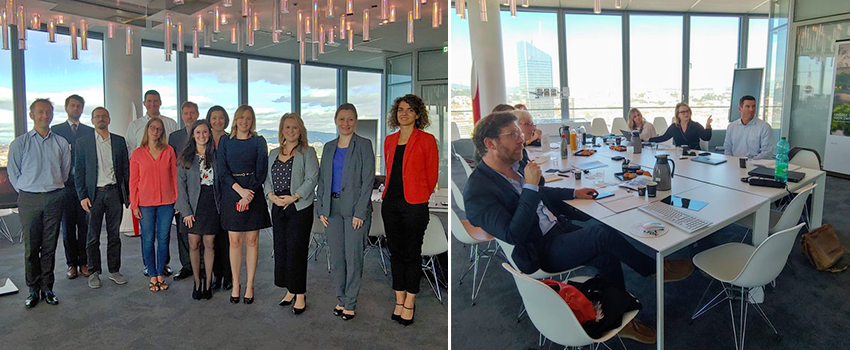 Through these meetings, we confirmed noticeable similarities between our two markets: population size, talent, and industry leaders. Similar to the Triangle region, Lyon is home to four universities, one of which boasts the third-best engineering school in the country, and a focus on life sciences, biotechnology, cleantech, internet of things, and advanced manufacturing.
Our delegation was able to meet with 80 representatives of the Lyon business community and began conversations with the goal to form meaningful and strategic partnerships.
PARIS, FRANCE
From Lyon, our delegation traveled to Paris where we met with representatives of France Biotech, the leading biotech trade association in France housing more than 230 members helping companies facilitate expansion into the US, Simmons & Simmons, one of France's leading law firms and consulting firms, Nextep & Blue Star Strategies.
In addition, our delegation traveled 18 miles south of Paris to Evry/Corbeil-Essonnes, home to Genopole, France's leading biocluster for biotechnologies and research in genomics and genetics. The biocluster is home to 96 biotech companies, 16 academic research laboratories and 1.2m sq.ft of real estate. This meeting's purpose was to share the Triangle region's strengths in life science industries, existing French-owned biotech firms in a collaborative environment.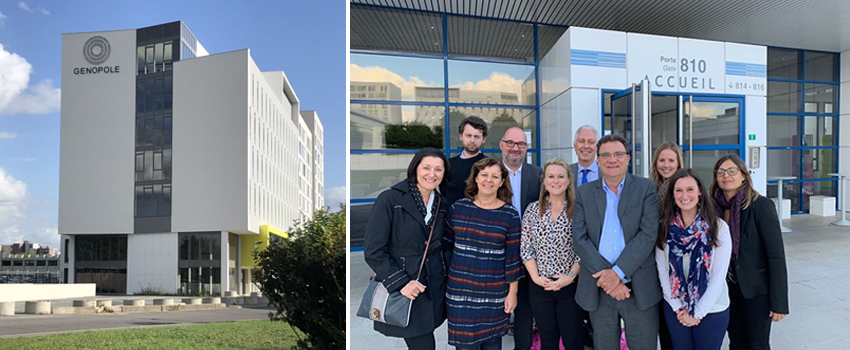 LONDON, UK
The final stop on our mission brought our delegation to London, UK where we received the warmest of welcomes from 40 business, government and industry representatives at a reception hosted at the US Embassy in London. We met with companies who already had ties to the Triangle, like Raleigh's own, Pendo and newcomer to our market, UK-based Ten10 Engineering. We also talked with UK life science firms who are exploring the US market and we're excited to hear of our strategic advantages on the east coast.
CAMBRIDGE, UK
The team ended its European trade mission with a visit to Cambridge, located an hour outside of London offering a vibrant university and life science ecosystem. While in Cambridge our delegation visited One Nucleus, a membership organization for international life science and healthcare companies. One Nucleus is based in Cambridge and London UK, the heart of Europe's largest life science and healthcare cluster.
Wake County Economic Development's international business strategy is powered by a committee comprised of over 20 business representatives in the region. This trade mission activates a critical component of a two-year strategy set in 2018 for the purpose of developing strong partnerships and marketing the Research Triangle region as a strategic US location for global business to operate.
This trip also informed French-owned and UK-owned companies about the Triangle region's thriving life science ecosystem. You can learn more about life sciences in Wake County here, follow us Twitter @RaleighWake, or read the TBJ's article recapping the trade mission.