'Made in NC' Initiative Unites Public and Private Sector to Deliver Vital COVID-19 PPE to Health Care Workers Statewide
New collaboration will produce nearly 2 million N95 respirators per year to address the urgent need for affordable access to essential PPE in communities that need them most
DURHAM, N.C. – Organizations from both the public and private sector have teamed up to launch the Made in NC initiative, a collaboration between Blue Cross and Blue Shield of North Carolina (Blue Cross NC), North Carolina State University's Nonwovens Institute, Freudenberg Performance Materials, UNC Health, the NC Healthcare Association Strategic Partners and NC Medical Society to manufacture and distribute N95 respirators that will serve the needs of North Carolina health care workers during the COVID-19 pandemic and increase equity in access to masks in communities that need them most.
Since the onset of the COVID-19 pandemic, demand for N95 respirators and other PPE has outpaced current U.S. manufacturing capabilities, resulting in supply chain challenges in delivering an efficient and reliable source at a reasonable cost. The shortage of critical supplies has left health care providers and essential workers at a higher risk of infection.
The Made in NC collaboration will produce an initial 100,000 to 200,000 N95 respirators per month with plans to quickly ramp up, right here in North Carolina, providing a more consistent and affordable source of personal protective equipment (PPE) for local health care providers. Collaborating organizations include:
The initiative aims to ensure the state's frontline health care workers receive the critical PPE they need to keep themselves and their communities safe.
"Blue Cross NC is committed to the health and well-being of all North Carolinians, and we are proud to be part of this initiative to ensure that vital PPE remains available to frontline health care workers in the continued fight against COVID-19," said Dr. Tunde Sotunde, President and CEO at Blue Cross NC. "This unique collaboration brings together health care, education and private industry at an unprecedented time to help solve an unpredictable challenge. We are all working together toward a common goal of protecting those who continue to protect the people and communities across our state."
"NC State is committed to getting our research into the hands of North Carolinians to make a real difference," said NC State Chancellor Randy Woodson. "We're proud to work with our public and private partners to deliver innovative solutions through the Made in NC initiative."
"The NCMS is fully supportive of local solutions like this," said North Carolina Medical Society Executive Vice President and CEO Chip Baggett. "We look forward to helping ensure these affordable N95 respirators get to impacted communities throughout the state."
Collaboration among Blue Cross NC, NC State's Nonwovens Institute, Freudenberg Performance Materials, UNC Health, NC Healthcare Association Strategic Partners and NC Medical Society ensures the expertise needed to achieve careful production and distribution at the highest quality and safety standards to increase equity in access to masks, especially in communities that need them most.
"Our North Carolina health care providers and frontline workers need more reliable sources of PPE at reasonable and predictable prices – exactly the goal of this collaboration," said Dr. Wesley Burks, CEO of UNC Health. "The top priority at all times is the safety of our frontline workers, especially during this pandemic. N95 masks are among the most important tools because they filter out droplets and smaller airborne particles that can carry viruses."
The installed machines are expected to produce up to 2 million N95 respirators per year.
"This is a great opportunity for us to make a big difference in our community. We have a talented team and dedicated resources to fully support us in this task," said Raoul Farer, General Manager, RBU North America, Freudenberg Performance Materials. "To be able to add to our workforce in these challenging times and build a new operation from the ground up has given us a new purpose and we are looking forward to building lasting relationships through this initiative."
As masks become available, the NC Healthcare Association Strategic Partners and NC Medical Society will conduct outreach to providers who may lack staffing capacity and contacts to place accelerated orders.
"From our largest hospitals to our smallest medical providers, the need for quality N95 masks is great across our state as this pandemic continues," said Jody Fleming, Senior Vice President, North Carolina Healthcare Association Strategic Partners. "This effort allows our health care heroes across North Carolina to purchase masks made in North Carolina, which means they'll get the vital equipment they need much faster and can effectively serve our patients."
When worn properly, single-use N95 respirators are a critical form of PPE that protects both patients and health care providers due to its efficient filtration of airborne particles that can carry viruses and other contaminants.
"The Nonwovens Institute engages leaders from industry, government and higher education to build next-generation nonwoven applications," said Dr. Behnam Pourdeyhimi, Executive Director of the Nonwovens Institute at NC State. "Through these collaborations, we are pleased to provide our novel materials to create solutions for communities across North Carolina in the continued fight against COVID-19."
Contact BCBSNC Media Line: 919-765-3005 or BCBSNC Online Newsroom: http://mediacenter.bcbsnc.com for more information.
Triangle is an Attractive Area for Companies, Despite COVID-19
The effects of the pandemic are still being felt in all aspects of life, including at work, school, and home. However, despite COVID-19, the Triangle area remains an attractive region for companies to expand, relocate, and/or set up headquarters due to its robust business and entrepreneurial community, low cost of living, and high quality of life. CBRE guest writes an article for WRALTechwire, you can read the rest here.
Gwyneth Paltrow to be Face for Merz Aesthetics
Gwyneth Paltrow is giving a high-profile Hollywood boost to Raleigh-based Merz Aesthetics as it launches a global promotional campaign for anti-wrinkle treatment. She's the latest star to back the product Xeomin, which is pronounced Zeo-min. The other was Christie Brinkley who promoted Zeomin and another product in 2017 on behalf of Merz NA. Paltrow also is a user of Xeomin, which is FDA-approved.
Learn more here.

Walmart and Flytrex choose Fayetteville for Drone Pilot Program
Walmart Inc., the world's largest retailer, will begin testing drone delivery in Fayetteville, North Carolina, the company announced in a blog post on Wednesday. The new pilot program with Flytrex, an end-to-end drone delivery company, is launching Wednesday and will focus on delivering select groceries and essential items using automated drones, Senior Vice President for Consumer Product Tom Ward said in the blog post. The drones are controlled over the cloud using a dashboard, Ward added. This project will help Walmart explore on-demand delivery, Ward said in the release. The company has previously tested autonomous grocery delivery through driverless vehicles. Read the rest of the article here.
NC Among Top Migration Destinations Amid COVID-19
North Carolina is among the top hotspots that people are fleeing to in the wake of the coronavirus pandemic, numerous reports show. North Carolina ranked No. 7 on the list of states that saw the biggest influx of new moves between March and August this year in data compiled by moving company United Van Lines. Also, North Carolina saw a 60 percent inbound move rate during the pandemic, but minus 40 percent of those already living in the state moved away. Read the rest of the article explaining the ranking here.
Bandwidth Helps Students Move From College to Careers
While the COVID-19 pandemic has forced many businesses to reduce their workforce, Raleigh-based Bandwidth announced it will be expanding its headquarters and creating 1,100 new jobs and $100 million in capital investment over the next eight years.

CEO David Morken founded the software communications company two decades ago from his parent's spare bedroom. In 2012, Bandwidth made the move to Centennial Campus and began growing from 225 employees — called "Bandmates" — to more than 750 today. The company went public in 2017 and at the time was valued at around $300 million. This year, it hit the $3 billion mark.

"Bandwidth has been a partner with NC State over the last eight years," said NC State Chancellor Randy Woodson. "We're thrilled that our Centennial Campus could be a launchpad and that the company will continue to grow, expanding its world-class headquarters here in Raleigh."

Bandwidth is helping to keep the world connected, which is especially important during the current environment with work from home and limited social interaction. Companies like Google, Microsoft, and Zoom use Bandwidth's APIs to easily embed voice, messaging, and 911 access into software and applications.

The company is building a 500,000-square-foot facility on a 40-acre plot of land near the North Carolina State Fairgrounds. In line with the company's commitment to work-life balance, the campus will feature an integrated Montessori school for children ranging from six months old to five years old.

Read more here.
NCSU and Bandwidth Fight to end Robocalls
New research from North Carolina State University finds that the number of robocalls isn't going up and that answering a robocall doesn't make you more likely to get additional robocalls. "These findings stem from a broader study that is the first step toward a more robust set of tools for reducing robocalls, if not eliminating them," says Brad Reaves, co-author of a paper on the work and an assistant professor of computer science at NC State. "We made some fundamental advances in tracking robocalls back to their source, and upended a lot of the conventional wisdom regarding robocalls."

"We want to abolish robocalling entirely, and a project of this scope puts us one step closer to achieving that," said David Morken, founder, and CEO of Bandwidth, in a statement.

Learn more about the study in WRAL Techwire.
Michael Haley Covers Talent in WRAL Techwire Article
In the recently released CBRE tech talent report, it was no surprise that the Raleigh-Durham market ranked in the top 10. The ranking kept us in the good company of other tech giants like San Francisco, New York, Washington, D.C., and Seattle. While we may be the smallest metro in the top 10, we are no stranger to being top ranked when it comes to tech talent. It is important to mention that even though we are in the middle of a global pandemic and unemployment is at a level we've never seen before; our market should fare well over the long-term based on strong fundamentals. Read the full article here.
South Korean Company Chooses to Locate PPE Operation in Garner, Wake County
GARNER, N.C.—Hansae Co,. Ltd., a leader in the global apparel industry based in South Korea, will locate its first U.S. manufacturing operation in Greenfield North Business Park in Garner. Hansae's Garner facility will focus on producing personal protective equipment (PPE) for the U.S. market.
"Opening our facility in North Carolina was an easy choice," Vice President of Strategic Sales Hermann Chiu said. "The environment is conducive to establishing a business, and the pleasantness of the people in North Carolina has made the process simple. The facility will focus on surgical masks, and we have plans to expand to other products in the future depending on the market conditions. We look forward to commencing our operation in the last quarter of 2020. The business will be run under Hansae's subsidiary AMP [Apparel Manufacturing Partners]."
"We are excited to have a company like Hansae join the Garner business community. During these uncertain times, the access to PPE has never been more important. Having a company like Hansae here producing PPE will only help ensure that people around this country will have access to much-needed PPE products. We look forward to continuing to see Hansae grow in our community," Garner Mayor Ken Marshburn said.
"North Carolina is thrilled to add Hansae—one of Korea's foremost textile companies—to our growing list of international corporate citizens," said Korey Howard with the Economic Development Partnership of North Carolina. "We look forward to continuing to support the growth of their Garner operation, both through the EDPNC office in Seoul as well as stateside."
"We are proud to welcome Hansae, an international company, to Garner. They're helping fight the pandemic by opening a manufacturing facility that will produce PPE," said Michael Haley, executive director of Wake County Economic Development. "These are challenging times, but we must continue to grow and welcome new companies to Wake County. Hansae will join a network of over 700 foreign-owned firms in the Research Triangle region. This will further strengthen our international business community."
Hansae will invest up to $2 million and initially employ eight to 10 people at its Garner location.
This project was made possible by the work of EDPNC, N.C. State University's College of Textiles, Wake County Economic Development, Garner Economic Development and Gregg Mason-Mason Properties.
For more information on Garner economic development, contact Joe Stallings at 919-773-4431 or jstallings@garnernc.gov or visit the Garner website here.
Today Show Features Raleigh Neighborhood
Realtor.com chief economist Danielle Hale tells Hoda and Jenna about the website's list of the most popular zip codes in America in the mid-pandemic market. Watch the Today Show clip to see why Raleigh is featured as one of the most popular zip codes in America.
Inc.'s 5000: America's Most Inspiring Entrepreneurs
Inc. released its 2020 ranking of the 5,000 Fastest-Growing Private Companies in America. See which Raleigh-based companies made the list here.
Raleigh Drone Company Awarded Drone Patents
PrecisionHawk, Inc., a pioneer in geospatial data acquisition and analysis for enterprises, announced it has been awarded two patents for technologies it has developed for unmanned aircraft system traffic management (UTM). The patents, titled 'Automated Unmanned Air Traffic Control System,' are designed to enable collision avoidance between drones and manned aircraft. Learn more here.
North Carolina has the most Equitable School Districts in the U.S.
States that provide equitable funding to all school districts can help prevent poor students from having lower graduation rates, lower rates of pursuing higher education, and smaller future incomes than their wealthy peers. See why WalletHub awarded North Carolina No. 1 here.
Fortune's 75 Best Large Workplaces for Millennials
Fortune worked with its long-standing research partner Great Place to Work to help find the best employers for those born between 1981 and 1997—a generation known for appreciating firms with strong values and for changing jobs frequently. To determine millennials' workplace preferences, Great Place to Work analyzed feedback representing more than 4.9 million U.S. employees.

The 75 companies on this list represent the best large workplaces for millennials. Among the 75 companies, Red Hat and Kimley-Horn are recognized on this list. You can learn more about them here.
The Triangle's Life Science Industry battles COVID-19
Perhaps no region in the United States was more prepared to fight coronavirus than our state's Research Triangle Region. As you may be aware, the Triangle is known widely as one of the top life science clusters in the United States. with more than 500 life science companies in our 12-county region.

The Triangle's universities have played a major role in the growth of our life science ecosystem and are national leaders in health science research. As a matter of fact, both Duke and UNC receive in excess of $1 billion annually in federal research dollars and their discoveries have global implications. Since the coronavirus outbreak, only two organizations have received more COVID-19 funding than UNC: the Centers for Disease Control and Protection (CDC) and the National Institutes of Health (NIH). Read the WRAL TechWire article here to learn more about the Triangle region's Life Science Industry.
Business Facilities: 16th Annual Rankings Report
North Carolina's economic development efforts are recognized in Business Facilities magazine's 2020 Metro Rankings Report, with the City of Raleigh number one on its list of GDP leaders in mid-size metro markets.

Raleigh also ranked number six among the nation's tech hub growth leaders and seventh for millennial magnets, while the Raleigh-Durham region ranked number seven for start-up ecosystems. Read more about the ranking in WRAL Techwire.
Michael Haley Selected for ACCE Economic Recovery Fellowship
ACCE's Fellowship for Economic Recovery is designed to help chambers refine their economic recovery goals. Executive Director of Wake County Economic Development, Michael Haley, has been selected to join this accomplished group of Chamber leaders. Read more.
Fuquay-Varina Hires New Economic Development Director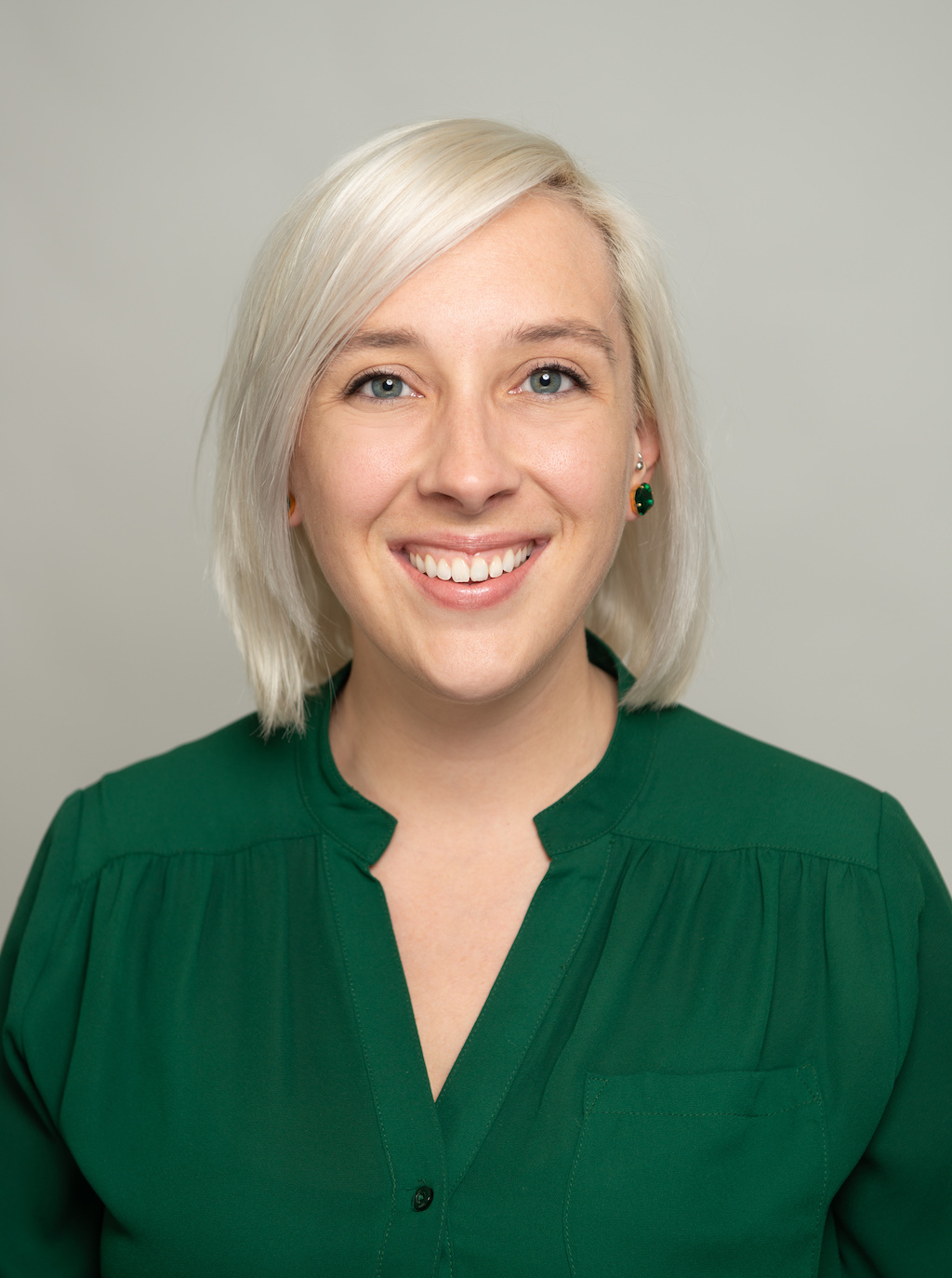 The Town of Fuquay-Varina is pleased to announce the hiring of Alyssa Byrd as the Town's new Economic Development Director. In her new role as Economic Development Director, Byrd will oversee the Town's Economic Development Department which provides professional services to attract new investment and industry, encourages the expansion of existing industry, and aligns workforce education and talent to support the Fuquay-Varina business community. The Town's former Economic Development Director, Jim Seymour was promoted to Assistant Town Manager earlier this year.

"The Town Board has worked closely with our business community and stakeholders to implement projects that create real opportunities for our community," said Mayor John W. Byrne. "Alyssa is the right person to help us continue that mission. Alyssa is a strategic thinker who is skillful in building strong relationships with both the public and private sectors. She's an experienced economic development leader and we welcome her to Fuquay-Varina."

Byrd comes to the Town of Fuquay-Varina from the Chatham Economic Development Corporation where she currently serves as President. "Alyssa has a breadth of economic development knowledge," said Town Manager Adam Mitchell. She has an extensive understanding of advanced manufacturing recruitment, incentive agreement negotiations, and industrial site management. The role of the Economic Development Director is critical to the growth and sustainability of our community. I believe Alyssa will be an asset to our team as the Town continues to experience transformational growth and positive momentum." Ms. Byrd assumes her new role on August 31, 2020.

Byrd is a graduate of the University of North Carolina at Chapel Hill and is currently in graduate studies at the Economic Development Institute at the University of Oklahoma. She is Emerging Executives Co-Chair for the NC Economic Development Assn., and on the Board of Directors for the Research Triangle Regional Partnership. Byrd stated, "I am excited to join the Fuquay-Varina team and to serve the community. I look forward to supporting the growth and success of the Fuquay-Varina economy."
2020's Most & Least Educated Cities in America
To determine where the most educated Americans are putting their degrees to work, WalletHub compared the 150 largest metropolitan statistical areas, or MSAs, across 11 key metrics. Raleigh, Durham, and Chapel Hill are ranked among the top 15 most educated cities in the U.S. See the full ranking here.
2020 Scoring Tech Talent
What tech markets are poised to benefit from and accelerate post-pandemic growth? Check out the latest tech talent report from CBRE. The report details the key factors that influence the rankings such as educational attainment and urban living and shows the highest concentrations of tech talent.

The Raleigh-Durham market ranks tenth on the list following Atlanta. You can review the full report on the CBRE website.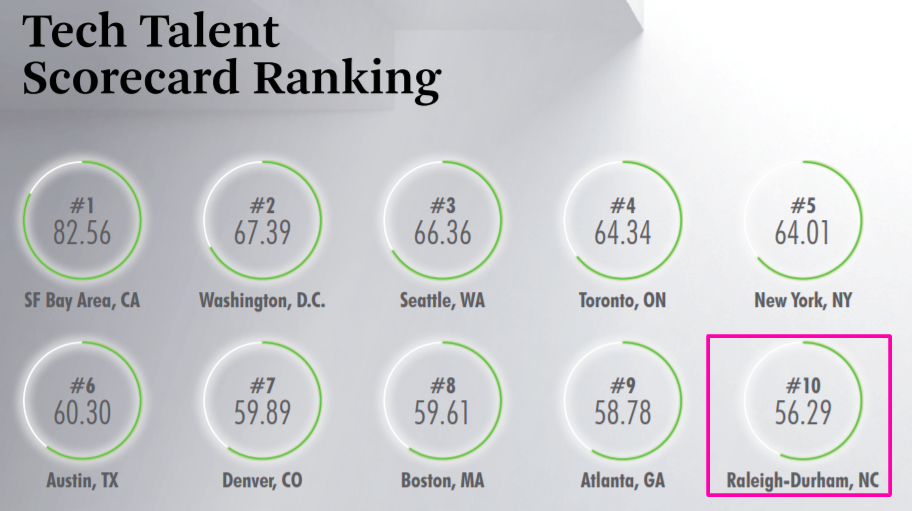 North Carolina's 25 biggest corporate job creators
While many industries show up on Business North Carolina's annual list of the largest job-creating projects, pharmaceuticals takes a dominant role with massive investments planned by global giants Pfizer, Merck, Eli Lilly, and Audentes Therapeutics. The rankings are based on major job announcements in the year ending June 1 and include the number of committed positions and pledged investment

In good times or bad, the Tar Heel State's combination of a talented workforce, relatively low taxes and living costs, and a traditionally pro-business regulatory approach has made it a favorite of corporations. For the third straight year, Forbes ranked North Carolina first in its Best States for Business, while the CNBC network ranked it third in its similar listing. Read more in Business North Carolina.
Suburbs & Mid-Size Cities Are In, Big Cities Are Out
Site Consultant Survey Finds Shifting Corporate Location Preferences
July 16, 2020 – Suburban areas and mid-size cities, followed by rural areas, will be the biggest winners of new corporate expansions and relocations, with large urban areas falling to the bottom of the list, according to a survey on the impact of COVID-19. The findings were released today by the Site Selectors Guild, the only association of the world's foremost professional site selection consultants.
Conducted the week of June 29, 2020 in partnership with Development Counsellors International (DCI), the online survey of Guild members aimed to uncover changes and new trends in corporate location strategy brought on by the COVID-19 crisis. The COVID-19 impact survey of Guild members was the second of its kind, with the first conducted in April 2020.
"As advisors on corporate location strategy across all industries, Guild members are the first to see emerging trends and changes in corporate location decisions before they are ever made public," said Jay Garner, Site Selectors Guild board chair and president of Garner Economics LLC. "This perspective is particularly telling."
"Everything from physical distancing to changing transit preferences has affected the way that corporations view location decisions," said Rick Weddle, president and CEO of the Site Selectors Guild. "We hope this insight from our members will help both corporate decision makers and economic developers understand the changing landscape as well as new opportunities."
The top findings of this research follow:
Suburbs and Mid-Size Cities Will Be the Next Winners for Corporate Location Projects
The pandemic has brought suburban areas and mid-size cities into the forefront of consideration for future site selection projects and even put rural areas well ahead of large urban areas. When Guild members were asked about locations that are "likely" or "very likely" to be considered by corporations looking to expand, relocate or open new facilities in the next 12 months, 64% chose suburban areas, 57% chose mid-size cities, 31% chose rural areas, and just 10% chose large urban areas.
Consultants indicated that New York would be hit especially hard among the nation's largest cities. Of the consultants who agreed that large urban centers are "not at all" or "unlikely" to be considered for future projects, 100% said that New York City would be among the least likely locations to be considered for future projects in the next 12 months. Los Angeles and Chicago followed with 63% and 42%, respectively.
Consultants were also asked to name specific mid-size cities that would be strong potential candidates for new locations or expansion projects in the next year and named the following cities (presented in alphabetical order):
Boise, ID
Colorado Springs, CO
Columbia, SC
Columbus, OH
Greenville, SC
Huntsville, AL
Indianapolis, IN
Kansas City, MO
Raleigh-Durham, NC
Reno, NV
Tucson, AZ
Consultants Report 61% of Site Selection Projects are Moving Forward
Consultants reported an uptick in projects moving forward in June compared to April, with 61% of Guild members reporting that companies are moving forward with site selection projects, a 16% increase since April. Of Guild members surveyed, 34% said that companies are pausing site selection projects, and 5% reported companies are consolidating facilities or canceling site selection projects.
There was also a general consensus that office projects will remain on hold until there is a clearer understanding on what the "office of the future" will look like and footprint requirements. Guild members also indicated that manufacturing will continue to be driven by the need to de-risk the global supply chain. There will be an accelerated rate of reshoring as well as more, smaller regional facilities to mitigate risk.
Majority of Project Activity Predicted To Resume in 2021
When asked to predict when client companies will restart expanding or adding new facilities, 13% of consultants reported that projects had already started moving forward in Q2 2020; however with a rapid rise in COVID-19 cases across the U.S. in June when the survey was conducted, none of the Guild members predicted paused projects would restart in Q3 2020. Twenty-two percent indicated companies will restart projects in Q4 2020, 39% indicated Q1 2021 and 26% indicated after Q1 2021.
Food and Beverage Processing Emerges as Hot Industry, Biotech and Manufacturing Activity Continue to Hold Strong
In both the April and June surveys, Guild members were asked to select the industry sectors that are seeing the most project activity as locations across the globe begin to reopen. In June, the food and beverage processing industry saw the largest increase in project activity when compared to the April survey. The top five most active industries -- with comparisons to Guild member selections in April -- are listed below:
Biotech and Life Sciences - 67% (down from 68%)
Advanced Manufacturing - 51% (up from 29%)
Food and Beverage Processing - 47% (up from 16%)
Transportation and Logistics - 44% (down from 48%)
Software and IT - 31% (up from 19%)
Economic Developers Should Begin Shifting Focus Back to Business Attraction
As was reported in the April survey, Guild members believe an economic development organization's (EDO) priority focus in the COVID-19 environment should be on business retention and workforce development/talent attraction. However, there has been a shift in thinking that EDOs can begin to elevate their focus on business attraction as well. When asked what the priorities should be for EDOs - on a scale from 1 (not a priority) to 5 (high priority) - Guild members assigned a rating of 3.6 to business attraction, a considerable increase from the rating of 2.9 in the April survey.
About the Site Selectors Guild
The Site Selectors Guild is the only association of the world's foremost professional site selection consultants. Guild members provide location strategy to corporations across the globe and for every industry, sector, and function. Founded in 2010, the Site Selectors Guild is dedicated to advancing the profession of international corporate site selection by promoting integrity, objectivity and professional development. Members are peer-nominated, vetted, and must demonstrate significant professional location advisory experience. In the past three years alone, Guild members facilitated the announced creation of approximately 165,000 jobs and $90 billion in announced capital investment. Guild membership is the highest standard in the site selection industry. For more information, visit siteselectorsguild.com or follow @siteselectguild on Twitter.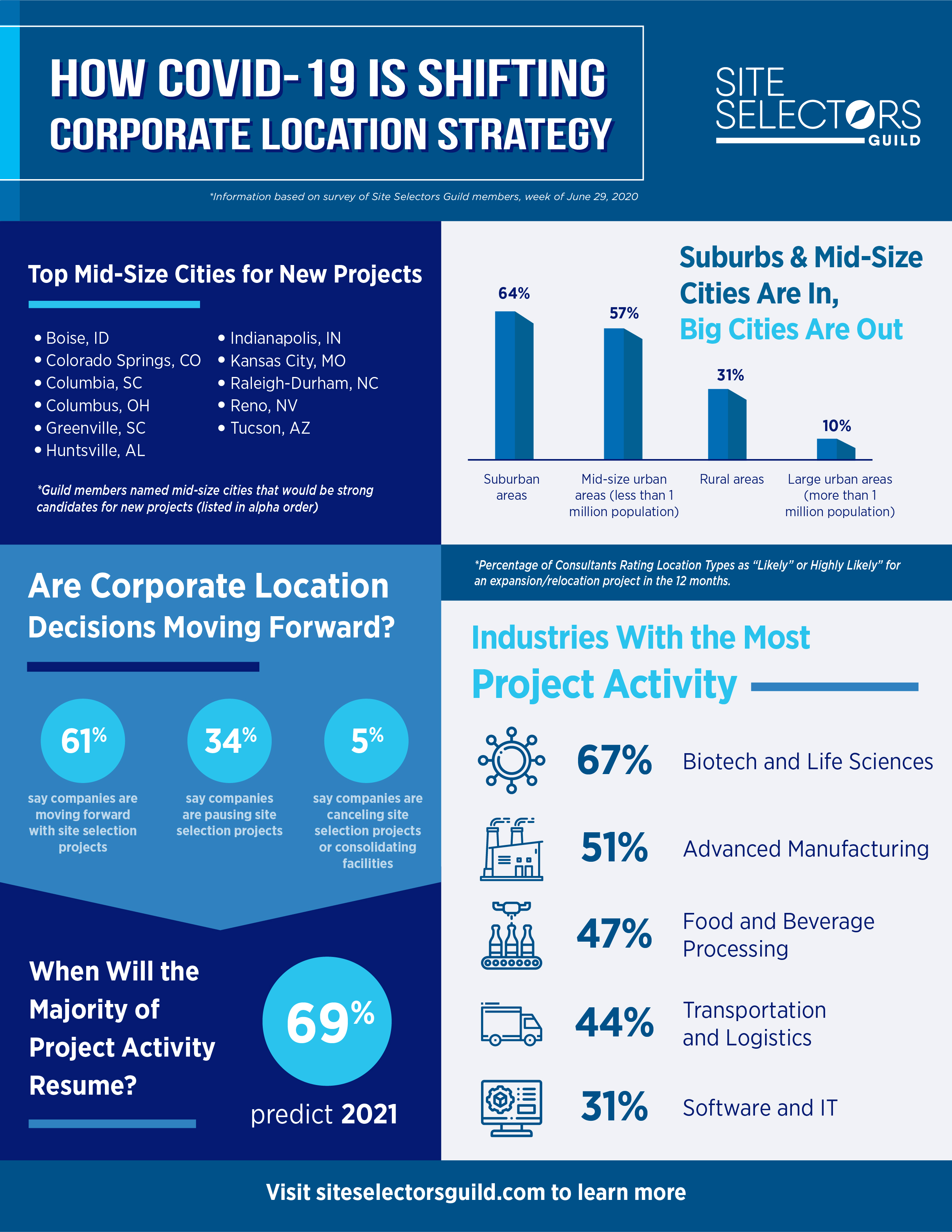 Best U.S. Cities for Remote Workers
The world is facing a challenging time. As countries across the globe fight to contain the spread of Coronavirus, it has forced many businesses to transform their workplace into a remote one. Many employees are now working from home. While it may be a whole new world for some businesses, for others it's common practice. Today, 4.7 million Americans work remotely, according to FlexJobs. While Phoenix, Arizona holds the top spot, there are plenty of other cities that are ideal for remote workers. Take a look at the rankings here to see why Raleigh is listed as No. 4 in the U.S.
Bandwidth's CEO remains committed to new $103M HQ
Despite a massive shift to a work-from-home culture triggered by the COVID-19 pandemic, Bandwidth is still moving ahead with big plans for new corporate headquarters in Raleigh. Appearing in a virtual seminar conducted as part of the Economic Development Summit series on Wednesday, its founder and CEO David Morken said he remains committed to investing more than $103 million for the new campus.

"We're crazy," he told Raleigh Chamber president and CEO Adrienne Cole, who led the session. "We believe that we are all going to emerge from our homes into the bright light of an exciting future. My experienced view is that we are going to be more and more desperate than ever to collaborate — in person." Read the rest of the article here.
WRAL Techwire covers the Regional Skills Analysis Survey Results
"The regional economy will recover, but job growth is going to be slower than expected, and it's going to be uneven," said RTI International Mike Hogan, RTI International research economist, during the Economic Summit series held virtually this week. "The abrupt shutdown is really devastating to jobs in restaurant, hospitality, and retail."

Hogan was recapping results from the Regional Skills Analysis Survey launched in March. Initiated by the Raleigh Chamber, Wake County Economic Development, Capital Area Workforce Development, and the City of Raleigh, in conjunction with RTI International, it was originally designed as a follow-up to the 2017 Triangle Talent Initiative.

However, Life sciences, IT, manufacturing, and healthcare still expect to grow their workforce at high rates — between roughly 61-87 percent. Continued demand is expected for positions such as software programmers, nurses, and front-line production workers.

Read the rest of the article here.
K4Connect continues to serve Senior Citizens during COVID-19
K4Connect, a startup focused on bringing new technologies like voice assistance, home automation, digital messaging and more to older adults and those living with disabilities, has closed on $21 million in Series B funding. The B round had originally wrapped in October 2018 but was extended with the recent addition of $7.7 million led by Forte Ventures.

The K4Connect platform, which today serves over 800 continuing care, independent living, and assisted living communities across the U.S., can help to address many of the challenges these communities are now facing. Learn more about the platform here.
Reopen Wake
Capital Area Workforce Development has launched Reopen Wake to support the reopening efforts of minority and women-owned businesses and businesses located in Wake County's vulnerable communities. Eligible businesses will be able to provide employees with health and safety training to minimize the spread of COVID-19 as employees return to work and operations resume.
"Small businesses often have insufficient financing and limited internal capacities which have been exacerbated by COVID-19. Business owners of color, women founders, and other underrepresented minorities often have an even greater need. We're glad to be able to provide this program to help businesses and their employees better prepare to operate safely in the current environment," said Pat Sturdivant, Executive Director at CAWD.
This interactive online training addresses topics such as how to protect staff from workplace outbreaks, facilities setup, and best practices for safely bringing employees back to work. Employees will also learn best practices for personal health and safety. Learn more here.
Murphy's Naturals Expansion

Murphy's Naturals, a home-grown mosquito repellant company, is preparing to double its footprint in Raleigh, despite the pandemic.
Murphy's Naturals CEO Philip Freeman credits the company's recent success to multiple factors, from a new hand sanitizer line launched in conjunction with the pandemic's spread earlier this year, to a federal infusion in the form of Paycheck Protection Program funds.
But he said it really comes down to people. And, with layoffs happening at other companies throughout the Triangle, he said he's been able to find top tier caliber talent as his company expands – meaning that people factor could continue to drive the company.
Read the rest of the TBJ article here.
The Top Global Ecosystems of Today and Tomorrow

Startup Genome has nearly doubled the number of ecosystems studied since 2019 — assessing over 270 ecosystems across over 100 countries to rank the top 30 globally and runners-up. Their ranking this year goes beyond the top ecosystems to include "Emerging Ecosystems" — the next 100 ecosystems after the top ones.
As startup culture and entrepreneurship spreads across the world, different ecosystems are gaining relevance and impacting economies in a meaningful way. The factor weights used to rank these ecosystems are slightly different from those used with top ecosystems to reflect their emerging status and emphasize the factors that influence more in ecosystems that are just beginning to grow. Read the rest of the ranking and article here.
Meet N.C.'s Booming Small Towns

Two things are driving the growth of North Carolina's fastest-growing small towns: spillover from nearby big cities like Raleigh and Charlotte and retirees looking to settle down in small communities. That's the assessment of demographers and town officials, and it shows in U.S. Census data released in May. Raleigh and the Research Triangle Park area especially is driving the growth of nearby small towns.
Read the Fayetteville Observer to learn more about municipalities in Wake County that are growing by the day.
WRAL Techwire: Ready, set, evolve, go and grow for all, says Wake County Economic Development director
RALEIGH – The COVID-19 pandemic continues to have impacts across our community. This included a quick pivot on our part to host our first virtual Economic Development summit series. While we would have preferred to be with you (in-person), the virtual format drove us to take a deeper dive on key issues and challenges our community is facing. Read more.
Wake County Hiring to Support Continued COVID-19 Response
People seeking jobs during the current economic downturn may find new employment opportunities with Wake County. The county plans to hire about 235 temporary staff members over the next month to support its ongoing response to the COVID-19 pandemic.
Most of the positions will support the public health function of the COVID-19 response, including contact tracing, epidemiology, and nursing, while other roles will support operations and logistics management for our efforts to fight the virus.
"We are now on day 112 of running our Emergency Operations Center – the longest response in Wake County's history – and it's not going to end any time soon," said Wake County Manager David Ellis. "As we look at how we can start reopening our facilities and begin providing services to our residents again, we must temporarily expand our workforce, so we can continue leading the fight against COVID-19 in a sustainable way."
Read the rest of the press release here.
Cities With the Most Successful Female Entrepreneurs

Nationwide 7.7% of female workers own their own business, according to data from the U.S. Census Bureau. For many of these women, entrepreneurship offers more flexibility than traditional jobs, which is appealing. To find the locations with the most successful female entrepreneurs, researchers at Volusion used data from the U.S. Census and Bureau of Economic Analysis to calculate a comparable metric of purchasing power across locations. See why Raleigh is No. 5 here.
The Best Cities to Start a Career
Starting your career can be tough. No matter how old you are or how much schooling you have, it's always difficult. It especially doesn't help when you have your parents on your back about it because they want you out of the house. If you've been searching for a job in your area with no luck, maybe it's time to try job hunting in a different city. Zippia found the cities where rent is cheapest, starting incomes are high, and jobs are abundant. See why Zippia ranked Raleigh No. 6 here.
Town of Cary to Welcome Amazon Delivery Station

The Cary Chamber of Commerce is pleased to announce that Amazon will become a new corporate citizen for the Town of Cary in the coming months.Based on the company's expansion plans, they will be opening and operating a new Delivery Station in Cary, adding to their existing presence in the region. Amazon's Delivery Station in Cary expects to hire and employ hundreds of associates as they ramp up their operations in 2020.
You can read the full press release here.
European crop protection firm picks RTP for US headquarters

Ag tech companies around the world are scrambling to develop new and better ways to use safe and socially acceptable biological methods to protect food crops from diseases and pests.
Now, a transformative Belgian crop-protection company, Biotalys NV, is bringing some of its $66 million of investment support to North Carolina, establishing U.S. headquarters in Research Triangle Park.
The U.S. subsidiary, to be known as Biotalys, Inc., will be led by Diego Angelo, who also holds the newly created role of a chief business officer. Working from the Landing Pad office space at the North Carolina Biotechnology Center, Angelo will be preparing for the U.S. commercial launch of the company's lead bio fungicide, BioFun-1.
Read more about this announcement in WRAL Techwire
Best Places to Work in Tech 2020
The tech industry is one of the most lucrative in the U.S. Though the COVID-19 crisis has cost the industry jobs just like virtually every industry, going into tech remains the goal of many young people, especially those with degrees in hard sciences. SmartAsset analyzed the data to uncover the metro areas in America that are the best places to work in tech - Raleigh ranked No.3.
The EDPNC is Ready to Help Restore International Trade
North Carolina businesses exported a record $34.35 billion in merchandise in 2019 but started this year facing the economic impact of an unprecedented global pandemic.

Since then, trade specialists at the Economic Development Partnership of North Carolina have stressed one message to the hundreds of businesses they serve across the state: The EDPNC can help them begin, restore or grow international sales as an important piece of their recovery.

"What worries me is that over the next year, many businesses in North Carolina may feel the need to shut the door on international opportunities because 'that's where COVID-19 came from,' " says John Loyack, EDPNC vice president of global business services. "But now is the time to stay engaged internationally. The businesses that will come out of this situation in the strongest position will have used this time as an opportunity to strengthen their international sales relationships. This is also an opportunity to rethink and strengthen your supply chain. We have the resources to help."

The EDPNC trade team supports more than 600 businesses a year on the state's behalf. Learn more about EDPNC's efforts here.
myFutureNC Blog Series: A Board Member Q&A with Kevin Howell, Vice Chancellor for External Affairs, Partnerships, and Economic Development, NC State
The ability of North Carolina's institutions of higher education to prepare an industry-ready workforce has become increasingly important in attracting business to our state. The Hunt Institute spoke with Kevin Howell, Vice Chancellor for External Affairs, Partnerships and Economic Development at NC State University and a member of the myFutureNC Board of Directors to learn more about how universities drive economic development and ways in which ongoing partnerships with the business community support postsecondary attainment in North Carolina.
Best Cities For New Grads 2020
With the impact of COVID-19 this year, it's more important than ever for the graduating class of 2020 to find the right cities to live that offer job opportunities, manageable cost of living, with salaries that make sense with the respective city rents, and the potential for a good social life once Shelter-in-Place or Stay-at-Home orders lift. Zumper's ranking takes all that into account with a 7 category index to thoroughly cover the top 100 cities across the nation.
Wake County Launches Surveys to Gauge Pandemic's Impact on Local Companies
Wake County Economic Development wants to know how businesses are coping during this pandemic.

In partnership with Raleigh Chamber and Innovate Raleigh, it has launched two surveys to gauge how local companies are adapting to these unprecedented times, and sudden economic downturn. The first is a business impact survey, which asks directly what are the impacts on hiring, finance, and short-term company decision making.

The second, a regional skills analysis, is part of a larger effort to understand the employee skills that businesses need now and in the future. It had been planned before the outbreak and is being administered by other regions in North Carolina.

Learn more about both surveys in WRALTechwire.
Raleigh Entrepreneur and New Parent Shares her Story
Jess Porta, director of HQ Raleigh guest authors a new article sharing her personal experience as a new mother during COVID-19 and running HQ Raleigh.

"I'm so grateful to live and work in this community and I look forward to raising my son and growing my career in a community that is authentic and dedicated to its own success." You can read the rest of her article here.
TOURTech helps Restaurants Reopen Safely with Touchless Menu
TOURtech, a leader in providing innovative IT solutions, today unveiled its Touchless Menu technology, which broadcasts digital menus onto guests' personal smart devices. This system eliminates the need for disposable and reusable menus, supporting social distancing guidelines, and helping reduce multi-touch items that can spread Covid-19 and other germs.

"We all want to reopen bars and restaurants but in the safest possible way," said Allen Cook, founder, and CEO of TOURtech. "Our technology provides a safe ordering for customers and staff so restaurant owners can focus on what they do best—giving people a great dining experience."

Touchless Menu technology is user-friendly for both businesses and customers. Learn more here.
International Business Times UK Covers Flytrex Story
The story about Flytrex's work in Holly Springs created a ripple effect in the media, having Fox News pick up the story, and now international coverage for North Carolina and Holly Springs. We are pleased to share that the article, Virus isolation pushes North Carolina town to use drones for meal deliveries and more was published in The International Business Times UK. The article highlights Flytrex's work in Holly Springs, in partnership with NCDOT and the FAA's UAS Integration Pilot Program. The article primarily cites comments/quotes from the original Fox News story, and links back to that original piece, as well.