PrecisionHawk Plans to Expand in Raleigh
Raleigh-based drone technology firm PrecisionHawk just announced a $32 million funder – led by venture investors such as Millennium Technology Value Partners, Third Point Ventures, Eastward Capital Partners and others. It's cash the company plans to use to further expand in the market, says PrecisionHawk CEO Michael Chasen. Much of the money will go toward building out its drone network, as well as further developing artificial intelligence and computer vision products in the energy, telecom, and agriculture space – technologies that analyze the data coming in from drones. Read more about PrecisionHawk's trajectory growth in the TBJ.
Raleigh Listed as one of Inc. Magazines Surge Cities 2020
Inc. magazine released the 50 Best U.S. Cities for Starting a Business in 2020 as part of its Surge Cities 2020 feature. Raleigh has continuously been named a Surge City, and this year is no different. The article mentions our world-class research universities, the success of our unicorn-status software company, Pendo, Dorothea Dix Park, and more.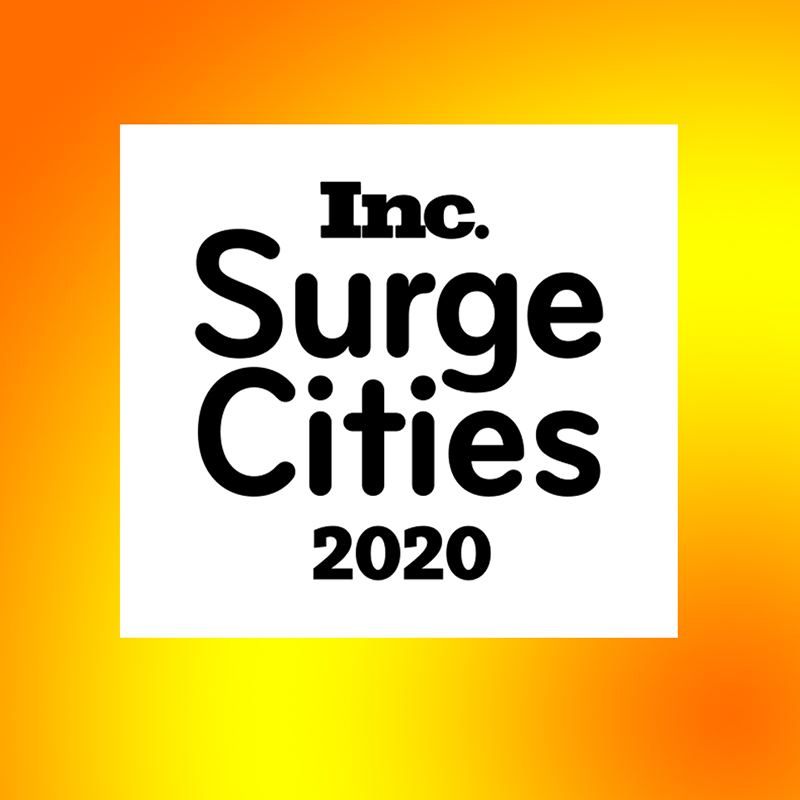 Southern Pride: A Guide to Raleigh's LGBTQ Scene
As part of our national media campaign, lifestyle reporter Annette Benedetti with Livability published an article featuring the Raleigh LGBTQ community, diverse and inclusive businesses, and community support resources. The article states "Raleigh offers the opportunity to gather with others who are thrilled to show their pride, celebrate and come together as a community in this vibrant Southern city." Read more of the article here.
50 Cities with Abundant Housing & Jobs - Raleigh Ranked #8
GoBankingRates analyzed more than 500 cities with populations of at least 50,000, then used home listing data from Zillow to identify which cities experienced an increase in listings from September 2018 to September 2019. Raleigh came in at No. 8 with the following stats:

- Number of new home listings in September 2019: 487
- Year-over-year change in home listings: 16.79%
- Number of employees: 651,200
- Year-over-year change in job growth: 3.2%
New York Times Recognizes Raleigh for Innovation
The New York Times features a new report that documents the concentration of cutting-edge industries in a few coastal areas, and why lawmakers ought to be alarmed. The report done by Brookings Institution and Rob Atkinson of the Information Technology and Innovation Foundation analyzes the top 20 cities that are dominating the business of innovation.
NC State University Named a Hot Spot for 5G Innovation
Earlier this year, the Research Triangle region was selected to host the country's third advanced wireless research facility. It's part of a nationwide effort to explore avenues for improving wireless communication, led by the National Science Foundation (NSF) and jointly coordinated by U.S. Ignite and Northeastern University. Over the next seven years, the NSF and an industry consortium are investing $100 million to build next-generation wireless research platforms across the country.

The goal? To accelerate the development and commercialization of promising technologies, ensuring our nation's leadership in wireless communications and preparing tomorrow's workforce. You can learn more about NC State University's involvement on their website.
Raleigh is the No.2 Tech Town of 2019
The second annual CompTIA Tech Town Index takes a deep dive into metropolitan areas across the country and analyzes where companies are hiring, estimated projected job growth, median annual salary and the average cost of living. The result is a ranked list of the 20 top cities for tech jobs where current and future IT pros can confidently find work, earn a lucrative salary and seek out a rewarding lifestyle. Raleigh was ranked as the No. 2 Tech Town of 2019.
SAS Partners with NC State Plant Sciences to Grow Food Supply
With deep roots at NC State University, SAS has announced a new partnership with NC State Plant Sciences along with creating a new agricultural technology business unit. With the world's population expected to hit 10 billion by 2050, nurturing and growing a secure and sustainable food supply is more important than ever. You can read the full press release on SAS's website.
New York Times Covers Research Triangle Park
When Research Triangle Park in North Carolina opened in 1959, its bucolic setting was considered a major selling point. With office buildings hidden behind grassy meadows and swaths of pine forest, the quiet development was viewed as a perfect spot for companies like IBM and RTI International. But tastes have changed, and to keep up, Research Triangle Park — the country's largest corporate research park — is finally changing as well. Projects such as Frontier RTP, a former IBM building with free co-working space has since expanded to three more buildings. Offering lower rates and smaller, flexible spaces that start-ups and young companies can use, Frontier RTP is now home to a third of the park's 300 companies. And in August, Research Triangle Park broke ground on the Boxyard RTP, a $7 million project that will turn repurposed shipping containers into a food and drink spot.

Learn more about the new development projects underway at the Research Triangle Park here.
Raleigh is the No. 10 Healthiest City in America
The MINDBODY Wellness Index ranks the health of the 50 top US cities (by population). How does the index rank them? A number of factors contribute to a city's score, including how much locals prioritize wellness and ultimately invest in it (including fitness, beauty/grooming, and integrative health services), their healthy habits, and the success of wellness businesses within the city.

Raleigh, like San Francisco and Seattle, has very few smokers. Seventy-six percent exercise at least once a week. Raleigh is also the HIIT capital of the US, with more HIIT enthusiasts per capita than any other top city.
FreshBooks – FinTech Firm Selects Raleigh for First U.S. Office
FreshBooks, a fast-growing fintech entrepreneurial company based in Canada and backed by banking giant JPMorgan Chase, is opening its first office in the US with HQ Raleigh serving as its host.The company, which focuses on accounting software and says it is the No. 2 player in that field among small businesses, mulled expansion to several cities before settling on the Triangle region.

"We considered a number of cities for our first U.S. office, but Raleigh and the Research Triangle area were the clear winner due to the region's strong talent and mature IT and tech community," said Scott Clugston, Senior Director of Sales at FreshBooks, in a statement. "We're eager to put down roots in Raleigh and to help more of America's small business owners grow and succeed."

Read the WRAL TechWire article for the rest of the story.
City of Raleigh Launches New Website
Raleigh is excited to announce that a completely new and improved RaleighNC.gov launched on 11/20/19. The effort has been years in the making, led by the Communications and Information Technology Departments, in collaboration with all departments citywide. The City's website is the top source for city info (as rated by 73 percent of residents in the 2018 Community Survey). The new site is modern and useful web platform to promote City services, improve community engagement, integrate third-party applications, and meet ADA best practices to ensure the information is accessible for all. Check out the new and improved RaleighNC.gov.
Wake Tech to Become HQ for National Entrepreneurship Organization
Wake Tech's Western Wake Campus, in Cary, will become the new corporate headquarters for the National Association for Community College Entrepreneurship (NACCE). The organization, a national leader in promoting and supporting entrepreneurship through community colleges, began in 2002. The NACCE's new home at Western Wake will house its leadership team and new hires, and serve as a training location for national and regional summits. It will officially open in February 2020 during National Entrepreneurship Week. Learn more about the partnership and entrepreneurship programs available on Wake Tech's website.
Raleigh's Walk West Mentioned in Inc. Article
The number of African American-owned businesses in America has ballooned in the past few years, increasing 37 percent between 2007 and 2012. While that overall growth is exceptional, some places served as prime breeding grounds for these entrepreneurs. Inc. Magazine released the Top States for African-American-Led companies, Raleigh's Walk West makes the cut. Walk West is one of four African-American-led companies that grew their collective three-year revenue 1,398 percent. Read the rest of the article here.
Emsi Ranks Wake County for Top Talent
Emsi, the industry leader in labor market insights, unveiled its 4th annual national Talent Attraction Scorecard, ranking the top small and large U.S. counties on how well they attract and retain skilled workers. In addition to the county rankings, the scorecard expands on a six-phase talent pipeline for short- and long-term workforce strategies that communities can implement to attract and develop talent. Wake County came in at No. 9.
Cary Makes History with Drone Delivery
The future has arrived in Wake County as UPS and CVS delivered prescription medication by drone for the first time anywhere in the country. "We now have an opportunity to offer different drone delivery solutions, tailored to meet customer needs for speed and convenience," said Scott Price, UPS chief strategy and transformation officer in a statement. Read the full story on ABC 11.
Duke, UNC, & NC State make Bloomberg's Best Business Schools in the U.S.
The Bloomberg Businessweek 2019—20 Best B-Schools ranking is based on 26,804 survey responses from MBA students, alumni, and recruiters in 2019 about their goals and experiences, as well as compensation and job-placement data from each school. See why three top-tier NC Universities made the list on Bloomberg's website.
Best Cities for Women in Biz? Raleigh Makes the List
Women-owned businesses in the United States employ almost 9 million people and account for some $1.7 trillion worth of sales per year.2 And only 39% of US businesses are owned by women, with some states having as few as 19% of their businesses owned by women—just imagine how high those numbers could be if more women started their own businesses. Read the business.org article to see where Raleigh placed in the top 20 list.
Haley Talks Jobs with the TBJ
The size of the pipeline is large when it comes to potential job recruitment for Wake County. The figures are 15,000 jobs and 47 companies that Wake County is trying to lure to the region, says Michael Haley, executive director of Wake County Economic Development. Read Michael's comments on jobs in Wake County in the Triangle Business Journal article.
TBJ Panel Features Michael Haley
The Triangle Business Journal held a panel on Tuesday, Oct. 29, to discuss the attraction and retention of the talent pipeline. Michael Haley, executive director of Wake County Economic Development, discussed the Triangle's business recruitment, retention, and expansion strategy when attracting talent.
Canada's Largest Newspaper Features Dix Park
As a result of the reporter visit several weeks ago (in partnership with the City of Raleigh), David Israelson published an article in Canada's largest newspaper, The Globe and Mail. The piece titled, "Cities turn to urban forests to combat climate change" includes several quotes on Dix Park, and has a slightly different angle focusing on the benefit of green space from a climate, and business perspective.
One of the main takeaways from the piece is the reminder that public parks have value beyond serving as a community gathering space, and that they act to revitalize a region, attract talent and business, increase livability, and help control/moderate climate change. Sean Malone, President, and CEO, of the Dorothea Dix Park Conservancy, have several quotes in the article that reflects the positive environmental impact a park has on a city and vice versa.
This article also reinforces Raleigh is at the forefront of a positive trend in the value of public greenspace and is compared to other large metros: Toronto, Halifax, and Winnipeg.
There have been several other great articles covering Dix Park - you can read them below:
Wake Med and UPS Partner for Medical Delivery Drone Project
UPS has launched an airline for life-saving medical deliveries, this is the first-ever approved drone airline, and used on Wake Med's campus. In partnership with the North Carolina Department of Transportation, drone companies and traffic management companies, WakeMed is one of only two health care systems in the United States testing long-range medical package delivery using drones. Watch NBC Nightly News to learn more about the drone delivery program in Raleigh.
Raleigh ranked in 30 Best Cities for Young Professionals
GOBankingRates released the 30 Best Cities for Young Professionals - Raleigh Ranks #6.
TBJ recaps our Trade Mission to Europe
The TBJ covers the highlights of our Trade Mission to London and the UK.
Pendo - North Carolina's Newest Unicorn
Pendo, headquartered in Raleigh, NC has raised a $100 million in a Series E round, giving the company "unicorn" status. Crunchbase News breaks down Pendo's capital funding, acquisition history, and product development that resulted in their newfound Unicorn status.
Is Raleigh following in Silicon Valley's footsteps?
Wral Techwire shares findings from an IoT panel presented at Innovate Raleigh's Summit. When asked if Raleigh is tracking the same path as Silicon Valley, Dr. Sarah Glova, director of Growth and Communications with RIoT answered, yes.

"IoT is absolutely our revolution," said Glova, who presented her findings at the recent Innovate Raleigh Summit at Union Station. "For us, like Santa Clara had silicon and the semiconductor industry and the computer industry, Raleigh has IoT and wireless expertise, and everything that we need to make this a center of excellence."
The Triangle is No.2 Hottest Real Estate Market
The 41st annual report from the Urban Land Institute and PricewaterhouseCoopers cites a wide variety of factors, from tech jobs to real estate investment, in calculating the ratings. The report stated on the Triangle's high ranking, " This market's concentration of educational institutions— Duke University, the University of North Carolina, North Carolina State University, and several smaller colleges—coupled with the Research Triangle Park, has branded the area as a technology mecca, and it now has more than 89,000 tech jobs, which, at 10.9 percent of the employment base, ranks third behind Silicon Valley and San Francisco in tech industry share, according to a recent Tech Cities report."
Read more on the report here.
Cary-Based Epic Games to Expand
Epic Games is expanding its Cary headquarters with a new facility that will add extra work and recreational spaces for employees. "We are elated that Epic Games is expanding their Cary headquarters," said Harold Weinbrecht, Mayor of the Town of Cary. "We know that Epic could locate anywhere in the world, and we're grateful that they've chosen to continue to call Cary home."
Watch ABC 11 for more coverage on the expansion.
Top 10 Cities Where Techies Can Afford to Live - Raleigh Ranks No. 8
SF Gate examined the 500 largest U.S. metropolitan areas, which include the main cities and surrounding towns, and used the following criteria to rank them: number of people employed in the tech sector, number of public tech companies, percentage of tech job listings, average tech job salaries and median home list prices.

When ranking Raleigh, the article said, " Raleigh, along with Durham and Chapel Hill, is part of the famous Research Triangle, a trifecta of world-class educational institutions. In fact, it's one of the most educated communities in the country—and tech is a healthy part of the job mix. According to commercial real estate firm CBRE's Tech Talent Scorecard, 6.6% of employment in the Raleigh-Durham area is tech talent, nearly double the national average of 3.5%."
RDU International Airport Elevated from Medium to Large Airport
Record-setting passenger growth elevated Raleigh-Durham International Airport from a medium to large airport in a 2019 J.D. Power study of North American airports. RDU ranked fifth in passenger satisfaction in its new category.

"We are thrilled that passengers consider RDU one of the top five best large airports in North America," said Michael Landguth, president and CEO of the Raleigh-Durham Airport Authority. "We strive to provide a world-class airport experience and we are continuing to upgrade our facilities and amenities to make traveling through RDU even easier and more welcoming."
5 Things You Need To Do in Raleigh
Budget Travel released an article with the Top 5 Things To Do in Raleigh, North Carolina.
"North Carolina is known for its destination-worthy beaches and dynastic college basketball teams, among other things. Home to North Carolina State University, not to mention world-class cuisine, standout arts organizations, and all the fun and games you'd hope to find in a college community, the easternmost point in the state's famed Triangle deserves a deeper look."

Read the rest of the article listing highlights for anyone visiting Raleigh here.
Black Entrepreneurship Week Successes
The Carolina Small Business Development Fund and Shaw University's Innovation and Entrepreneurship Center held their third annual Black Entrepreneurship Week on Sept. 16- 20. The program aims to capture the strength of diversity in entrepreneurship. More than 20 free sessions were planned, including workshops, panels, networking events and keynotes.

Danya Perry, Wake County Economic Development's director of Equitable Economic Development, served on the judge's panel. Danya said supporting black entrepreneurship is a "critical piece" of smart economic development."This is our community, and we want to make sure our business community is representative of our community. That's why it's a critical piece."

Read more about Black Entrepreneurship Week here.
Garner, NC, The Gem Next Door To Raleigh
Just a hop, skip, and a jump from downtown Raleigh—10 minutes to be exact—sits the town of Garner, North Carolina, a community of over 33,000 residents that is the 13th fastest-growing municipality in the state. Garner is becoming increasingly connected to downtown Raleigh given recent development patterns, and GoTriangle's eventual bus rapid transit service will offer better transit options for those going back and forth between the neighboring municipalities. Read more about Garner's diversity of business and community.
Refrigeration Startup Heating up in Raleigh
Phononic found its first home at NC State. Now, the startup's innovative solid-state cooling technology is heating up the refrigeration industry. Read the full story on Phononic.
Business Insider calls Dix Park the next 'Central Park'
As a result of our in-person meeting during the New York City media tour last month, Aria Bendix published a Business Insider article featuring Dorothea Dix Park titled, "The site of an abandoned mental hospital in North Carolina is being transformed into the next 'Central Park.' Take a look."
The article includes multiple quotes from Ashley Cagle and Veronica Creech, both of which were able to provide key insight into the thoughtful planning of Dix Park and the City's growth story.

"The city's goal is to create a space that connects many types of residents in Raleigh, from artists to techies to athletes. Local officials told Business Insider that they also hope to establish Raleigh as a place outsiders want to live and work."

Business Insider has around 28 million unique visitors each month. The article also features quotes that speak to our smart growth, inclusivity, and desire for Dorothea Dix Park to unite the community.
Business Insider Covers Raleigh & Dix Park
Local leaders, Ashley Cagle, Assistant Executive Director of Wake County Economic Development and Veronica Creech, Director of Economic Development for the City of Raleigh, sat down with Business Insider to discuss Raleigh and Dix Park. Ashley and Veronica shared information about smart growth, inclusivity, and the desire for Dorothea Dix Park to unite the community. You can read the full article here.
Raleigh Ranks No. 1 on 2019's Best & Worst Cities to Drive in

Raleigh ranks number one in WalletHub's Best & Worst Cities to Drive in compared the 100 largest cities across 30 key indicators of driver-friendliness. The data set ranges from average gas prices to annual hours in traffic congestion per auto commuter to auto-repair shops per capita.
Fast-growing D.C. Digital Firm Relocates HQ to Raleigh and Wants to Hire You
Go Fish Digital, a marketing agency with big-name clients like GEICO, United Way, and Adobe, has moved from Washington, D.C. to the Oak City.As part of its relocation, the firm has scaled up its workforce by almost 50 percent — from 25 to 39 employees, with 14 new hires. It has also added jobs to the local economy with its employee relocation.
"We had read several studies referencing the strong tech-oriented workforce here in Raleigh and were impressed by the talent coming out of the many universities in the Triangle. So we opened a small office as a test," the company's chief operations officer Daniel Russell told WRAL TechWire.
"It turned out that we were able to scale here much quicker than we originally anticipated – and much quicker than in DC, finding top talent and people that perfectly matched our culture.
Silicon Valley Cybersecurity Firm Picks Raleigh for Second HQ

The Silicon Valley-based cybersecurity firm Agari has picked the Oak City for its new innovation hub, with the average salary: $130,000 a year. "The jobs represent high-wage positions, spanning software developers, product leaders, and customer success professionals," Agari's chief marketing officer Armen Najarian told WRAL TechWire. If you are looking for a job in the Triangle region, then you will want to check out this new company. Read more.
Where do College Grads Live? Raleigh.
Talent, or what economists refer to as human capital, is a key driver of economic growth. A wide body of studies documents the role of education in the economic growth of cities, regions and nations. But, talent has increasingly concentrated in a relatively small number of cities, leading to a growing divergence in talent across places. Read more.
The Research Triangle Featured in "Local's Guide" Video Series
Berkshire Hathaway HomeServices (Carolinas Realty) has kicked off a five-part video series in partnership with Our State magazine. Episode two features "Top Spots" in the Reserach Triangle region. Watch the video.
Advance Auto Parts Names North Hills Tower Home
Advance Auto Parts, the national auto parts retailer that officially moved its corporate headquarters to Raleigh last year, plans to take up seven floors in Kane Realty's newest North Hills tower. Read more.
Talent & Infrastructure Drive Life Science Success in the Region
The Triangle owes its high status as a life sciences cluster to talented workers and plenty of space -- lab space, that is. The Raleigh-Durham metropolitan area falls behind only Boston, San Francisco, and San Diego, according to an annual report from commercial real estate company JLL. But despite its high ranking, the Triangle has a long way to go before competing for the top slots. Read more.
Homegrown Tech Company Continues Massive Success
Bandwidth's CEO and founder David Morken can basically sum up his company's crazy trajectory since its inception into one sentence: "We're a 20-year overnight success."Back in 1999, he was a young attorney-turned-entrepreneur, fresh from serving in the Marine Corps as an advocate judge, when he founded the Raleigh-based software communications company in a "spare bedroom." Read more.
Triangle Cities Make "Best Real Estate" List
WalletHub, a finance-focused website, recently did a study to determine the strongest markets for real estate. Several Triangle cities made the top 50 list - Durham, Cary, and Raleigh. Read more.
Raleigh-Based Manufacturer Schmalz Inc. Announces Major Headquarters Expansion

Schmalz Inc., headquartered in Raleigh, North Carolina, announced the expansion of the Oak Forest Drive location on Wednesday, Aug. 28. Schmalz Inc. is the global leader in vacuum automation products, robotic end-of-arm vacuum gripper tools, material-handling vacuum lifters, and CNC vacuum clamping tools. The manufacturer has been growing rapidly since it was founded in Raleigh 19 years ago. Read more.
Raleigh Ranks #5 for Best Cities for Female Entrepreneurs
Raleigh is an up-and-coming startup city that lands at No. 5 for the best cities for female entrepreneurs. Known for being a city of research thanks to its positioning near three major research universities and the famed tech-centric "Research Triangle Park," it's also a great city for female entrepreneurs looking to break into business — particularly in tech and innovation. It also has a below-average 3% corporate tax rate and an affordable cost of living. Learn more about the ranking here.
Xerox to Bring 600 Jobs to Wake County
Xerox, a global corporation that provides workplace and digital printing solutions, announced it will open a "Center of Excellence" in Wake County. The town of Cary will welcome 600 new jobs along with $18.4 million investment. The announcement was made at the Capitol building on Tuesday, August 18. Governor Cooper made the official announcement and noted talent and fast growth as major decision factors. Read more.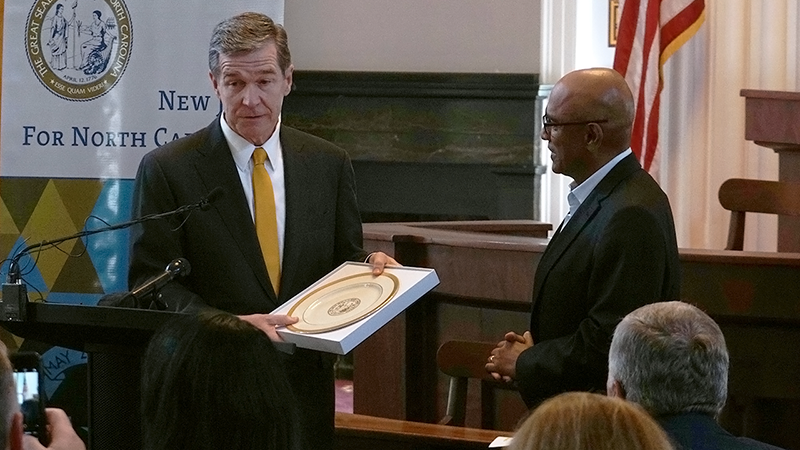 Wake County Economic Development was proud to partner with the Town of Cary and many others to welcome Xerox to the region.
Business Facilities Ranks Raleigh
Business Facilities magazine recently released the 2019 metro rankings report and ranked the "Raleigh-Durham" metro in several prominent categories. See below for rankings.

Raleigh-Durham combined metro is ranked #7 Metro for Economic Growth Potential (large metros)
#9 Start Up Ecosystem
Raleigh Metro #8 for STEM Jobs Leaders and Durham-Chapel Hill #5 for STEM Jobs Leaders
Wake County #4 Wage Growth Leaders
Raleigh Metro #5 Top Tech Hubs (Concentration of Employment)
Apex #3 Fastest Growing Mid-Sized community

Read the full report.
Research Triangle Companies Make Forbes "Best Employers" List
SAS Institute continues to live up to its reputation as a good place to work according to a new list of best employers. For its inaugural list of "America's best Employers by State," Forbes listed the Cary-based business software firm as the top employer to work for in North Carolina. Other regional giants like Duke Energy and Cisco Systems followed close behind in the recently published list.
NC State and HQ Raleigh Partner to Promote Entrepreneurship
NC State Centennial Campus and HQ Raleigh have teamed up to create the ultimate co-working space on campus.
Town of Cary Continues Smart City Movement
If you drive around the Town of Cary, there's a good chance you won't notice the technology that surrounds you. "We want to make the technology so seamless (that) they really don't know that's it's there," said Nicole Raimundo, Cary's Information Technology chief information officer.
Research Triangle Leads Nation in NIH Funding
A recent study by the State Science & Technology Institute (SSTI) reported that the Durham-Chapel Hill metropolitan area led the nation last year in per-capita funding from the National Institutes of Health (NIH). NIH is the medical research agency housed within the U.S. Department of Health and Human Services.
Danya Perry Featured on Podcast Raleigh
Interested in learning more about equitable economic development? Listen to Podcast Raleigh's new podcast with Danya Perry where he discusses vulnerable communities, economic mobility, and inclusive prosperity.
WRAL Techwire Features The State of Foreign Direct Investment Event
This year's State of Foreign Direct Investment hosted more than 100 people at the Brier Creek Country Club to hear Keynote speaker, Marek Gootman. Gootman spoke on how local companies can position themselves to compete and grow on a global scale. Read more on the success of the event in WRAL Techwire.
Raleigh Ranks in the Top 10 Tech Talent Markets
Raleigh-Durham proves once again it's a leading tech market. The city ranked in the Top 10 on CBRE's annual Scoring Tech Talent.
Virgin Hyperloop One CEO Says Technology Will Turn NC Cities Into Metro Stops
North Carolina's high-tech Research Triangle may get even more advanced in years to come.

The Tar Heel State announced on Friday that it is exploring options to bring Virgin Hyperloop One technology to the Raleigh-Durham-Chapel Hill corridor, which has grown into a hub for technology companies and research universities.

"You can literally begin to start thinking about the cities like they're metro stops," Jay Walder, the CEO of Virgin Hyperloop One, told Cheddar. North Carolina's inquiry makes it the ninth state to explore hyperloop as a potential regional transportation system. Read more.
North Carolina Named #3 Best State for Business in America
The CNBC America's Top States for Business study, conducted every year since 2007, ranks all 50 states for business competitiveness using more than 60 metrics in 10 categories including Workforce, Economy, Quality of Life, and Cost of Doing Business. Read more.
The Nation's Most Exciting Park Project is Taking Shape in
North Carolina
If you've ever wondered how different cities' signature parks, like New York's Central Park or Chicago's Lincoln Park, would look if they were designed in the 21st century, keep your eyes on Raleigh, North Carolina. Dorothea Dix Park, currently taking shape on a former mental hospital campus adjacent to the southern city's growing downtown, may be the nation's most exciting park project right now. It's being described as the Central Park of North Carolina—and it's not hard to see why. Read more.
Historic Mental Hospital Will Transform Into North Carolina's "Central Park"
ArchDaily features story on Dorothea Dix Park in Raleigh, North Carolina. The article states this is the largest park project in the United States.
NEW Office Space Open at HQ Raleigh!
In July, HQ is opening 23,000 sqft of coworking, classroom and office space in the heart of NC State's Centennial Campus. This unique partnership with NC State will bring together students, academic organizations, start-ups, and established companies to collaborate and share resources.

In September, HQ Raleigh is also opening a 21,000 sqft coworking and office space as a part of an exciting new renovation of the Gateway Plaza, located just north of downtown Raleigh off of Capital Boulevard. Gateway offers office space (and parking!) for teams of all sizes and stages. This innovative new space is the first of its kind in the Raleigh area. As a destination site, it houses not only a coworking space but also a coffee shop, brewery, restaurants, gym, and a daycare facility.

HQ's new and existing spaces offer flexible lease teams, a professional network of entrepreneurs, and a variety of resources for companies at all stages. HQ is perfect for early-stage start-ups, mid-size growing companies, and even larger established companies who are looking to lay deep roots in our community. To learn more about HQ Gateway or HQ Centennial, reach out to leasing@hqraleigh.com.