Raleigh Makes Top 20 List for Best Run Cities in America
WalletHub recently ranked the top 150 best and worst run cities in the U.S. With Nampa, ID coming in at number 1 and Washington, DC coming in last place at 150, Raleigh fit in at number 16 just below Durham and above Greensboro.
WCED Director of Equitable Economic Development Featured in Walter Magazine
Walter Magazine features Danya Perry's work on economic mobility, small business growth, diversity, equity & inclusivity & workforce development. Read more about Danya's work for the community here.
Raleigh Startup Opens New HQ
Insightsoftware, a startup launched only a year ago, is off to a roaring start. The company, which focuses on enterprise resource planning and enterprise performance management solutions, on Tuesday opened the doors to a new 32,000 square foot headquarters at the Highwoods Properties Forum complex. Insightsoftware also is looking to hire with 40 open positions currently – largely in sales, engineering and development – as demand grows for its ERP and EPM solutions. The company already has grown to 200 employees. Mike Lipps, CEO at insightsoftware shared in the excitement of the announcement –

"The last year has been an incredible journey of accelerated growth and opportunity, and Raleigh has been the perfect worldwide headquarters location to support that progress," said Mike Lipps, CEO at insightsoftware. "We believe the Triangle area is a hub of technology innovation and knowledge that rivals Silicon Valley, and insightsoftware is extremely fortunate to have access to this talent pool as we continue to expand our business and deliver more value for customers and partners around the world."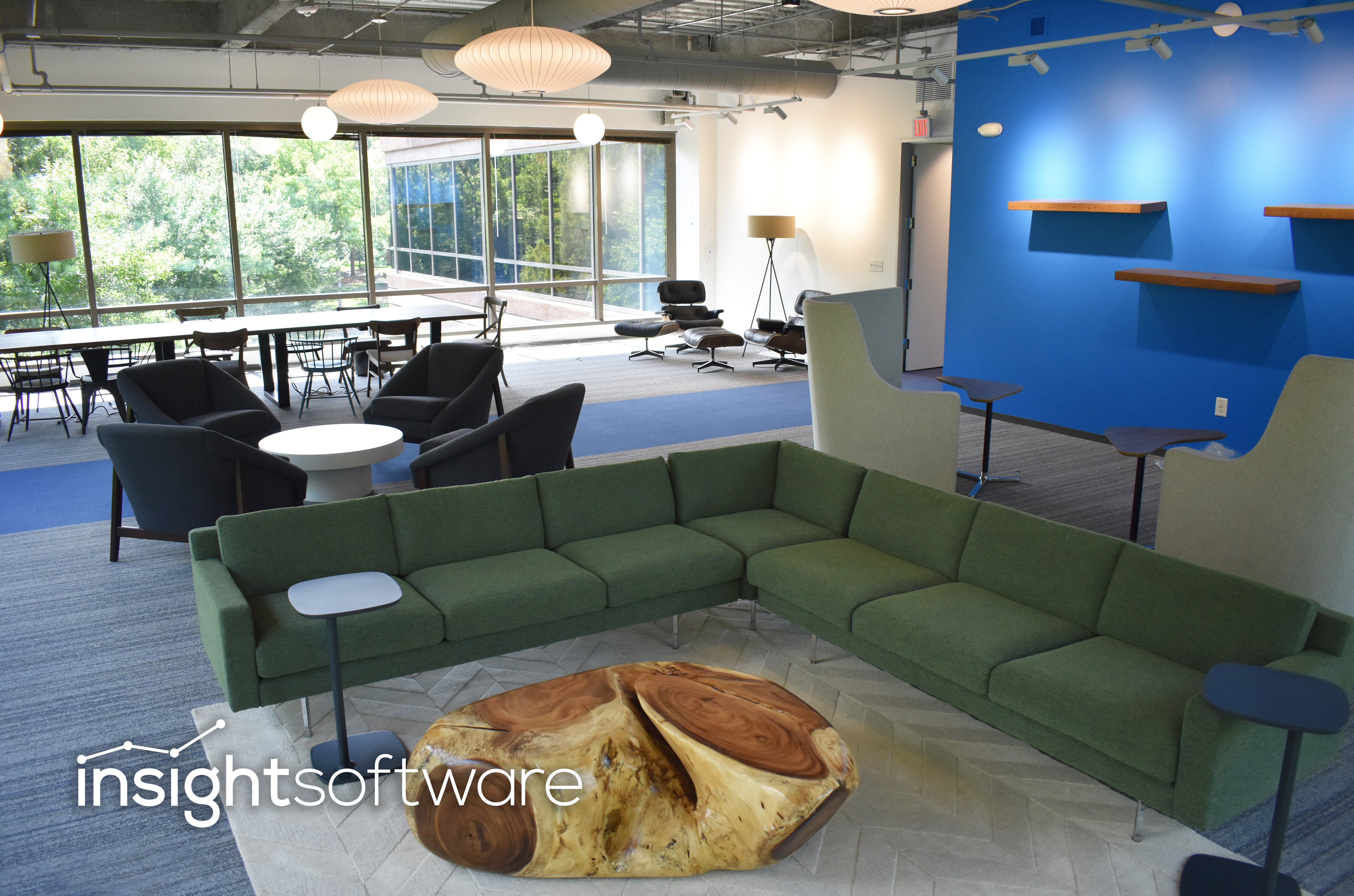 SAS Earns Spot on Computerworld's 100 Best Places to Work in IT
The Best Places to Work in IT list is an annual ranking of the top 100 work environments for technology professionals by IDG's Computerworld. The list is compiled based on a comprehensive questionnaire regarding company offerings in categories such as benefits, career development, training, and retention. Read SAS press release here.
Raleigh Ranked in Top 3
SmartAsset, a publication that reports on finances, recently ranked Raleigh in the top 3 "Best American Cities to Work in Tech." Read more.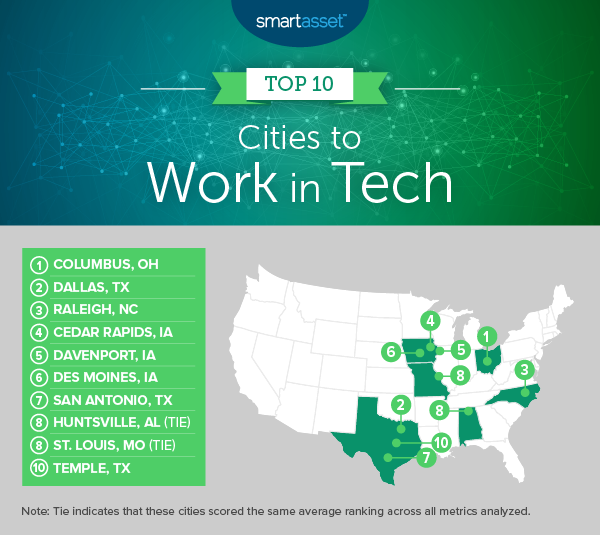 Michael Haley Wins Major Award
We are excited to share that Michael Haley has been named "Economic Developer of the Year" by the North Carolina Economic Development Association (NCEDA). The NCEDA team announced this award at the annual conference, taking place in Beaufort, NC.

Each year, the award goes to an Economic Development professional in North Carolina based on the following criteria: NCEDA member who made significant and measurable contributions to economic development. Michael is in his second year as the Executive Director for Wake County Economic Development and has been a true leader for Wake County and the Research Triangle region.
Michael has been directly involved with many initiatives and project wins over the past few years. Most notably, Michael helped welcome Infosys to Raleigh and Advance Auto. He also played a large role in helping Pendo name Raleigh the headquarter location. You can see a full recap of 2018 here. Michael was also recently named to the Consultant Connect Top 50 Economic Developer list in May of 2019.
Please join us in helping celebrate another award for Michael. His impact is truly felt across the state of North Carolina. Congratulations, Michael!
You can see past winners of the award here.
Wake Tech Named No. 1 Online Community College in the U.S.
Wake Technical Community College is ranked number one best community college online in the country. "No other online community college can compete with the sheer number of distance ed. degrees and certificates that Wake Technical offers". Read WRAL's article on the ranking here.
Bloomberg Covers Talent-Dense Cities
One of our major competitive advantages is the density of talent living in the Research Triangle region. A recent article in Bloomberg shared where the best and the brightest are living and Raleigh and Durham were included. Read more.



Why Entrepreneurs Are Choosing Fuquay-Varina
Sitting just 20 miles southwest of downtown Raleigh is the Town of Fuquay-Varina, which has become a hotbed for economic development, startup business growth, innovative technology companies, and much more. Read WRAL's story on entrepreneurship in Fuquay-Varina here.

Raleigh Tech Company Selects New Location
Pendo, a Raleigh-based tech company, will put its new headquarters and logo atop the new 19-story 301 Hillsborough. Pendo recently announced the designation of Raleigh as the offical headquarter location and will add 590 new jobs. Read more.

Ashley Cagle Featured on Podcast
Assistant Executive Director, Ashley Cagle, joined Nick Riashi with Consultant Connect to talk about her journey in economic development and how she manages her life at work and home. Listen here.
Forbes Features Raleigh CEO & Entrepreneur, Jon Hayes with RewardStock
Forbes spotlights Raleigh native's entrepreneurship story, read more here.
TBJ Covers the ED Forum
TBJ shares an article capturing our ED Forum event that occurred on Wednesday, May 15. Read more about the ED Forum here.
CEO of Republic Wireless Shares His Raleigh Success Story
Entrepreneur and CEO of Republic Wireless, Chris Chuang shares how moving from Silicon Valley to Raleigh, NC improved his work-life balance and accelerated his career. Read more about his success here.

Raleigh Ranked Among Leading Tech Hubs
Nearly a third of the tech jobs posted on Indeed last year were located in just eight metro areas with a population of at least 1 million. These tech hubs are much more similar than different: Six of them are on the east or west coast. All lean left politically. But only one—Raleigh, North Carolina—has a cost of living below the national average. Read More.
Report Shows Growth in Life Science Industry
North Carolina's 50 percent life science employment increase was fourth-highest nationally in the decade and a half through 2016. That compares to a 12 percent growth in the state's overall private sector since 2001, "and has far exceeded the pace of national (life science) industry growth of nearly 19 percent." Read More.
Indeed Reports on Advantages of Mid-Size Tech Hubs
Indeed article releases report on the advantages mid-size tech hubs have over larger tech hubs. Read more.
Innovate Raleigh Announces New Partnership
Innovate Raleigh has announced a new journalism partnership with the News & Observer. Read more.
Pendo Named No. 1 Privately-held Cloud Company to Work for
Battery Ventures is released its annual list of best cloud computing companies to work for, Pendo ranks first among private companies. The list highlights 50 privately-held companies—all B2B cloud computing companies—where employees report the highest levels of satisfaction at work, according to employee feedback shared on Glassdoor. Read more.
Planning for Talent in 2020
Learn about Work in the Triangle and all of the resources it provides. Read more.
PrecisionHawk HQ Moves to Downtown Raleigh
A fast-growing drone technology company has tapped downtown Raleigh for its new headquarters – a move that means more jobs on the Glenwood South section of downtown Raleigh. Read more.
IBM & NC State Create First University-Based IBM Q-Hub
IBM & NC State collaborate to create the next generation of Quantum computing workers. Read more.
Raleigh's Largest Park Looks at Equity as City Booms
Next City recognizes Dorothea Dix's Master Plan to focus on equity & inclusivity for the development of the park.
Raleigh Magazine Covers SXSW Trip
Raleigh Magazine covered our team's trip to Austin, Texas to attend South by Southwest. See the short write-up below:

Last month, Raleigh traveled to Austin with some local art in tow! A team comprised of members from Wake County Economic Development, the City of Raleigh and the Greater Raleigh Convention and Visitors Bureau (Visit Raleigh) traveled to Texas for the South by Southwest Trade Show (SXSW). Gino Reyes and his team at The Assembly and the Raleigh Murals Project created this artful backdrop for the travelers, with the theme "Picture Yourself in Raleigh." The mural was designed to depict the depth of Raleigh's ecosystem and its culture of community. At SXSW, Raleigh leaders had the opportunity to share the city's story with a global audience and to interact with top talent, as well as with companies and startups potentially looking for a new home.
Cary Town Council Adopts Downtown Cary Park Master Plan
The Cary Town Council has officially adopted the Downtown Cary Park Master Plan, the latest step towards creating an iconic public space in Downtown Cary. The Downtown Cary Park Master Plan will be developed by the Office of James Burnett Landscape Architecture (OJB). The design of the Downtown Cary Park will begin May of this year and is expected to be completed in 2020.
To learn more about the Downtown Cary Park Master Plan click here.
WakeMed Introduces Drone Delivery Program
A pioneering use of drones to fly blood samples across a North Carolina hospital campus launched Tuesday in the latest move to expand their roles in business and health care. Read more.
ABC 11 Talks Diverse Growth in the Triangle
The Triangle continues to be one of the fastest growing areas in the country and African Americans are making a major contribution. Black-owned businesses are growing and adding diverse businesses to our communities. Danya Perry, Director of Equitable Economic Development is helping promote the importance of diversity in our community and the workplace. Read more.
Cary-Based SAS Making Major Investment
SAS announces $1 Billion investment in Artificial Intelligence (AI). Read more.
Tom Snyder of RIoT Covers SXSW Trip
Tom Snyder, executive director of RIoT, the Raleigh-based Internet of Things users group, salutes a delegation of Raleigh and Wake County representatives for their efforts to represent the N.C. capital at South by Southwest. Read more.
Toursim Talk Blog Covers SXSW Trip
The story of Raleigh, N.C., at South by Southwest (SXSW) 2019 is one of collaboration. We talk about Raleigh being "a city that prides itself on our collaborative spirit," which I suspect many cities say about themselves, but not so many do. Read more.
Cellectis CEO Talks Talent in Wake County
Cellectis' CEO Dr André Choulika, says his company choose Raleigh over other cities in the country for three reasons: a pre-built building that peaked their interest, a deep talent pool, and a thriving biopharmaceutical industry – one that is thriving without tension. Read more.

French Life Sciences Company Joins Wake County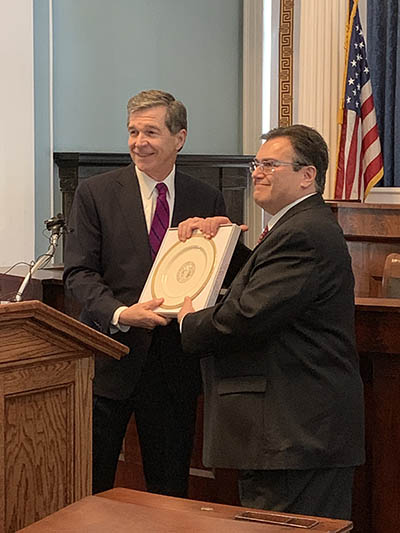 On Thursday, March 7, Governor Cooper announced French-owned company Cellectis Biologics, will be opening its first North American Manufacturing facility in Wake County, bringing 200 jobs and $68.6 million investment to the region. Cellectis, a life sciences company, will join over 700 foreign-owned companies in the Research Triangle region. You can read the formal press release here.

Cellectis will join a thriving life sciences sector in Wake County and will create a variety of positions with salaries ranging around $100k. The Research Triangle region continues to be a leader in the life sciences cluster with access to resources, talent, infrastructure, and XXX existing life science companies. Michael Haley shared the following:

"We are honored to be part of Cellectis journey in providing the next generation of cancer therapies. Wake County has a strong history in life sciences and supporting foreign-owned companies – we know Cellectis will find the best talent and resources in Wake County."

You can read the formal press release here.

EdScoop Features NC State Quantum Computing Hub
To accelerate the development of quantum computing, North Carolina State University and IBM are putting the technology in the hands of the the future workforce of the field — college students. New curriculum and research on quantum computing, enabled by IBM's first university-based quantum computing hub in North America at NC State, is introducing students to the technology that experts say will shape computing in the coming years. Read more.

Raleigh Named on WalletHub List
State capitals aren't just for lawmaking. Often, they're thriving cities with a lot of economic and cultural value. Raleigh has been ranked in the top 5. Read more.

Adrienne Cole Wins Again
The Triangle Business Journal has revealed its 2019 class of CEO of the Year Awards winners. Raleigh Chamber CEO, Adrienne Cole, has been named to the 2019 CEO of the Year list. Adrienne also recently was named part of Business North Carolina's "Power 100." You can read more about Adrienne Cole here.

NC State and Infosys Collaborate to Develop Future Data Science Workforce
NC State is entering into a three-year collaboration with Infosys, a global leader in consulting, technology and next-generation services, to help prepare the workforce of the future in data science by advancing employee education and skills development.

Triangle Business Journal Recognizes 3 Triangle Executives
The Business Journals' Influencers series spotlights 100 executives who stand to be in the headlines throughout 2019 in cities across the country. Cindy Eckert, Abbit Goodwin, and Deverre Lierman from the Triangle were recognized.

Adrienne Cole Lands on 2019's Power 100 List by Business NC
Adrienne Cole, President, and CEO, Greater Raleigh Chamber of Commerce was named a "craven success" by Business NC. Under Cole's leadership, the Triangle's largest nonprofit business membership organization has announced more than 20 corporate relocations and expansions
totaling more than $250 million in capital investment and creating more than 5,000 jobs.


Ashley Cagle Wins 40 Under 40 Award in Economic Development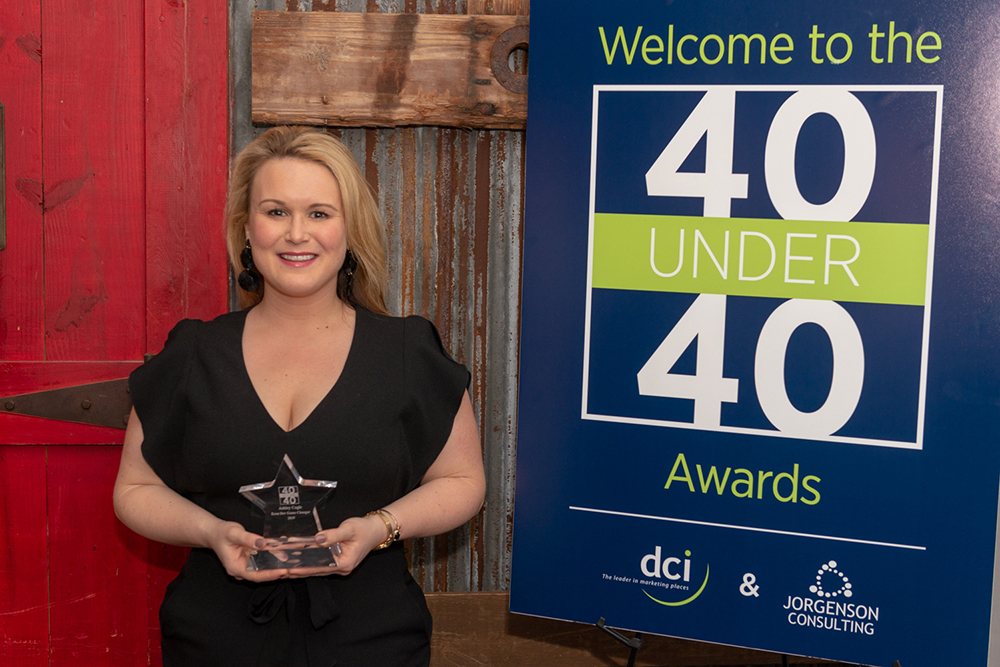 On Sunday, Jan. 27, Ashley Cagle became the second member of the Wake County Economic Development team to accept the Economic Development 40 Under 40 award. Read more.

TrialCard Continues Aggressive Growth
Continuing its aggressive growth strategy, a Triangle-area technology company has acquired a Raleigh medical tech firm. Read more.
LexisNexis Shares Love for Triangle
Jeff Pfeifer, Raleigh Site Leader and Vice President of Product Management for LexisNexis shares his love for the Triangle region. Read more.
Why You Should Visit Raleigh
The Washington Post says Raleigh is "Sneaky Cool" in a monthly series highlighting the "best vacation destinations you've probably never considered". Featuring local restaurants, breweries, parks and more!
TechWire Features Holly Springs Seqirus Success Story
People in the Triangle area may still be sleeping on Holly Springs, but Holly Springs hasn't waited for people to wake up and smell the coffee — or in this case, the economic possibility.
Seqirus, RoviSys, UNC Rex Healthcare — collectively, these big name companies employ thousands of people and each has operation based in Holly Springs, a town just southwest of Raleigh that has seen an explosive population growth of almost 200 percent in just 15 years. Read more.
Local Tech Company to Expand - Again
Raleigh communications technology firm Bandwidth is expanding at N.C. State University's Centennial Campus. Read more.
Cary Company Reaches $1 Billion
After several major accomplishments, Cary-based company, LORD Corporation secures $1 billion in sales. Read more.
Wake County Company TrialCard Has Transformational Year
Mark Bouck, President, and CEO of pharmaceutical solutions provider TrialCard Incorporated, today released the company's 2018 annual highlights, detailing the organization's impressive growth and performance over the past year. Read more.
America's 50 Best Cities to Live In - Morrisville, NC
24/7 Wall St. created an index of over two dozen measures to identify the best city to live in each state based off of affordability, economy, quality of life, and community. Morrisville offers close access to each of the three universities and is one of the fastest-growing communities in the entire country. Read more.
How the Triangle's Local Tech Talent is Impacting Commercial Real Estate
When people think about explosive city growth, they often think about the population increase and where everyone is going to live. Read more.
Raleigh-startup Adds Jobs & HQ Designation
Pendo, a growing technology company founded in Raleigh, will more than triple its local operations over the next five years, adding 590 jobs and investing $34.5 million in Wake County. Read more.
Press Release from Gov. Cooper on Advance Auto Expansion
RALEIGH: Advance Auto Parts, Inc., (NYSE: AAP) will designate Raleigh as its corporate headquarters and expand operations in Wake County by adding up to 435 new jobs over five years, Governor Roy Cooper announced today. These roles will enable the company to add value for customers and shareholders and enhance its omnichannel business. Advance's long-term integration plans and continued development of technology, eCommerce and digital platforms will be led in large part by teams based in Raleigh. Read more.
Raleigh Restaurant Featured on the Today Show
A Place at the Table a local restaurant in Raleigh, North Carolina, is founded by 27-year-old Maggie Kane. This restaurant allows customers to pay what they can, in order to help those struggling. Read more about Maggie Kane and her story here.
The 10 Best Big Cities to Live in Right Now (Raleigh #2)
Raleigh recently ranked as the second-best big city to live in America alongside other metros such as Austin, TX, Virginia Beach, VA, and San Diego, CA.
Michael Haley Talks about Projects with WRAL TechWire
Michael Haley, Executive Director of WCED, and Senior Vice President of the Greater Raleigh Chamber of Commerce informed the media on the strong talent pipeline growing in the Triangle region. Read the full WRAL TechWire article here.
Bee Downtown Lands Leigh-Kathryn Bonner On Forbes
30 Under 30
Fourth-generation beekeeper, Leigh-Kathryn Bonner founded Bee Downtown in Durham, NC to save the dwindling honeybee population, while simultaneously providing corporations with a novel approach to sustainability. Read more.
Jon Hayes, CEO of Raleigh-Born Company Pitches Start-Up
to Shark Tank
Tune in to ABC this Sunday from 9:00-10:00 p.m. ET/PT to watch local Raleigh entrepreneur pitch his company, Reward Stock to the Sharks. RewardStock provides personalized strategies to pay for travel with reward points. Read more.
Raleigh Ranks as the 4th Best City for Veterans
Raleigh recently ranked as the 4th best city for veterans alongside other metros like San Antonio, TX, Lincoln, NE, and Arlington, TX. Read more.

Raleigh Ranks High on Forbes List

Four cities from North Carolina ranked in the top 15 of the Forbes "Best Place for Business & Careers" list. Raleigh ranked at number 2, just behind Seattle. Read more.
Raleigh Ranks #8 on Top U.S. Cities For Finding A Job
Glassdoor recently ranked 25 cities to determine the best for finding a job, Raleigh ranked #8.
Read more.
RDU adds New Nonstop International Flight
Raleigh-Durham International Airport has scored its seventh nonstop international destination. Nonstop flights to Montreal will begin June 3rd, 2019. Read more.
Union Station Featured in Livability
Union Station, located in the heart of the Warehouse District in downtown Raleigh was featured in an article titled "Rail Reinvented: 8 Train Stations With Awesome Comeback Stories." Read more.
Raleigh named in the Top 15 Cities for Women Entrepreneurs
Coming in at number 11, Raleigh appeared on a list from Magnify Money as a top location for women entrepreneurs. Read more.
WCED's Ashley Cagle Receives Award for Leadership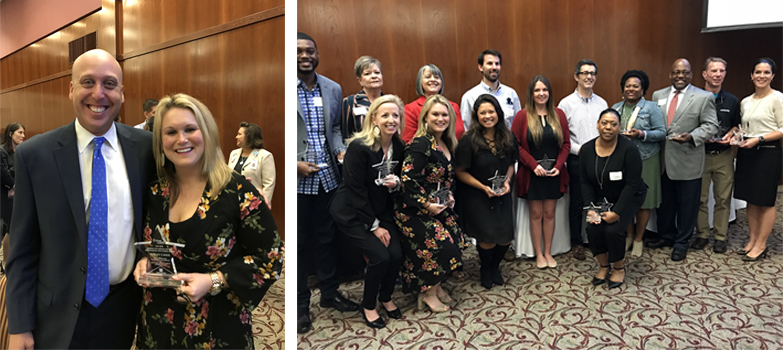 During the Wake County Public School System Superintendents Breakfast, Ashley Cagle, assistant executive director for Wake County Economic Development, was honored for her outstanding leadership as a volunteer for WCPSS School-to-Career Council. Ashley is a dedicated advocate for K-12 education and the involvement of business with education programs. Over the summer, she was instrumental in connecting area businesses with educators as part of Wake County's Public School's first-ever CTE teacher immersion day.
---

$40M funder to accelerate WalkMe's growth in Raleigh
After announcing the move to a new space, WalkMe receives more good news with announcement of an additional $40 million in funding. Read more.
Raleigh Makes New List
Major news outlet CNBC recently included Raleigh in a top ten list of cities where jobs are plentiful and businesses are thriving. Read more here.
How you can Help after Hurricane Florence
Our beautiful home state of North Carolina was hit hard by Hurricane Florence over the weekend. While Wake County was spared major damage, many communities need help. Check out these articles to see how you can help those in need. Reference the links below:
Tropical Depression Florence: How to Help

Helping Out After Hurricane Florence: Where, What & How To Donate
Local Tech Startup Raises $100 Million
Pendo, a local tech startup in Raleigh, has raised over $100 million since 2013. Read more.
Virginia solar panel firm picks Raleigh over Charlotte
A Virginia solar panel provider has picked Raleigh over Charlotte for an operations center, and is the midst of hiring 75 people in the Triangle. Read more.
Raleigh Ranks #2 as Best City for Young Professionals
Thrillist.com, a popular website dedicated to covering food, drink, travel, and entertainment recently released an article covering the best cities for young professionals. Compared to 24 other cities, Raleigh ranked number 2. Read more.
Wake County Economic Development Partners with Pendo for Career Night
Danya Perry, WCED's Equitable Economic Development Manager partnered with Pendo to host a careers and community night to help attract a diverse talent pool for careers at Pendo. Read more.
Infosys Opens Raleigh Technology and Innovation Hub
Thirteen months after Indian IT services firm Infosys announced plans to bring a 2,000-job tech hub to Raleigh, the doors opened to the new technology and innovation office in Brier Creek. Read more.
Garner Welcomes Amazon Distribution Center
It's official: A four-story 2.6 million-square-foot high-tech Amazon fulfillment center will open at the ConAgra site in Garner (Wake County.) Read more.
Downtown Raleigh Tech Company Expanding
Two years ago, California startup WalkMe picked Raleigh for a "regional headquarters" over competing cities Austin, Nashville, and Denver. Now, WalkMe is expanding their space with enough room for a total of 90 employees. WalkMe currently has 55 people in the downtown Raleigh office. Read more.
Wake County Company TrialCard Expands & Announces 500 Jobs
TrialCard (based in Morrisville), announced the expansion of its Market Access division in Morrisville, North Carolina. Read more.
MetLife Launches New Startup Accelerator in Cary
Ten companies – handpicked from locales across the globe – are gathered in Cary for the first Triangle iteration of the MetLife Digital Accelerator. Read more.
Arch Capital Services Brings 365 Jobs to Wake County
Arch Capital Services has selected Raleigh over Atlanta for a new location that will bring 365 jobs over four years. This announcement also comes on the heels of other large fintech announcements from Ipreo and Credit Suisse which demonstrates that this industry sector will only continue to expand. Read more.
Tourism in Wake County Continues to Grow
Raleigh area welcomed 16.45 million visitors who spent $2.5 billion locally in 2017. Visitation, economic impact, and job creation are at an all-time high. Read more.
WCED Executive Director Talks Jobs & Growth with WRAL TechWire
Michael Haley, Executive Director of Wake County Economic Development discusses increased interest in Wake County. Read more.
WCED National Media Campaign Lands Forbes Article
Through Wake County Economic Development's ongoing national media campaign efforts, Forbes reporter Elaine Pofeldt interviewed Wes Lawson, owner of Lawson Hammock. Read more.
Inc. Features Article on Raleigh
The article titled "Why Raleigh will be the next startup hub" was written by Jeff Barrett, after his three day visit to Raleigh. The article is an incredible and accurate reflection of the momentum of the region and highlights many local companies and amenities. Read more.
senseFly Moves Operations to Wake County
Previously located in Washington, D.C., the company's new office will accommodate its rapid growth and its location allows senseFly to join the Research Triangle, a growing network of technology leaders. Read more.
Raleigh Makes Top 10 List for Best Large Cities to Start a Business
Raleigh along with two other North Carolina cities landed in WalletHub's 2018 Best Large Cities to Start a Business. Read more.
Local Companies Recognized for Outstanding Executive Leadership
Raleigh companies Red Hat and Pendo received recognition in USA Today for outstanding executive leadership. Read more.
North Carolina wins the Gold Shovel for Economic Development Success
Area Development named North Carolina a Gold Shovel recipient for securing two of the largest economic development announcements in the country last year. Credit Suisse announced 1,200 jobs, while Infosys announced 2,000 during 2017. Read more.
IBM veteran tapped to lead Infosys' new 2,000-job Raleigh hub
Infosys is taking a big bet on an IBMer, tapping former IBM Digital Commerce leader Deverre Lierman to helm its Triangle operation. Read more.
Credit Suisse names new RTP site lead
Credit Suisse is promoting from within to replace longtime Research Triangle Park site lead Jim Captain. Its tapped 10-year Credit Suisse veteran Sophia Wajnert to lead the operation under a new title: senior franchise officer. Read more.
Chief Executive Magazine Features Major Raleigh Company
As the Research Triangle region continues to draw the eye of business leaders across the nation, experts are analyzing what has made the region such an attractive landing spot for businesses over the past decade. Read more.
Global Traveler Magazine Covers Raleigh
In the May 2018 issue of Global Traveler magazine, journalist Ron Bernthal captures his recent visit to Raleigh detailing the business-friendly environment and quality of life amenities that enhance the community's lifestyle. His article offers a perfect reflection on the current landscape of Raleigh and the Research Triangle as the region has quickly become one of the top competitive metros in the U.S. Read more.
Ipreo Announces Expansion at Downtown Raleigh Location
Ipreo will expand its presence in downtown Raleigh after receiving a new grant from the state of North Carolina and the city of Raleigh. Read more.
Ipreo to add another 250 jobs in Wake County
New York financial services and analytics firm Ipreo is doubling down on its commitment to Wake County, promising another 250 jobs and $2.1 million in investments. "This region offers a talented and innovative workforce, a strong university system, and a collaborative business environment," stated O'Hara Macken." Read more.
Credit Suisse breaks ground on massive RTP expansion
At a reception in a glass-walled lobby, executives and state officials, including Gov. Roy Cooper, gathered Tuesday morning to celebrate a day that even Jim Captain wasn't sure would arrive: the groundbreaking for the massive expansion Credit Suisse announced last year. Read more.
Wake County ED Proposes Incentives to Lure Business to Vulnerable Areas
The Wake County Economic Development Department wants to implement an innovative policy that would provide incentives to businesses to make decisions that benefit vulnerable groups across the county. Read more
Michael Haley talks about New Jobs in Wake County
Projects with more than 14,700 potential new jobs are eyeing Wake County right now, the area's top economic developer, Michael Haley confirms. Read more
Raleigh Local Featured in Chief Executive Magazine
Aly Khalifa (Raleigh-based innovation and sustainability entrepreneur) was featured as a top 20 maker in Chief Executive Magazine who is making a difference in American manufacturing with his company, Oceanworks. Read more on pages 40-43.
Ashley Christensen Featured in USA Today
Ashley Christensen (Raleigh Chef and James Beard finalist) received the North Carolina nomination in the USA Today article for "50 States: 50 Female Chefs". Read more on slide 33.
Raleigh, Durham, Chapel Hill Tagged as Top 5 Tech Hotspots
This trio of cities has been an innovation center for decades. Read more
GeekWire HQ2 Revealed
GeekWire is Looking for HQ2 — Could They Select Raleigh?
GeekWire, a tech publication based in Seattle is looking for a temporary HQ2 for the month of February. Raleigh is one of four finalists. Read More
Triangle ships 32-pound Amazon HQ2 proposal
The Research Triangle region makes it official and submits large box with Amazon HQ2 proposal. Read More
#TriangleDelivers Twitter Campaign Aims to Lure Amazon
The Research Triangle region makes it official and submits large box with Amazon HQ2 proposal. Read More
Is Raleigh the New Belle of the South?
A reporter from Orbitz visited Raleigh over Bluegrass weekend and was impressed with the revitalization of downtown. Read More
Thrillist Notes the Warehouse District is About to Get "Crazy Popular"
With its charming brick facades, chic aesthetic, and local food joints, the Warehouse District is on the verge of becoming one of the best neighborhoods in the nation. Read More
Forbes Ranks Raleigh #2 Best Place for Business and Careers
Raleigh has been ranked for the last 5 years in Forbes rating of best please for business and careers. Read More
Forbes Ranks North Carolina as #1 for Best State for Business
With one of the country's strongest business climates, Forbes touts North Carolina for business and careers once again. Read More
Millennials from Raleigh Tell Us Why They Prefer Raleigh Over Silicon Valley
Contributors from PrecisionHawk and Dropsource wave the flag for Raleigh as a preferred tech hub. Read More
Inside Raleigh's North Person Street Neighborhood
Travel & Leisure covers Person Street, an up-and-coming area just minutes outside of downtown Raleigh. Read More